"The voice of a generation" is about to move his office. Luc Lévesque, one of three protagonists in Claire Holden Rothman's new page-turner, is a celebrated Quebec novelist and sovereignist whose plots portray the working class of his beloved Montreal neighbourhood, Saint-Henri. He is verging on 50 – and perhaps a few other things – when a sexy, not yet twenty-five-year-old office assistant finds him the "perfect" new workspace, conveniently located away from disturbances, such as his wife and son…
Many writers would be seduced by this new location, and Luc already knows the literary landmark well. Hugging the tail end of rue Saint-Augustin, less than a heartbeat from the railway tracks and rue Saint-Ambroise, a ship-shaped house sits immortalized by the words of Gabrielle Roy, "twisted, as if to brace itself against life's shocks." Luc is surprised to remember this last phrase by heart. In Roy's excellent 1945 novel Bonheur d'occasion (The Tin Flute), Jean Lévesque inhabits the house with no windows on the front; it seems fitting that 56 years later, another Lévesque, especially one who is lauded across the province as Gabrielle Roy's heir, should occupy the place.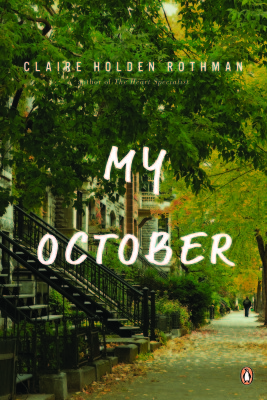 My October
Claire Holden Rothman
Penguin Group
$22.00
paper
352pp
978-0-14-318867-4
On a practical level, the last building before the railway crossing proves uninspiring; Luc's romantic notions are gradually derailed by menacing mould spores and noisy, sleepless nights. A backdrop for disillusionment, the locale heralds danger ("The way the street and rail converged here was vaguely nightmarish"), yet Luc neglects indicators that he's off track and signs the lease.
While Luc's reputation is firmly fixed among his fans, his popularity is plummeting at home. Hannah, his Anglo wife and prize-winning translator (perhaps a nod to Bonheur's translator, Hannah Josephson), is painfully admitting to herself that she dislikes Luc's latest novel. And although she has long maintained a quiet distance from her parents to keep the peace in her marriage – her father, Alfred Stern, served as a prosecutor during the October Crisis kidnappings, and naturally disapproves of her pairing with a superstar separatist – this gap suddenly narrows when she is called to her ailing father's Toronto bedside. 
Luc and Hannah once dreamed "of a marriage that did away with the old divisions of language and culture," but their idealism is challenged when their teenage son, caught between cultures, changes his name from Hugo Lévesque to Hugh Stern, identifying with his estranged grand-father. When Hugo gets into serious trouble at school, the threat of violence shatters old silences, unleashing a less comfortable, yet more honest, kind of communication. 
My October brings home the forceful sway of words in shaping truths. "Reality boiled down to this in the end: the story you told," reflects Hannah. "Everyone had one. No one could claim the right to the last word." Here the author, whose best-selling novel The Heart Specialist was long-listed for the 2009 Scotiabank Giller Prize, delivers a complex, political, and at times heart-wrenching family crisis with all the emotional pull of Gratien Gélinas's 1968 play, Hier, les enfants dansaient (Yesterday the Children were Dancing).
What could have been a tired topic feels fresh thanks to Rothman's empathic ear. Deftly rendering the inner voice of each of her protagonists – Hugo, Hannah, and Luc – she presents a nuanced network of perspectives, challenging the divisive dichotomy that generally characterizes Quebec politics.
This graceful dance between viewpoints was surely inspired by the narrative style of Bonheur d'occasion, the novel Rothman weaves intertextually with her own. In My October, Hannah is struck by "the voices" in Roy's classic, finding them all "so closely observed that it was easy to forget they were fictional." The same could be said of Rothman's well-orchestrated choir of characters, thanks to which My October rings true. mRb