You know how a worldwide catastrophic crisis can cause cognitive impairment en masse? Nobody seems to remember things clearly, or to know whether that dinner party was two or twelve years ago, or the last time we went to the beach, when was that? 2019? 2016? And where did I leave my blue sweater? Did I dream about that song, or did I actually listen to it?
Chinese cartoonist Zuo Ma's new book Night Bus is deeply immersed in this hyper-ambiguous field of perception where reality melds with vague memories, forgetfulness muddies it all, time no longer makes sense, and sadness and regret create monsters out of shadows. That is to say, this book is made of dreams.
Dreams as a narrative device have the potential to lead to confusion and boredom, but, better than almost anything else, they can also be the conductor of an anxious lack – lack of place, lack of stability, lack of certainty, lack of meaning. Done well, this device engulfs the reader in a unique world for its duration. But it does demand a total surrender into the author's universe. Zuo Ma has many overlapping anxieties that move past each other, weave into each other, and, at times, overwhelm and explode into chaos.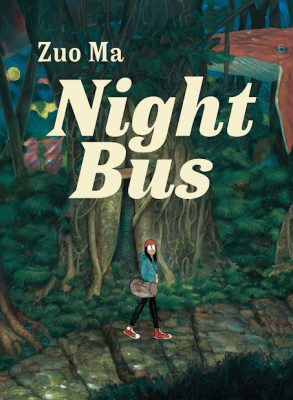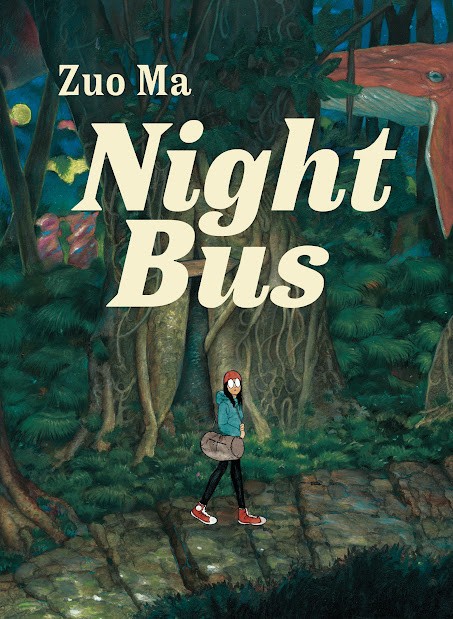 In eleven short stories sometimes connected through a flimsy non-linear arc, we follow his alter ego, Xiao Jun, a cartoonist conflicted between city life and country life who also questions his unprofitable career as an artist. Through walks in fields or fantastical travels in a magic bus, we experience the uncertainties of a rapidly changing China and the end of a rural past. On top of the general malaise, his grandmother's dementia leaves him unsettled and exasperated. Paradoxically, the grandmother is able to appreciate the present by remembering almost nothing, while he struggles to enjoy his present life, seeking refuge in the past and in fantasy. Remembrances of childhood are tinted not with sentimental nostalgia, but with a sense of curiosity and wonder before the unknown and unknowable. Nature becomes unruly or polluted, with insects turning giant and grotesque fish abruptly materializing.
The narrative is sparse and surreal. The superb ink drawings go textless for pages and pages. The relaxed trace denotes a beautiful sense of rhythm, alternating fluid movement, bursts of energy, and melancholy stillness. Repetition of motifs, objects, or scenes functions to convey a pleasant symmetry in the nightmarish storytelling: the same dialogue where Grandma forgets that Xiao Jun is grown up appears at different points, illustrating her dementia. More obliquely, it seems to reiterate Xiao Jun's own ambivalence towards adulthood, as well as Zuo Ma's attempts different ways to approach a story. This technique is again used to great effect in the retelling of "Walking Alone," the first story in the book, and in "Walk," the last. The same incidents and encounters appear slightly deviated, in a different order. In their simplicity, those two stories are strangely satisfying, like a magic trick in which we can see how the trick works.
In between those two bookends, coherence is not an aspiration. The disjointed sensation is by design, since it fits the themes so well, but it is also by circumstance. This present edition of Night Bus compiles the 2018 graphic novel Night Bus and the short story collection Walk, written between 2009 and 2013. Zuo Ma includes notes at the end of the volume explaining how each story came to be, the autobiographical elements, and some of the ideas behind his choices. Those brief notes are illuminating of his process and shouldn't be skipped. The artist is part of a community of alternative cartoonists in China; the works in this volume have been published in magazines and anthologies in Europe, and his ambition and talent are evident on the page.mRb