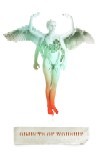 Objects Of Worship
Claude Lalumière
Chizine Publications
$18.95
paper
276pp
978-0-9812978-2-8
Claude Lalumière's first collection of short stories,
Objects of Worship
, emerges from the dark world of fantastic fiction. This genre certainly has its followers, but the uninitiated reader may be caught off guard by the visceral subject matter. To begin with, there is a lot of gorging on guts.
There are also sea monsters, superheroes, zombies, phone calls from hell, and other creatures and scenarios set in a warped version of this world. Apart from Bari, Italy, referred to in one story, the only city ever cited is Montreal. Even when the setting remains unidentified, the collection as a whole evokes Montreal. Whether besieged by werewolves or altered by an ice age, Montreal is stereotyped as a laid-back, almost comatose, community-oriented haven of cheap real estate: an underemployed couple shares a late and luxurious breakfast with a megalomaniac god; a superhero Dad keeps his ambitions local. ("I like the good I do here, in Montreal. Let the other heroes fight the big menaces. For me this is all about the people.") This stereotype isn't altogether wrong, but it is incomplete and projects life in Montreal as overly uncomplicated.
The stories are well-crafted and will have readers racing through their trim sentences to find out what happens next, but Lalumière certainly intends to shock them with gory details. Is it shock and gore for fun, or are the entrails of various creatures loaded with a political agenda? Unsurprisingly, zombies frantically feasting on the brains of their pet 'fleshie' in a story titled "The Ethical Treatment of Meat" turned my stomach and made me cringe at the thought of fast food line-ups. Still, this revulsion was temporary and these stories do not – nor should they – succeed as moral tracts. Like any decent literature they provide readers with an angle from which to view their own lives.
Plus, they're fun and disgusting. "They reached her office in the back. She offered him a glass of brain juice. 'It's organic,' she said. 'From free-range fleshies.' It tastes the same as regular brain juice, he thought." The stories do produce a legitimate challenge to more conventional storytelling. Lalumière unleashes his imagination on the reader and unapologetically weaves fantasy into his work. In some places, though, it feels as if he employs plot twists and gloomy endings for their own sake, which can leave readers wondering why.
In other stories, Lalumière is better at addressing ordinary human problems. Themes of love, sex, and the relationship of humanity to technology are evident throughout the collection, but one story of post-apocalyptic teenage love deals with them best. "This is the Ice Age" takes place in a version of Montreal that is mostly destroyed by a sudden electrical-based freeze. In just a few pages, Mark must deal with his newly fundamentalist brother; Martha, with falling in love and leaving behind her home. These situations contain a gravity that is nicely complemented by the earnest innocence of the two young protagonists. The outlandish setting – including a frozen upended plane at the intersection of St. Catherine and St. Lawrence – is another asset to the story.
At the end of the collection, Lalumière offers an account of the influences behind each story. For the most part, the stories can be left to speak for themselves. But Lalumière's appendix to the book's superhero theme reflects a genuine and long-standing passion that provides a glimpse into the roots of his eccentric imagination. mRb