The 1942 Allied raid on Dieppe was one of Canada's worst military disasters: after less than a day's fighting, 3,367 Canadian men (over two-thirds of the Canadians participating in the operation) were killed, wounded, captured, or listed as missing. The purpose of the raid has remained a mystery for over seventy years. "This was too big for a raid and too small for invasion," said a puzzled German interrogator to a captured prisoner. "What were you trying to do?" The prisoner's response is quoted near the beginning of David O'Keefe's One Day in August: "If you could tell me … I would be very grateful."
O'Keefe's book gives a provocative answer to the question that baffled the prisoner and that has continued to baffle historians and veterans. A Marianopolis College professor, television documentarian, and former Black Watch infantry officer, O'Keefe argues that the raid was planned as a secret "pinch" operation to capture cryptographic materials. These were needed to break the code of the Enigma machines, which the German military used to send encrypted communications.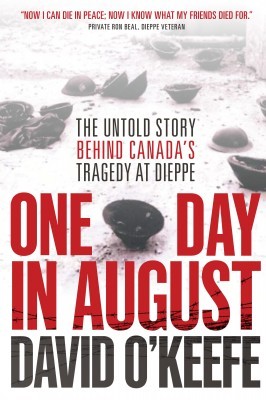 One Day in August
The Untold Story Behind Canada's Tragedy at Dieppe
David O'Keefe
Knopf Canada
$35.00
cloth
496pp
978-0345807694
British intelligence officers had achieved great success in deciphering the code of an early Enigma model, but in February 1942 the Germans introduced more sophisticated Enigma machines that seemed virtually impossible to crack. The British were no longer able to predict the movements of German U-boats, which now roamed almost unimpeded in their quest to sink Allied merchant vessels. British shipping losses skyrocketed, leading to critical strains on an already overburdened economy. Cracking the Enigma code became a military imperative for the Allies.
O'Keefe claims that the retrieval of cryptographic materials was the central goal of the Dieppe raid. He argues that the operation's scale was magnified in order to hide its true intent, because the Germans would swiftly change their communications codes if they knew the Allies had discovered crucial cryptographic secrets. The raid was therefore given the cover of a larger and more conventional military campaign. As O'Keefe puts it, this subterfuge blinded both the German military and "generations of observers long after the war ended."
Although O'Keefe's thesis may sound fanciful, he makes a compelling case. Having sifted through almost 150,000 pages of documents (including recently declassified files), O'Keefe defends his position through a careful accumulation of facts, some of which had been unknown to historians.
Many colourful personalities figure prominently in this book, including Lord Louis Mountbatten, Sir Winston Churchill, and computer pioneer Alan Turing. The most surprising character is Ian Fleming, who gained fame after the war as the creator of James Bond. Fleming turns out to have played a central role in the Dieppe raid and in wartime British intelligence operations as a whole.
Like his fictional secret agent, Fleming was fond of risky and theatrical intelligence activities and showed a cold-blooded willingness to treat humans as expendable. With the encouragement of his superior, Rear Admiral John Godfrey (sometimes cited as the inspiration for 007's boss "M"), Fleming helped concoct a variety of outlandish schemes. Some of these were successful, but the Dieppe raid ended in catastrophe. It failed in its objective, it led to a staggering loss of life, and it gave the Nazis a propaganda victory.
One Day in August's extensive endnotes show a mastery of the subject that will impress professional historians, yet non-specialists will find the main text accessible and gripping. O'Keefe writes like a skilled novelist: his sentences are brisk, his character portraits are memorable, and he has a flair for dramatic detail. Even readers with no previous interest in military history will enjoy this book. mRb