Though it is a fairly slender book, Mauricio Segura's novel Oscar practically bursts at the seams with historical events, colourful characters, and timeless themes. Based loosely on the life of pianist Oscar Peterson, the novel's heart and soul lies in Montreal's Little Burgundy neighbourhood, its bustling life seen through the eyes of a thriving black, immigrant community. Beginning in the years leading up to the Great Depression, an outbreak of tuberculosis touches Oscar's family with grave results. His older brother, a virtuosic pianist, contracts the disease and quickly passes away. And so it is the little brother O.P. ("as everyone affectionately called him") who takes up the charge of music.
Running from the first page to the last is the relationship between Oscar and his impresario. In a truly Faustian scene, O.P. is rescued by a "mysterious stranger," who pulls him out of the dark depths of a depression and sets him on the path to fame and fortune. While Oscar's mother, Davina, warns her son that this Norman G. is the devil himself, she also tells him it would be better to "keep him close and manage him." This managing constitutes much of the book's tension. The recasting of the real Norman Granz as the devil incarnate is an interesting choice, given that he is generally perceived positively by history as both an era-defining musical producer and a fierce advocate of racial justice. However, this portrayal does serve to explore themes such as the deleterious effects of fame and the complicated dynamics between art and business.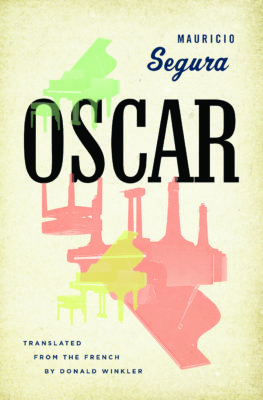 Oscar
Mauricio Segura
Translated by Donald Winkler
Biblioasis
$18.95
paper
172pp
9781771962254
Presumably, the challenge in creating a fictionalized account of someone as famous as Oscar Peterson is that so much is known about him already. But Segura bridges fiction and history beautifully by structuring much of the narrative around such phrases as "according to those close to him" or "if you can believe his sisters," making readers feel as though they've entered into a kind of people's history. At times, the novel takes on a somewhat juridical tone, with the narrator offering opposing perspectives provided by both "supporters" and "detractors" of Oscar P. We sometimes get the feeling that we are, based on the evidence, meant to declare his guilt or innocence, though we never really know the nature of the accusation. Perhaps we are simply meant to bask in the ambiguity that always surrounds major figures of history.
A subtle but important feature of the novel is its focus on Oscar Peterson's Caribbean roots. His family and the ever-present West Indian community provide some of the most evocative characterizations. Davina, for example, an interlocutor of the spirits and a recipient of various visions and revelations, seems to evoke the mixture of Christianity and various belief systems of African influence present in the Caribbean, such as Voodoo or Santeria. In fact, with its lilting strains of magical realism and strange sense of time, the book often recalls greats like Patrick Chamoiseau and Edwidge Danticat. This suggestion of a literary genealogy is brought to the forefront with an excerpt of Saint Lucian writer Derek Walcott's famous poem "Love After Love," which serves as a metaphor for self-recognition as Oscar comes to realize that his music is part of a history spanning generations and oceans.
Segura is known for his portrayals of Montreal – particularly in his novel Côte-des-nègres (Black Alley in English) – and so it's not surprising that descriptions of Little Burgundy really leap off the page. But the most telling places where Segura inserts himself into the narrative are those that wax poetic about the music of Oscar Peterson. It's clear that the author (a jazz pianist himself) is a fan, which only contributes to the liveliness of the book as a whole. With a keen eye to the history of Montreal and a knowing ear attuned to the ins and outs of swing and bebop, Segura shows both great force and a certain playfulness in his latest book, a perfect harmony that is beautifully captured here in Donald Winkler's English translation. mRb