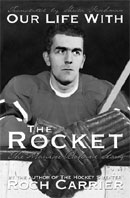 Our Life with the Rocket
Roch Carrier
Viking Penguin
$35
cloth
320pp
0-670-88375-1
Another hockey book that will probably score is Roch Carrier's latest, Our Life With The Rocket, translated by Sheila Fischman.
Carrier is a successful novelist and playwright but is probably best known in English Canada for his children's book, The Hockey Sweater. It's about a young boy who idolizes Maurice Richard and is heartbroken when he gets a Toronto Maple Leafs sweater for Christmas. Carrier's new book has the same fable-like quality.
The book is neither a biography nor an insider's memoir of Richard's exploits. It's about what it was like to be French Canadian at a time when the Rocket was hockey's most dynamic player.
Carrier describes with infectious passion the collective pride inspired by "the hero to a small people" who stands up to the players from English Canada. They insult him because he speaks French, and he fights back with a goal or a punch in the face. It evokes stories of black Americans of the same era cheering whenever heavyweight champ Joe Louis knocked a white man on his ass.
Carrier is not too concerned with politics, although the book adds an interesting perspective to the roots of the Quiet Revolution. Nor is he obsessed with historical details, though the book is solidly researched. He wants us to know how it all felt. And if anyone wonders why more than 100,000 people filed through the Molson Centre to see the Rocket lying in state, this book should explain everything. mRb