For those of us who may never get the chance to visit Quebec's Îles de la Madeleine, picking up Marie-Andrée Arsenault and Dominique Leroux's Pebbles to the Sea takes us on a poetic voyage to a small corner of this archipelago found in the heart of the Gulf of St. Lawrence. Leroux's illustrations fill the book's pages with a collage of images and textures that invite us to contemplate every detail. Each element weaves itself seamlessly into the story told through the eyes of two sisters, Flo and Fée.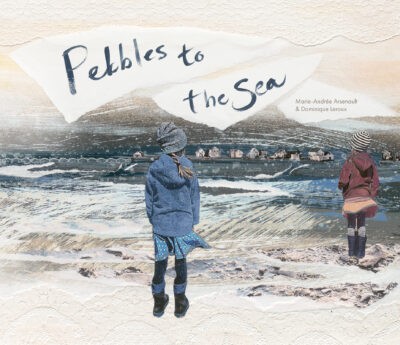 Pebbles to the Sea
Marie-Andrée Arsenault
Translated by Shelley Tanaka
Illustrated by Dominique Leroux
Groundwood Books
$19.99
cloth
40pp
9781773068244
On what feels like a quiet, chilly, and gray day in the town of La Grave, Flo and Fée are missing the company of Maman and Papa, who are both busy at work. When their attention is drawn to something catapulting across the sky, the sisters decide to pay a visit to their friend Henri and his trebuchet (or giant slingshot). As they make their way through town, despite the familiar faces who greet them warmly and feed them cake and ice cream, there's a feeling of emptiness that fills the air. When Flo and Fée arrive at Henri's, he lifts them up onto the trebuchet, where they can see the beach stretching out towards a neighbouring island. We soon figure out that the emptiness felt is the space between the two islands, and the separate worlds of the girls' mother and father.
Pebbles to the Sea is a story about community and the people in our lives who are there for us, even when we may feel alone. Luckily for Flo and Fée, the caring adults around them help them understand that they are the special connection that will always tie their parents together.mRb