Norman Bethune remains one of the most famous Canadians in history, a man whose life and achievements inspire both veneration (especially in China), and resentment (from those who view his adherence to communism as un-Canadian). Following his death in China in 1939, Mao himself wrote a commemorative essay, and a special tomb was built for Bethune by his grieving supporters. He was proclaimed a hero of the Chinese revolution, and his fame spread from that point onward. A unique and engaging personality, Bethune was subsequently the subject of numerous books and films, including a recent biography by Adrienne Clarkson. The obvious question then is: does anyone really need a new 400-plus-page biography?
The answer to that question has much to do with the authors of Phoenix: The Life of Norman Bethune. Roderick Stewart, a leading authority on Bethune, is the author of two previous biographies and the editor of a collection of the famous surgeon's writings. In 1999, he and his wife Sharon Stewart, also a published author, embarked on years of extensive travel and investigation into Bethune's activities. They uncovered new information on every phase of Bethune's life, including undocumented writings by Bethune and new interviews with friends, colleagues, and confidantes. With almost a hundred pages of detailed annotations and source notes, Phoenix is obviously intended to be the authoritative volume on Bethune and the primary source for future scholars.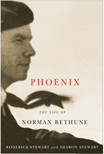 Phoenix
The Life Of Norman Bethune
Roderick Stewart and Sharon Stewart
McGill-Queen's University Press
$39.95
hardcover
464pp
9780773538191
The book's title comes from the prevailing pattern in Bethune's life. An impulsive, temperamental, and difficult man, he habitually pursued his objective to make a difference in the world with little regard for those around him or for what was actually in his own best interest. Egotistical and driven, he unfortunately had little regard for the egos of others and would end up alienating the people who could help him the most. His ambitious initiatives in the medical field met with limited success.
It is not surprising that, having little patience or respect for the bureaucracy of institutionalized medicine, he preferred the extreme environment of the battlefield, where he was free to run things as he wished, though even there he managed to unsettle his superiors and create trouble. His inability to get along with various colleagues and officials during his work as a surgeon with the Canadian Medical Unit in the Spanish Civil War led to his early exit from the country. He had helped to save thousands of lives, but had also done damage to his own reputation.
Bethune, as always, found a way to reinvent and rededicate himself. First he became something of a celebrity, embarking on a speaking tour and calling for the establishment of socialized medicine in Canada. He also
publicly asserted himself as a communist, speaking out on what he viewed as the progressive achievements happening in the Soviet Union. But it was of course in China that he truly made his mark. In 1938, he travelled to Shaanxi province and joined those led by Mao Zedong. He worked to support their efforts to repel the Japanese, performing emergency surgeries on war casualties and civilians alike, and establishing much-needed training for medical staff. His commitment was such that he insisted on eating the same meagre rations as the Chinese foot soldiers. This likely led to a weakened physical state, making him vulnerable to the infection that cost him his life. In October 1939, he sliced his finger with a scalpel while conducting surgery. He died of septicaemia within a matter of days.
Readable and highly detailed, Phoenix is a comprehensive portrait of a singular Canadian whose life, even away from the battlefield, was of a dramatic and tempestuous nature. The biography avoids idealizing the man and instead highlights his faults and weaknesses as much as his strengths, arguing that the former were as instrumental as anything else to the shaping of his life. mRb