Definitions have always been a way of corseting language, of tucking the ambiguities of words out of sight, and of keeping verbal intention in line. Although poetry is most commonly structured according to the line, toeing the line will never define it. Language, when used passively, is a barrier to creativity, as Erín Moure elucidates: "I stood before the screen of my own language. There was no remedy. Either I stood before the original work in its incredible beauty or I stood before the screen of my language … screen of my language that stood between me and the poem." Moure aims to perforate that screen, to brush aside the mundane and definitive use of language, in order to access the wider gesture of its sensuality.
Openness, dissection, reconstruction, and the wringing out of language are key to the newly released Planetary Noise: Selected Poetry of Erín Moure. Celebrating one of North America's most prolific and groundbreaking poets – whose literary achievements span four decades of publishing, a Governor General's Award among other prizes, sixteen collections of poetry, and an equally impressive output of collaborative texts and translations – this anthology also honours Moure's ongoing project of embracing the fallibility of language and, by extension, of poetry itself. "When 'my language' fails, only then can we detect signals … as in planetary noise," writes Moure, a passage that both provides the book's title and insists that a word's most obvious significance is also its least relevant.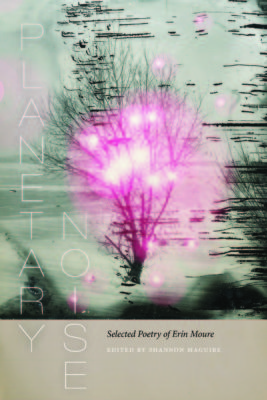 Planetary Noise
Selected Poetry of Erin Moure
Edited by Shannon Maguire
Wesleyan University Press
US$19.95
paper
208pp
9780819576958
As a poet, Moure intentionally looks beyond meaning to what she calls "noise," the reverberating implications of language that "interfere with a desired signal." I was fortunate to be able to ask both Moure and the anthology's editor, Shannon Maguire, a few questions, and each contrasted the typically negative or obfuscatory associations of "noise" with a more expansive and democratizing understanding of it. Moure tells me, "I am one of those whose research in poetry suggests ignoring the signals (the imposed version of any communication trajectory) and lending an ear to the noise, which is really a signal or signals that are not desired." Maguire offers a concrete example of the importance of transcribing this noise, suggesting, "noise is defined as … that which is unwanted, and so the condition of being unwanted is one very familiar to queer subjects, for instance," as it is to other marginalized communities. Maguire articulates Moure's oeuvre as a critical distancing from dominant culture, and, through poetry, a political awareness of society's undertows that not only diversifies and voices, but also nurtures the inherent vibrancy that is humanity.
Montreal unfurls itself to geographically embody the linguistic hospitality, the interconnective, resonating sound wave of Moure's poetry…
By default, reading any good compilation of poetry is an agreement to follow a curated tour through the eyes of the editor. In this case, Maguire – who is herself an accomplished poet – is an excellent guide, not only leading the way and pointing out the landmarks, but also supporting the reader in the process of making her own inferences. Planetary Noise is structured chronologically, in seven sections, which map thematic recurrences and propulsions through language and translation, feminism and queer sexuality, identity and citizenship, and poetry as a philosophical mode of thought. Indeed, it has been one of the utmost pleasures, reading through this selection of Moure's oeuvre, to detect a continuity of thinking, preoccupations that progress from gentler, younger iterations, to more rigorous insistences on similar concerns, articulated with the confidence of a career to back them up.
According to Maguire, the editing process was collaborative, but Moure gives Maguire all the credit. "It was Shannon who reread all the books and came up with the arc and the selections," she explains. "I lack the distance to see the work as a whole, and I found her insights brought new light to bear on the poems and work, and created a new book out of … books!" In fact, Maguire has created more than a new book: she has assembled an essential reference that could serve not only as an introductory overview to Moure's poetry, but also as a scholarly base for a more critical engagement with her work. Maguire's opening essay is biographically informative, analytically whip-smart, and elicits a real curiosity in the reader to return to the poems and to delve deeper. The appended bibliography of further reading sets a critical tone, appealing to future research.
While Moure's erudite, and, at times, keenly philosophical writing welcomes scholarly engagement, her manipulation of language can also be very playful. Despite its complexity, her poetry is never elevated to an immaculate genre beyond reach. Rather, language is approached with tactility, as a malleable substance that can unravel itself to reveal unexpected depths of interpretation, then veer off for a humorous jaunt. Words realign themselves. "The whoel" splinters, suggesting to "Huse some images" instead. Evocative neologisms force the reader to actively consider the intention behind unfamiliar organizations of language. "Solidaily," for example, could evoke quotidian solitude, solidarity, soldierly mundanity, and more. Similarly, "a-diction" foregrounds dependence on language, the script of living within a context of verbal communication, and the gap, that missing "d," which complicates exegesis, but also registers as illumination, a quick skip in the tread of reading. "(how can we exceed this with werdtsz)," Moure poses parenthetically, mischievously. While the referent of "this" remains uncertain, it is indisputable that "words" have been dismantled to an onomatopoeic wheeze, and that Words, in a grander, more abstract sense, have been mined, so that the rock-hard quartz of "werdtsz" breaks apart, and light seeps in through the cracks.
Once the act of writing in English has been destabilized, Moure – who also works in French and Galician, Spanish, and Portuguese – is able to push a step further to braid strands of different languages together, to "conduct a leakage out of ordinary language, out of the monolingualism in one's own language." One strategy Moure occasionally applies is to repeatedly switch codes between French and English, fluctuating back and forth from line to line. This approach shapes a structural ease of multilingualism, while keeping the reader alert as the tongue slips tardily between different expectations of pronunciation. Although Planetary Noise prioritizes Moure's original poetry over her translations, her incisive contribution to the latter domain is acknowledged in the final section of the book – Moure welcomes local writers such as Montreal's Oana Avasilichioaei and Nicole Brossard, as well as international figures such as Fernando Pessoa, Chus Pato, and Wilson Bueno, among others, onto her pages. As multiple languages begin to cling together and merge, and every poem constructs its individual set of vocabularies, one might conclude, along with Moure: "At this point I ceased to understand any language."
As a Montreal resident for over three decades, Moure embraces the Babylonian in life as in literature. "I speak and write French, Galician, and English here every day. I hear Arabic and Mandarin, Italian, Russian, Polish, Romanian every day in the streets, and others," she tells me. Montreal unfurls itself to geographically embody
the linguistic hospitality, the interconnective, resonating sound wave of Moure's poetry: "Montreal is a place where fear of languages, and of the unknown of language and thought is nearly absent. I find it warm and amazing to live and think among others who also live and think with curiosity." mRb