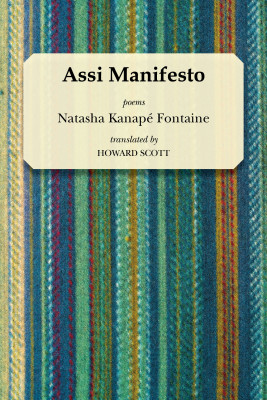 Assi Manifesto
Natasha Kanapé Fontaine
Translated by Howard Scott
Mawenzi House
$19.95
paper
88pp
9781927494752
T
he poems in
Assi Manifesto
, by Natasha Kanapé Fontaine, translated from their original French by Howard Scott, do not use tightly packed language. Rather, they convey a sense of spoken word and performance off the page.
The collection is a full-voiced call of identity using the image bank of bark, tobacco, moon, moose, and eel, grounded in the ideals of a whole nature. The poems invoke melting ice caps and pollution. Political and ecological calls run through: "I am this black-blooded land / I have cancer in my left lung / I have cancer in my fourteen torrents." There is also a sense of imminent triumph: "I am liberty leading the people / the red lights on the asphalt / your blockades roads I am your free / wandering resolute in its fate." Bound freedom versus freedom-bound.
Fontaine learned her ancestral language at eighteen. In an interview with Indian Country Today, she said "speaking Innu means cultivating a deep relationship to oneself." Spoken word poems are often a call to action, and these, scattered through with Innu words, are no exception. The poems are a call to the historical pre-invasion calm of North America, for respect as equals against the default culture that partitions her people into the past. The battles in the poems are mythical, symbolic, and large in this manifesto for national and personal pride. "everything I'll shout / every city rooftop / I'll recite / ember memory / nitei man utassi / my dirty feet singing the beauty / the sand amidst the hourglasses of time."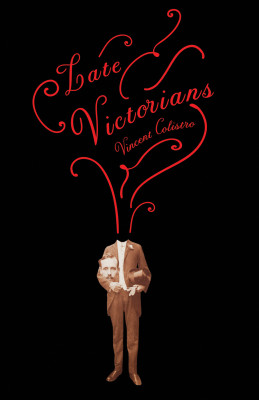 Late Victorians
Vincent Colistro
Signal Editions
$17.95
paper
88pp
9781550654400
T
he poems in
Late Victorians
, by Vincent Colistro, have a compelling, nervous energy with a youthful feel of jazzy excitement and darkness pinging around the text. The collection seems to cross paths stylistically with
Animal Husbandry Today
, by Jamie Sharpe, with its profusion, confusion, and fusion of sense and nonsense meeting depression and asking it to dance. In poems such as "The Asterisks," ideas bounce around in joyful chaos: "asterisks are on every leaf. Foreign, // mercantile tables and measurements / wind the veins and spines of the bracts. Oof, / say some asterisks, Ech, say others. Erp, a few. / The open fields seem uninhabited by asterisks until // one bothers using an electron microscope: Lucretia asterisks. / Epicurean asterisks. I feed my family black pepper asterisks."
And so the collection reels forward at a quick tempo and in good temper, often with a stanza break just as a sentence starts, maintaining the momentum of being off-balance. The poems play against each other, with the reader, with and against conventional sense, tickling and tackling. A poem titled "From Your Chaise Lounge, You Poke Your Head Around Like 'What Was That?'" is a list poem of non-sequitur leaps for three pages, running along with a merciful lack of punctuation because the purpose is already served by space and pace.
Other poems battle against the emotional weight of an Armageddon-bound world. In the West Coast poem-vision
of "The Big One," the natural order is upended. All the world as we know it is lost, but there is a comedy in the pathos: "theatres filled / with ducklings, the mall lost a decent amount / of money. Single origin coffee // brewed in the mighty tsunami, / staining the city's supply of chinos."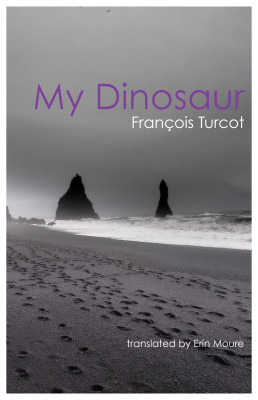 My Dinosaur
François Turcot
Translated by Erín Moure
BookThug
$18.00
paper
180pp
9781771662307
I
n
My Dinosaur
, by François Turcot, translated by Erín Moure, the dinosaur is the father and the bones of his life are explored at length. The poems are clipped, precise, sometimes telegraphic. Few could argue that this is predictable narrative prose, in part because of its density and pivots: "eviscerated by evenings / I'd shut the silence / between us // at table I'd decline / the soup / of Great Depressions."
Turcot explores the distance between parent and child, the nostalgia, silences, and pain, and in particular the difficulties of navigating the father-son gap. In these poems, Turcot takes the important step of asking his father, "who are you?" – an admirable effort that leads to seeing the parent as a person rather than a symbol: "Tensed in my boots of cold, lugging the salt of others, I stepped backward. // Mechanically, I turned around. The future of the dinosaur was pending."
The poems have their own distinct music that becomes clearer the longer you sit with them. The book has lyric moments: "I walked / my entire being / until I'd returned / to myself," when, at the end of the twelve-line poem, "at road's end I headed straight / into the world."
The essay by Moure is a fascinating discussion of her translation decisions – for spirit, for meaning, or for resonance or sound when the two languages don't have a direct correspondence or when substituting rare word for rare word would connote the opposite.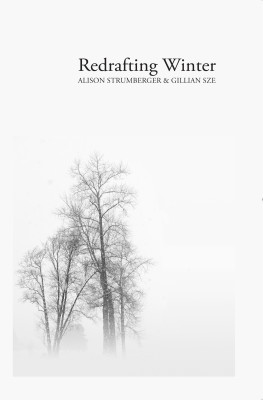 Redrafting Winter
Gillian Sze and Alison Strumberger
BuschekBooks
$17.95
paper
120pp
9781894543859
I
nspired by the collaborative rengas and correspondence of P. K. Page and Philip Stratford in their collection
And Once More Saw the Stars
, Gillian Sze and Alison Strumberger created
Redrafting Winter
. The book embraces figurative and foot journeys and takes its own path from there. The prose sections are more internal and interactional than about physical spaces; all is psychogeography of twenty-somethings sorting out their place and roles.
The daily act of being attentive to details, significances, and eurekas yields insights and compass points towards what matters, such as in Strumberger's note from Suji, South Korea, "you can't remember seeing the moment it happened because no such single moment exists." Earlier, writing from Montreal, Sze observed,
When I packed,
I found lost letters behind my bed,
books I never knew I owned.

Leaving is a process of remembering,
a realization that to stay is to lose parts of your mind.
These nijūin renga feel like a modified haibun when the links of the renga chain are paired with the writers' correspondence. The letters are vivid and touching in fondness for one another as each travelled around the world, sometimes in opposite directions. Instead of the common posture of ironic distance, these poems dare to be intimate and vulnerable and to stretch language, making it play and cover what the writers want it to when straightforward can't get there. For example, Sze muses how making a book is a process with "Paper all over the floor. Poetry has become spatial." Sze's renga links are:
Mirrors:
enamel shines silver
glimmer in a mare's mouth

I see      you      see I,
cut, snuffle, hint.
The authors espouse enthusiasm for life, love of place, and people. They are resilient and articulate.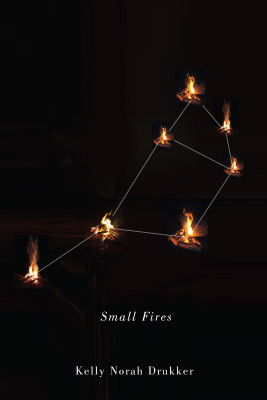 Small Fires
Kelly Norah Drukker
McGill-Queen's University Press
$16.95
paper
128pp
9780773547704
T
here's a keen observation in Kelly Norah Drukker's collection
Small Fires
that sidewalk retirees were once farmers, which she reveals without saying so directly: "Men lean cheeks on hands grown soft." There's a recurrence of fists throughout the book, both literal and as metaphor. And there's implicit violence below the surface, whether in the ocean bleeding into bruised clouds or the child's understated desperation to save egg money to leave the direness of poverty.
Throughout the Ireland poems and the persona poems of immigration, there's a welcome female perspective sympathetic with history. The poems are most alive and crisp when the narrator is interacting, taking the bodhrán in hand "until // rhythm is a small wild / creature in my hands, / stroking the dark / cheek of the world."
Covering some of the same literal ground at David W. McFadden's An Innocent in Ireland, Drukker's approach is quite different. Each references the same Cromwellian battles, ancient grave markers (for Drukker: "a capstone on top. / A space you can crawl into, but don't"), and the Irish landscape, but Drukker's take is characterized by her solitude in a kind of exile from the people around her, for whom identity is closer to place. In "Roots" she details a pub conversation about what the locals think of the Americans coming to reclaim their Irish roots, "drawling Ahhhm from Cowneee Dawnny-Gaaal like / he owns the bloody country."
If one were to make a colour palette for Small Fires, it would be a watercolour of stones and derelict wood greys, dusky blues, a smear of rainy green through a window, the creosote of town, as rage by morning dies down to "murmur / through stovepipes." mRb