Graphic novels featuring mothers as the main protagonists are few, and Pascal Girard's latest graphic novel in translation is a great one. Rebecca and Lucie in the Case of the Missing Neighbor is a poignant, uplifting, at times hilarious, and feminist Montreal mystery. The tale also has a thick lacquer of emotional intelligence; no doubt owing to the fact that Girard has a day job as a social worker. Rebecca, our main character, is curious, independent, sneaky, pushy, and an incredible juggler of worlds. She lives with her husband, Pascal, and their new baby, Lucie. Although Lucie has not yet learned speech, she is a very present character throughout.
The novel begins with Rebecca waking in the middle of the night to feed her daughter. Blurry-eyed and tired, she takes a look outside and sees a man who, under the cover of darkness, is closing the back doors of his van before quickly driving away. The next day, Rebecca is sitting in what could only be Café Olimpico (many Montreal landmarks are featured as the story moves forward). On the television at this café, information is relayed of a missing local man named Eduardo Morales. When she inquires about where Morales lived, Vince (the sweetest barista) gives Rebecca the approximate location. She flashes back, and realizes this happens to be the site of the scene she witnessed. It's at this point Rebecca decides to begin her journey as a private investigator.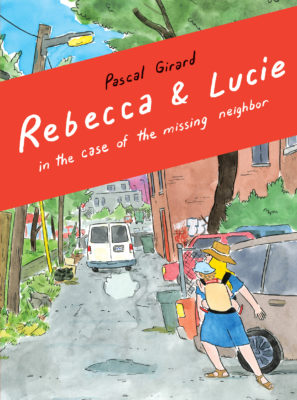 Rebecca and Lucie in the Case of the Missing Neighbor
Pascal Girard
Translated by Aleshia Jensen
Drawn & Quarterly
$24.95
paper
100pp
9781770464643
There are moments that really hit the reader hard, such as a scene in which Lucie has a high temperature, leading to what is known as a febrile seizure. Whether the reader is a parent or not, this moment is seriously gut-wrenching. Rebecca is immediately pulled into emergency caring mode, instinctively knowing what to do in this situation. Pascal, the father, is rightfully in panic mode, which eventually leads him to the nightmarish contemplation of "what would we do if something ever happened to her?" Rebecca and Lucie is light, funny, and uplifting – the reader does not see this scene coming at all. It is a shocking reminder of how frightening being new parents can be; an amazing few panels that make a family member of the reader.
In witnessing multiple everyday sweetnesses and the mundane between Rebecca and Pascal, we don't realize how much we are already part of this family. Girard's style of rendering is pitch-perfect for this tale. The book looks amazing with its gorgeous, bold, pop but muted colouring. In Understanding Comics, Scott McCloud theorizes that the more technically accurately a character is drawn, the less we can impose ourselves onto it, whereas a character with less defined traits enables the reader to project themselves onto that character. Girard's style is that perfect in-between.
It would have been great to see Girard flex his comedic muscles more. I found myself laughing very hearty, heavy laughs – even when away from the book. Always a good sign. In one scene, Pascal and Rebecca finally get to steal some alone time together, a very difficult task for new parents. They decide to hit up "Pavillon du Hot-Dog" for their date night. The reader is hilariously and sweetly reminded (in Montreal fashion) that it is just having the time alone together that is crucial at this point. It would be amazing to see more of Rebecca and Lucie's (and Pascal's!) adventures in another book… and maybe a sitcom?mRb