Alfredo Cutipa, the protagonist in Alejandro Saravia's novel Red, Yellow, Green, is a Bolivian in his thirties residing in Montreal. Burdened by the past, he now haunts the city, its streets, metro, cafés, and bars. His entanglements, including a love affair with a Kurdish freedom-fighter named, of all things, Bolivia, collide with his memories to set off consecutive detonations in a labyrinthine narrative that lodges like shrapnel – bracing and painful. Trigger warning: inasmuch as the novel exposes the violence Alfredo witnessed in Bolivia, this is a violent book. It is also playfully absurdist, funny, brilliant, and courageous. You may need to muster an iota of the author's courage to read the novel, but you will be rewarded.
"Who cares?" Alfredo asks, over and over again, as he wanders Montreal seeking connection and validation. Riding the metro, Alfredo searches for someone to understand his "stubborn muttering" and goes so far, in a "silent act of protest," as to wear "socks with the colours of the Bolivian flag: red, yellow and green." In his exterior world of the early nineties, he is both attracted to and perplexed by the complexities of a city inhabited by all manner of ethnicities and languages, a city fraught and occasionally beautiful, as when "the snow turned Montreal into a vast white page in which all stories were possible."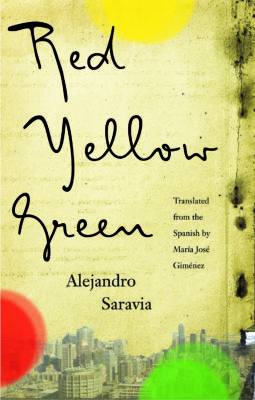 Red, Yellow, Green
Alejandro Saravia
Translated by María José Giménez
Biblioasis
$19.95
paper
200pp
9781771961417
For Alfredo, being Bolivian means having "a wound that never heals." In his interior world, Alfredo is stuck in Bolivia, struggling to process the horrific violence he witnessed and was subjected to, and make sense of his country's complicated history. These memories, delivered as flashbacks deftly woven into the scenes occurring in Montreal, centre around 1980, a time of chaos and brutality culminating in a vicious coup carried out by General Luis García Meza (one of many Bolivian ex-dictators inhabiting the novel), in which Alfredo himself, as a young recruit, played a part. An incident in particular obsesses him: the gruesome abuse of a soldier named Boxeador, in some ways the true hero of this novel, by the army officers in the barracks.
"Why didn't I do something?" Herein lies the crux of Alfredo's suffering: not only is he beaten by the officers, he is also witness to their atrocities and does nothing. Shamed by both survival guilt and the guilt of being a collaborator, Alfredo's struggle boils down to this: to choose between history and oblivion. And his only path forward is to write it all down. "Who the hell cares about this story at all? No one. Absolutely no one. And yet, Alfredo felt he had to write it down…Our memory belongs to everyone, to those who died and those who live with buried memories."
From the beginning of the novel, the struggle to write, to find the words and purpose, drives the narrative. Alfredo emerges from his bouts of writing to dialogue with characters such as Scribe, another self with whom to debate the futility or validity of his endeavour. The author's approach, ironically meta, allows the narrative to shift between points of view so that what could have been tedious stream of consciousness becomes elastic, along with time and geography, as the story shifts between Alfredo's present and past, between settings in Montreal, Bolivia, and elsewhere.
The book's structure stretches the boundaries of novelistic form. Delivered in two sections of segmented prose, there are no chapters, just short breaks to separate the scenes. The language of the novel is faithful to its subject, Alfredo's inner workings, simulating the convoluted, associative, and fragmented nature of the human mind and memory. Some segments read like prose poems – circular, compressed, often imagistic, and even lyrical – no surprise given that Alejandro Saravia is also the author of eight volumes of poetry.
The formal audacity of Red, Yellow, Green positions Saravia, born in Cochabamba, Bolivia and based in Montreal, among the best contemporary writers. Thanks to the Biblioasis International Translation Series, this novel, originally written in Spanish and published in 2003, can now reach a wider audience in an excellent translation by María José Giménez.
"Who cares?" Alfredo asks repeatedly. Saravia's accomplishment in Red, Yellow, Green is to make you care, and deeply.mRb