Catharine McKenty is part of a vast family of spiritual adventure seekers willing and able to canvass the world with an eye to improve humanity. It's no wonder that she had the fortitude to weather her roller coaster marriage to Neil McKenty – one of Montreal's highest-rated radio hosts.
Riding the Elephant: Surviving and Loving in a Bipolar Marriage is a self-published memoir from a woman about to turn ninety, and its words inspire as much as they bring insight. Without being overly sentimental, McKenty paints a picture of family charity, faith, and tenacity within an Irish clan whose tentacles reached India and China as missionaries and healers. She was raised with the idea that quitting was never an option, even in a marriage unduly stressed by the unpredictability of her husband's suicidal thoughts and ricochet moods. She told me over the phone, "When you take on an impossible task, the universe conspires to help. Love takes care of ordinary people." She believes that faith is an under-recognized tool for those suffering with the symptoms of mental illness – and even more so for the caretakers who shoulder the burden.
Born in 1930, McKenty spent her early years on her grandparents' farm in the Don Lands area of Toronto. Her birth could have been a setup for enduring emotional turmoil, since her father was killed in a car crash when her mother was just four months pregnant. For decades, the details of the accident and everything about Walter Turnbull were glossed over to protect Catharine. In the book she writes:
The whole idea of my father became like a frozen river in my innermost being, not to be talked about until I became an adult. It was only much later that I realized how lucky I was to be raised by a courageous mother who made a life for both of us at a time when it was not easy for single women. So little was known about grief therapy.
A later chance encounter with the driver of the car taught her liberating lessons about remorse, forgiveness, and acceptance, tools she would use in her marriage.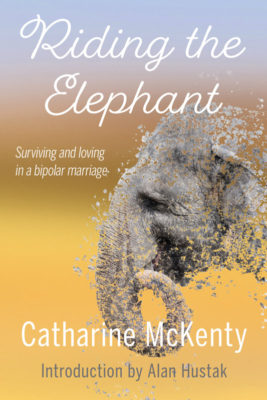 Riding the Elephant
Surviving and Loving in a Bipolar Marriage
Catharine McKenty
Torchflame Books
$23.76
paper
244pp
9781611533460
Only as a grown woman did she learn that her father and two brothers had started a school and an orphanage in India. Theirs was a family with a deep conscience, and she hoped to perpetuate that courage. Despite not having a father, her widowed mother was never alone. They lived with Lydia Orford Fleming, McKenty's Irish grandmother, an intimidating but loving matriarch known as the "Duchess." Catharine was raised in a tight-knit fraternity of irrepressible stock who looked outward instead of inward.
Despite the happy childhood atop tractors plowing the land and roaming the undulating fields with an Airedale, high school was the beginning of a disconnection with her mother. At that time, they had no common language to discuss issues or feelings, and overwhelming emptiness led to feelings of unworthiness. She could have languished in what she referred to as "self-absorption, and a profound inner sense of neediness," but she was rescued by a cousin. Feeling unconditionally loved, she finally found her voice and a facility for languages, French and German, that paved the way for a scholarship at the University of Toronto.
Catharine put her German to good use in the late 1940s as a translator for post-war reconciliation. At an international conference in Switzerland, she saw people finding their way through the darkness after Hitler's ravage through Europe, igniting her own desire to be part of the healing. She came to realize that, "The difficult things we go through can allow us to connect more deeply with other people." Despite her successes in Germany and Switzerland, she felt out of her depth compared to the visionaries who were re-assembling war-torn Europe. In a moment of personal insight, she realized she had taken a back seat as a follower instead of a leader. She returned to Canada and worked as a research editor, then as a speechwriter for multiculturalism and the Ontario Minister of Education, a bid to find her contribution.
Catharine and Neil met on the dance floor in 1969, and Catharine writes of their first encounter, "Suddenly, an unexpected thought came roaring through my mind. It had a bell-like clarity. This is the man I am going to marry. He was unlike anything I had pictured in my girlhood dreams." Neil, a former Jesuit and recovering alcoholic, was "opinionated, autocratic, utterly impossible and immensely interesting." For six months, she ruminated about his exasperating personality. Despite her hesitations, Catharine decided her life would be richer with Neil than without. She has never looked back.
Perhaps the flaw of this book is the late arrival of Neil McKenty in its narrative. We are led to believe that the central premise of the memoir is bipolarity, and the burden imposed on a marriage by the difficult symptoms of mental illness. While the subject is, of course, addressed, the book is largely Catharine's autobiography from birth to the present day – her formidable trials and distinguished accomplishments. At times, Neil feels more like a footnote. The author spends far more time recounting her rich Irish history, woven through dozens of warmly told anecdotes, rather than delving into the perils of her marriage to a person struggling with mental health issues.
Her faith gave her limitless optimism during the hardest days when Neil succumbed to depression. She clung to a quote from the movie Babette's Feast, "In the end regardless of our choices, all that remains is the infinite love of God." Despite the unpredictability of Neil's moods, her spirituality was a constant.
Riding the Elephant is a meandering collection of thoughts and stories, an examination that seeks to find meaning in a long life. It's a reminiscence that took thirty years to capture. She wrote eighty-seven pages during the ice storm in 1998. "I had been given so much help at that time, and I began to write about the abundance of hope in difficult times. I had such a certainty that love is at the heart of the universe." Over three decades, she wrote forty-eight short stories about all that she has learned. "The challenge was to make it all cohesive."
In the end, she came to see that the metaphor of riding an elephant is a feeling of empowerment that helps to conquer all fear. How lucky for Catharine to have arrived at such a sublime destination. May your own journey be as transcendent as hers.mRb