Gabriel Cholette's debut memoir Scenes from the Underground offers a dip into queer nightlife, the modern world of dating, and the many vices we engage in. Cholette, a medieval studies student and writer, brings readers on a flurry of whirlwind journeys to gay clubs and parties across Montreal, Paris, Miami, New York, and Berlin. Vibrant erotic illustrations from artist Jacob Pyne are dotted throughout the book to accompany Cholette's words and to bring the author's adventures to life. 
Admittedly, Cholette's style of writing (translated from French by Elena Taillon) takes some getting used to at first. His prose reflects the digital age through short and straightforward passages, evoking Instagram captions. This format lends itself well to the portions of the book where Cholette is interacting with others through dating apps like Grindr.
Hilarious and unflinchingly frank, the book's sections are split up into various vignettes, which are almost read as journal entries. With the author constantly on the move to a new city, the reader feels that they are tagging along on the journey, meeting new faces and accompanying Cholette in both his moments of pleasure and his misfortunes.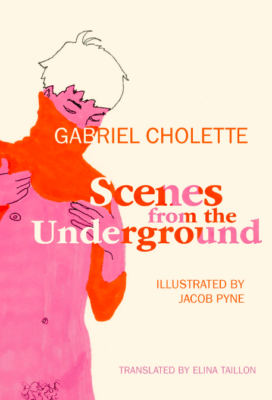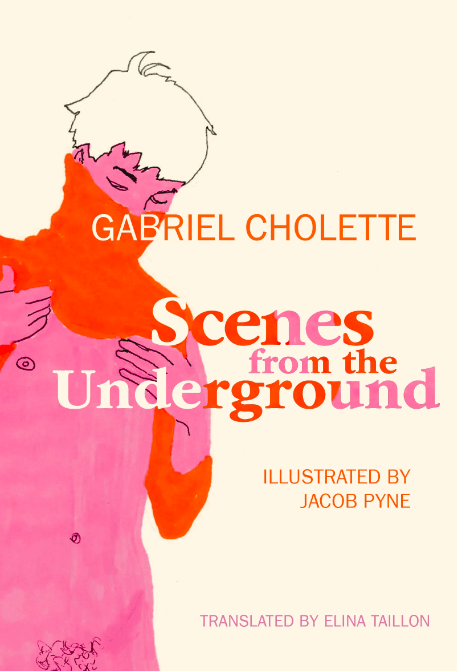 Scenes from the Underground
Gabriel Cholette
Translated by Elina Taillon
Illustrated by Jacob Pyne
House of Anansi Press
$24.99
paper
168pp
9781487010751
Cholette gracefully grants his readers access to his struggles and complex thoughts. For the vast majority of the book, it's not uncommon for readers to feel as if they are peering into the window of a dark (sometimes dingy) club lit up by neon lights, with punchy techno music pulsing, to find Cholette and his friends at the centre of the dance floor. The intimacy of being granted nearly full access to someone else's life, during perhaps some of their most private moments, is captivating and engrossing, and makes
Scenes from the Underground
difficult to put down.
Cholette does not spare the reader any details, even the most nitty-gritty ones involving heavy drug use (such as the scene where the author consumes a "soup" of various pills and powders) and casual sex with strangers. I admire the author's blatant honesty, even as he describes his self-destructive behaviour and self-deprecating thoughts. Cholette tells his stories as they are, in their full vulnerability, and never dresses them up. He is forthright with his pain, his desire for love, and his endless pursuit of pleasure.
Scenes from the Underground can be read as a love letter to the sometimes chaotic but freeing spaces that Cholette inhabits. By following Cholette on his adventures as he seeks to visibilize intimate experiences at various clubs, readers, regardless of their identity and location, may even be inspired to follow the author's lead by living authentically, relinquishing the shame that's often tied to our various vices, instead choosing to focus on pleasure.mRb