The opening line of John Farrow's Seven Days Dead booms: "Time and tide wait for no man and no woman." Difficult driving conditions materialize from this weighty truism for Madeleine Orrock, as she races through a violent storm on the Bay of Fundy. She's hoping to reach her dying father, whom she calls bastard.
The bay is shaped like "the opening jaws of a shark." Winds have staggered ships in the water and the tempest is wicked against the "craggy shores." Wild wind and water are literally everywhere. It's a filmic beginning that aligns Madeleine's Porsche with a champion thoroughbred in a losing race.
The opening scene sets the tone for the book and simultaneously positions the dying patriarch in a place of relative calm and clarity. The electricity has gone out in most places, but Alfred Royce Orrock lies on his deathbed with a generator providing a source of light and heat. Housekeeper Ora Matheson and Reverend Simon Lescavage are close by. Orrock's inevitable death appears to be of natural causes but it quickly becomes a murder investigation. What are the motivations for the crime? He is the richest, most contemptible man in the small community of Grand Manan, New Brunswick. He owns most of the island, including its chief means of livelihood, a dulse seaweed harvesting business.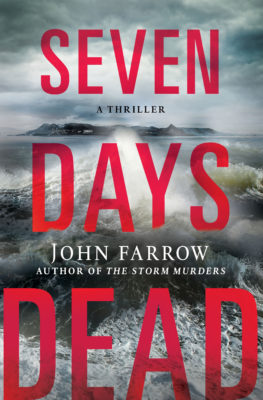 Seven Days Dead
John Farrow
Minotaur Books
$36.99
cloth
298pp
9781250057693
The case is complicated when Reverend Lescavage is discovered dead on the same morning as Orrock. Orrock's wife was murdered many years ago and her case seems connected, too. The number of deaths rises and unexplainable events continue. Madeleine becomes the main suspect in her father's death. The reclusive Aaron Roadcap, who was out for a walk during the storm, is suspicious. So is the group of people who always dress in white and were gathered out in the storm. The local Mounties are ill- equipped to respond to the seemingly divergent case details and retired Montreal detective Émile Cinq-Mars is enlisted as lead investigator.
Fans of earlier Cinq-Mars stories will know of his demanding career. The tension this has caused in his marriage hasn't disappeared, even with retirement. He's determined to make a new start with his wife, Sandra, and their trip to beautiful Grand Manan is a rare vacation. But when the call from the Mounties for his expertise and time becomes too loud for him to ignore, even Sandra concedes to it.
Cinq-Mars is known for his equanimity and ability to resolve the unknown. But he does lose his patience. In one of the more gritty scenes in the book, Cinq-Mars takes a tough-love approach with a junior investigator, Mountie Corporal Louwagie, who is suffering from PTSD and battling his demons with booze. A mentorship evolves between them, which helps Louwagie rise to the challenges of the complicated investigation.
Seven Days Dead features common tropes of the mystery genre: it's set in a small town with a tight-knit community. The novel is populated by quirky, secretive, and reliable townspeople. Whereas the unravelling of Aaron Roadcap's life story is compelling, the staid archetype of Ora Matheson as the loud-talking town gossip is less so. Although she performs a certain function to help illustrate the mechanics of the mystery, her characterization might have been more nuanced.
The story that unfolds is a quick and enjoyable read. Seven Days Dead features an engaging cast of characters upon a captivatingly written landscape. To ride alongside Cinq-Mars in the proverbial passenger seat as he thinks through various scenarios and learns about the lives of the townspeople makes for a satisfying and entertaining rainy day read. mRb