Midway through Songs for Angel, a young girl asks her mother: "didn't you always tell me, Mama, that we are responsible for each other." Marie-Claire Blais' sprawling tour de force resists distillation into neat thematic statements, but the dozens of characters and scenes presented in her latest novel to be translated into English are united by this question: In what ways are we responsible for each other, for our children, or for ourselves?
Songs for Angel, originally published in French as Des chants pour Angel (2017) and translated to English by Katia Grubisic, is the penultimate volume of Marie-Claire Blais' Soifs series, the first of which was published in 1995. The series is a vast narrative through which Blais addresses the most pressing social issues of our time in an experimental, stream-of-consciousness style that has garnered her comparisons to Virginia Woolf. Likewise, Songs for Angel is a collection of independent vignettes and storylines strung together by a few recurring narratives that unfold in parallel, in a rhythmic prose that omits periods and paragraph breaks. The nearly 200-page-long sentence trips through scenes and joins otherwise disconnected narratives with commas, giving the impression that each of these separate vignettes unfold in the same collective moment.
The novel opens on a boardwalk, as Mabel, Robbie, and Petites Cendres are en route to a funeral procession for their departed friend, Angel, whose struggle with AIDS was documented in Blais' previous novel, A Twilight Celebration (Le festin au crépuscule, 2015). Soon the narrative pivots, and we are with another character: the Young Man, an unnamed seventeen-year- old boy, who considers his fate from a solitary prison cell after committing an act of white nationalist terrorism, shooting up a congregation of black church-goers in Charleston, South Carolina, while his prison chaplain lobbies to reduce his sentence from death to life imprisonment.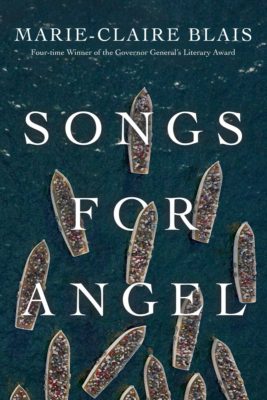 Songs for Angel
Marie-Claire Blais
Translated by Katia Grubisic
House of Anansi Press
$22.95
paper
184pp
9781487006327
The collected vignettes in
Songs for Angel
address many contemporary social and political issues, including the importance of trans bathroom access, internet privacy, police brutality, sexual abuse in the Catholic church, and terrorism in numerous different forms. An unnamed twelve-year-old Palestinian suicide bomber runs alone into the distance rather than go through with an attack while Suzannah, a thirteen-year-old girl in America, prepares to walk into oncoming traffic after her father cuts off her hair on camera and posts the video on YouTube as punishment for her sending a photo of herself to a boy she met online.
Blais presents us with this polyphonic web of suffering without prescribing overt connections between each scene, though the intersections between storylines are many, including a recurrent exploration of corrupted youth, and the layers of responsibility that surround atrocious acts. As the Young Man's trial looms, his parents think to themselves: "this was not the child they raised, not the child they'd driven to school every morning when he was small, no, it wasn't him, it was someone else, a stranger, not their son." Elsewhere, a man awaiting execution after raping eight young girls compares himself to Christ being crucified on the cross, and interrogates God's motivation for the creation of monsters such as himself. Through these parallel vignettes, the narrative provokes the reader to address corruption and malevolence while its characters shirk their own responsibility.
Songs for Angel does not look closely or at length at any one character or social issue (though perhaps this is a thirst better quenched by reading the series in its entirety). The work is rather a broad and sensory documentation of shards of our apocalyptic present, and the many vices that threaten to disintegrate the already tenuous and somewhat arbitrary connections between us.mRb