A small-town charm dominates much of the local fiction about our fair city, and Montrealer Elaine Kalman Naves's first novel, The Book of Faith, keeps religiously to this invisible holy commandment. The Book of Faith represents a tight-knit Jewish community in which a quirky rabbi pushes to come up with the money for a questionably needed synagogue renovation, a "successful" writer recovers from a failed marriage and finds herself profiling the life story of a wealthy member of her community, and middle-aged friends playfully mock each other and gossip with reckless abandon.
Though the pacing is occasionally unexpected, The Book of Faith is on par for a first novel and Kalman Naves shows promise for a second down the line. Having just returned from a war crimes trial in Germany to testify on behalf of her family, the author meets me for coffee and we discuss her relationship with the Jewish faith, her thoughts on writing and friendship, and the influence of the late, great Mordecai Richler. 
Sarah Fletcher: This is your first foray into fiction. Where did the idea for The Book of Faith come from?
Elaine Kalman Naves: I started writing The Book of Faith and it was really affected by the other books I was writing. Basically my non-fiction work falls into two categories: pure non-fiction and creative non-fiction. Certainly in my three titles, Journey To Vaja, Shoshanna's Story, and Portrait of a Scandal, I used fiction techniques like dramatization and laying out scenes. And that was very much something that was part of The Book of Faith.
The Book of Faith grew out of [wanting to write something] very light about friendship between women. I had in mind three friends, roughly the women who are the central three in this book, and I wanted to write something with the synagogue background, maybe things that happen to you in middle age, relationships.
Then I myself lost one friend, and then I lost another one, when I was in my fifties. So that was a really big thing in how this novel came to evolve.
SF: Was one of the characters based on the friend you lost?
EKN: All of the characters are composites, but that's not really the important part. I think it was the realization of how significant friends are in our lives and what a huge role they play. I started to think about it: how important are your parents to a person? Yes they are crucial to you, but it is in the natural order of things to lose your parents and for you to outlive them. And in your life you have spouses and lovers and boyfriends, and they can come and go … that is the reality. And your children, well, they're going to leave you! You invest all this energy in them and all of this love, but it is in the normal course of things for them to go.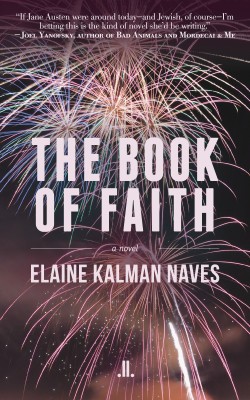 The Book of Faith
Elaine Kalman Naves
Linda Leith Publishing
$19.95
paper
360pp
978-1-927535-73-8
For me, when I lost one of my very good friends, my whole worldview shifted because the idea was that my friends were going to be my companions all the way through to the end. That is one of the things that helped me write this book. The other thing is how interesting and varied life is after fifty. When I was fifty years old I thought my life was sort of over, it was all going to be the same for the rest of my life and nothing would change. And then a whole bunch of stuff happened. My friends died, I had health problems, my relationship came apart. This was also the point when I started getting attention for my writing, funny enough, and my career started to take off a bit.
SF: Do you yourself identify with Erica, the writer, as the protagonist?
EKN: Ha, well, she's not the only protagonist certainly – or I have failed if she comes across that way – because I wanted it to be much more spread through the perspectives. But yes, there are some similarities! She is certainly more successful as a writer than I am, I did give her that. One other thing that I envy that I don't have is her beautiful curly red hair.
SF: You have written often about the Holocaust, like Erica does. What is your relationship to the Holocaust as a writer?
EKN: I remember when I finished two other books and I said: I am now finished with the Holocaust. Then I started to do something else and without me willing it to the slightest extent, in walked the Holocaust in the form of one particular survivor … and then in walked another whole bunch of survivors. So I said, I may have finished with the Holocaust but the Holocaust hasn't finished with me!
SF: Are there any writers that you look up to or that you're influenced by?
EKN: Everyone who writes in Montreal is always aware of the status of Mordecai Richler. But I was also very influenced by a British novelist called Barbara Pym, who was held to be a twentieth- century Jane Austen, if you can be such a thing.
I like that she came from a kind of churchy background. Because I set my cast of characters within the bosom of a liberal Jewish congregation, I felt that this kind of thing had not been done by a Jewish writer. It's all written out of a certain sensibility that doesn't make it ridiculous to belong to a community of faith.
So yes, I guess I wanted to be somewhere between Mordecai Richler and Barbara Pym. He didn't go to synagogue, but he could be very sarcastic with people who did. And so I'm writing from inside the tradition, I hope with respect for it as well as affection and quite a bit of playfulness and with a sarcastic and satiric eye. mRb