Brecht Evens' graphic novel, The City of Belgium, reminds me of when I used to sit up late at night at my parents house watching the Independent Film Channel (IFC). An "arthouse" or "foreign" language film would come on –  films that moved differently than the ones I was used to.
Reading The City Of Belgium feels like having a mini-film in your hands, with all the complexity and emotional grit of those films I remember. The book centres on a group of people who gather at a bar over the course of one night. Our main characters are Jona, Victoria, and Rudolphe, and their complexities are slowly revealed to us over the course of this night. Evens first introduces us to Jona, amidst a wash of saturated blue hues. Jona is in the middle of calling up many friends. He is eager to hang out, but his friends reject his offer of company. Playing with Jona's opacity, the blue tones give the hint that he is fleeting, or ghost-like to others. Victoria is more complex; we get the idea she is somewhat troubled, that something happened to cause her friends to act in an almost overly nurturing way. She is appropriately drawn using yellow, while Rudolphe is mainly represented in red.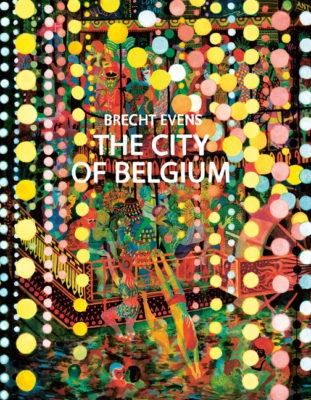 Evens' style is groundbreaking, in a way particular to the graphic novel as an art form, while also referring back to traditions in art history, and he flexes it with flair. His own craft (what looks like a sort of stylized, modern take on the best parts of impressionism) is used to represent his characters, their moods, but also for the entire world in every section, on every page. A world, constantly changing, and moving. Brecht exercises an incredible amount of art history knowledge, mixed with technical ability, and talent. As a reader, I felt he was able to actually take impressionism, put his own thing down, flip it, and reverse it. Evens is so knowledgeable with his craft that the artwork is somewhat daunting.
The City Of Belgium has an all-encompassing richness that evolves as the story progresses. Evens' style also changes in drastic ways over the course of the graphic novel. For example, we see his impressionistic style change into surrealism, then into a purely basic shape outline, such as a character's head slowly becoming represented by a simple circle, over the course of the book
Certain panels brought to my mind the atmosphere created by a personal favourite, Ludwig Bemelmans. The illustration style in The City Of Belgium is reminiscent of the assertive, chaotic, geometric shapes in Bemelmans' Madeline children's book series.
The City Of Belgium will be appreciated by art lovers and amateurs alike. That said, Evens' illustrations are especially rewarding for art connaisseurs. Just as some comedians are referred to as "a comic's comic," Brecht Evens is, in my view, an artist's graphic novelist. So go: Look. Read all the motions right now. A forever sprawling kind of beauty awaits you.mRb