The Company of Crows begins with thirteen-year-old Veronica Reid and her father driving to the Laughing Willows Trailer Park where their family will spend the summer, her father commuting from the city on weekends. It's a spot where the family can get away, and escape is a prominent thread throughout the book.
The story is populated with people wanting to escape into nature (and into mobile homes) from various life circumstances: unhappy marriage, mental illness, society's popular conventions. Laughing Willows is a vacation spot for some, but it's also a convenient place for misfits, dropouts, and transients to settle. Set in 1970s Ontario against the larger backdrop of the women's liberation movement, this lesbian coming-of-age story is ultimately about Veronica learning how to get outside of prescribed domestic and social circumstances – and outside of her self.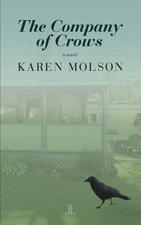 The Company of Crows
Karen Molson
Linda Leith Publishing
$16.95
paper
230pp
9781927535943
Veronica is a quirky, clumsy, and articulate bookworm who speaks in the style of the characters she reads about in Jane Austen and Charles Dickens novels, using vocabulary picked up from ornithology books from the library. Her imaginary landscape is built upon stories like
Treasure Island
and
Lord of the Rings
, but also
Gone With the Wind
and
Madame Bovary
. Though she has recently shed her braces, she has also recently lost her vision. She wears thick glasses, is bullied by peers, and teased by her brothers. In the beginning of the story, she vows to become a nun and hopes for the miracle of sight. But at one point early on, she acknowledges the hand she has been dealt:
She's read that blind people compensate for their lack of sight by deliberately sharpening their other senses. With her eyes closed, listening to the familiar sound of the engine and the hum of tires on the pavement, she hears something else behind these sounds: an intermittent buzzing. It begins in the distance but seems to get louder, closer. Already her hearing is becoming more acute, just after a few minutes of concentration.
It's the perfect on-ramp to show Veronica's connection to nature, and especially to the crows that also reside around Laughing Willows Trailer Park. Crow Hrah plays as important a role in this story as either of Veronica's parents. With reverence, Veronica quickly learns the customs of Hrah and his community. From Hrah's bird's eye observations, we gain insight into the actions of humans and crows.
Veronica seeks "wonder and enchantment" in the books she reads. She soon learns to recognize the same in the trees, grass, water, and wildlife that surround her. She begins to notice that, "Something's going on, something otherworldly." Despite several circumstances that could strip her of dignity and self-esteem, Veronica is imbued with a broad worldview, imagination, and the ability to truly listen. Her deep connection to nature is clear and even uncanny. It serves as catalyst in portraying the justice of children and animals.
The trailer park community is where Veronica finds her first love in older friend Charlotte. She finds bonds with neighbours Grace and Grace's mother Ruby, and, eventually, even with her younger brothers. The precarious nature of mental illness suffered by Grace and dementia by Ruby is well depicted. It gives these conditions a human face with empathy.
With apparent ease, Molson has created a rewarding story showing the struggles and triumphs of people and of crows. She has created a rich intertextual world that is a pleasure to read. The Company of Crows is a compelling story that can capture the imaginations of both adult and young adult readers.