"The End" was to be Anna's greatest work but she has died before having the chance to create it. Her friend has set out to inspire someone else to perform this unrealized work, in which the artist, alone on the tundra, live streams their death from exposure. In The End, By Anna, Adam Zachary's narrator gives us the story of Anna, her short life, and her prolific two-year career, its roots in rebellion against a poetry professor who admonished students that writing a poem is like building a house. Anna's contribution to class in response was a video of the fire she'd set in an abandoned house. "This poem took the form of a house burning down," she says as she steps into the frame.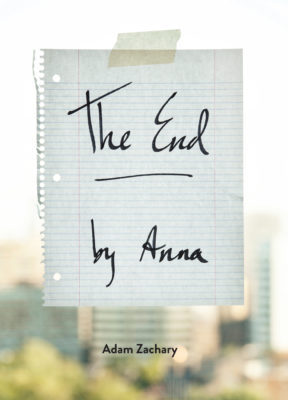 The End, by Anna
Adam Zachary
Metatron
$14.00
paper
108pp
9781988355023
Part catalogue, part biography, Zachary's novella is an elegy in the form of a tenderly presented archive. Their prose is spare and resonant. The narrator cataloguing Anna's work is clear-eyed and sensitive and occasionally uncertain in their curatorial role – both artistic executor and confused friend, still trying to make sense of it all. After poetry, Anna had turned to photography, film, and conceptual performance. Some of this work was insightful, some of it, notes the narrator, of questionable "artistic merit." The book becomes a meditation on youth, art, beauty, death, purity, and performance – the dominant themes of Anna's oeuvre, and of her life story. The power of "The End," perplexing and infuriating to those close to her, is that it remains "a dream that Anna did not have the chance to realize." It exists only in the realm of the purely possible, left to the narrator of this intelligent and melancholic work to offer up to the reader – a suggestion, a provocation, a way to finally understand what Anna was hoping to achieve.
The narrator of Maxime Raymond Bock's Baloney is a young, failed poet looking for a way back to writing, his days now spent parenting, earning money. When he meets Robert Lacerte at a reading one night, he wonders if he's found the person to guide him.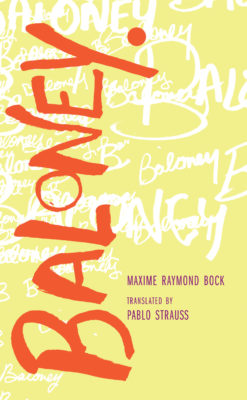 Baloney
Maxime Raymond Bock
Translated by Pablo Strauss
Coach House Books
$18.95
paper
96pp
9781552453391
Lacerte – "Baloney" to the poet set – tells the narrator the story of his life, from rough and raw weeks in a logging camp to youthful camaraderie in 1960s Sherbrooke and travels in South America that ultimately went horribly, tragically wrong. The second half of Lacerte's life has been quieter; he cleans public pools by day, drinks by night, and clings to the fringes of the poetry world. He has written poems every day of his life.
The narrator first hopes for a mentor to help him find a way back to poetry, but quickly adjusts his expectations – "I'd found a clown, a character, a subject to objectify." Lacerte is rather less ridiculous a character than his nickname would have him, however, and when the persona falters, revealing a vulnerable old man, they both "cut the shit" – they've become friends. But the young poet is still also hoping for some kind of artistic salvation; whatever else Lacerte's archives may hold, they are full of "the thing itself, writing, a stubborn impulse that survived under any circumstance, because it had to." He has a kind of certainty irresistible to someone seeking validation that poetry is worth spending a life on.
Bock gives this story of a small, sad existence all the glorious complexity and contradiction it deserves. Pablo Strauss, who translated Bock's previous novel, Atavisms, brings us Baloney in spirited English that fully captures the rich and energetic language of the original, an empathetic study of a life in poetry, the dogged commitment and magnificent failure.