David Homel's new novel, The Fledglings, spans three generations of a family's history. Alternating between the middle-aged Joey Krueger's placid search for what he calls his "secret garden" and his mother Bluma's scrappy, Depression-era hijinks, Homel tenderly stitches together a patchwork of real, invented, secret, and recounted recollections.
The book opens at Bluma's seniors' residence in suburban Chicago, where Joey visits her daily before heading off to his environmental catastrophe solutions business. It's a routine his estranged wife derides him for; she mocks him for being a mama's boy. And maybe he is, but Joey also nurtures the kind of respect an only child can harbour for their single parent. "I don't know anything about you," he tells her candidly. Perhaps he grasps just enough to know she's earned her mettle. Inspired by this desire to know Bluma better, Joey decides he will write her life story. Not to publish a book, but rather to conserve her transcribed memories in a time capsule to be buried. As a testament, a memorial, or perhaps simply to invent a project that will occupy them both: "The perfect pre-retirement project, fitted to a man his age."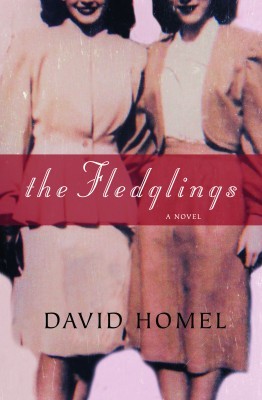 The Fledglings
David Homel
Cormorant Books
$21.95
paper
288pp
9781770863828
Bluma's story begins in the Lithuanian village of Shukyan, where her father, "a man as big as a horse and as strong as a bull," Abraham Tabiliak, and her mother, Rachel, are betrothed by their Orthodox Jewish community and eventually marry. From Lithuania, first Abe, and then Rachel, Bluma, and her two siblings travel by ship to America. They take up residence in impoverished, ramshackle Burnside, outside Chicago. "Life in Burnside was ruled by the railroad tracks. When three freight trains came by and closed off all three level crossings at the same time, they might as well have been living on an island."
America's first imprint: renaming the clan. "Abe Goldberg – it was a joke of a name, a Jewish joke, a joke played on a Jew…. Goldberg's real name was Tabiliak, but Tabiliak was too big a mouthful for the customs man, so Tabiliak magically became Goldberg at the point of entry." The family settles stateside just in time for Prohibition, and the newly christened Mr. Goldberg needs to make ends meet. He fills a vacuum; he becomes his town's bootlegger. Abe often leaves Bluma in charge of his rickety speakeasy, the Chicken Coop. The Coop is where Bluma grows up pouring Irish cops dollops of hooch in coffee cups, cutting and dealing cards and dreaming of a vague, eventual freedom.
The novel's most engaging moments are  the scenes between Bluma and her cousin Bella. The two- member, all-girl gang wear each other's clothes and promise one another never to marry. They call themselves The Fledglings, and their friendship, cemented by both their familial bond and the chemistry of their complementary survival skills, is the book's emotional pulse. Bluma and Bella are rich, riveting characters, and they are all the more alive, for the reader as much as for themselves, when they are together.
As the novel careens between past and present, the scars and tragedies of Bluma's life begin to seem almost like a kind of initiation from which her son has been spared. Is his life, as a result, tepid or simply subtler in its shifts? Joey, unlike his mother, has had the opportunity to choose individuation. He is not only the first of his family to attend college, but he may also be the first to fall in love. And while Joey's journey may seem more benign than his forebears' raucous adventures, in his family romantic love is a delicate luxury,
a gentle emotion, and it is his alone.
It took three generations of Tabiliak-Goldbergs for middle-aged love to bloom one evening at dusk, among the fireflies and geraniums of a suburban neighbourhood. At last, Joey plants his mother's history in his girlfriend's yard, and his mother's stories seed the secret garden he sought. mRb