Nadine Doolittle's deliciously atmospheric new crime novel, The Grey Lady, is the kind of book you want to read with a fire crackling in the hearth, a hot drink by your side, and a blanket within reach. As the clouds encroach, the wind screams, the rain attacks "like volleys of mean little spears," and the Gatineau Hills, in which the story is set, loom, dark and threatening, the reader shivers in delight.
Our narrator is Hester Warnock, aged 56. She is cynical, pragmatic, unyielding, and a bit of a ball-buster ("I'd learned at an early age that behind the curtain of male authority there was a quivering little fellow with his penis in his hand," she tells us).
While her way of seeing the world may not always be pleasant (for example, "spring in the Gatineau Hills comes on like a messy premature birth") it is always apt, and great fun to read. Hester's descriptions are so vivid and her narrative voice so strong, we feel we are right there in the deluge with her.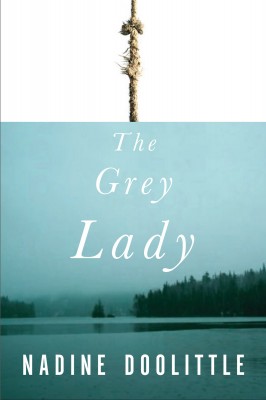 The Grey Lady
Nadine Dolittle
McArthur & Co.
$24.95
Paper
272pp
9781770870611
The victim is 58-year-old Malcolm Driver. Depending on who you listen to, Malcolm is an idealist, an opportunist, a philanderer, a plagiarist, or all of these things. In the early 1970s, he ran a commune until the mysterious death of his pregnant young girlfriend led the group to disband. Recently, Malcolm published a New Age self-help novel that became a surprise bestseller and prompted the making of a documentary of Malcolm's life.
We learn early on that Hester and Malcolm were lovers for a brief, explosive, life-altering time in 1974. We also learn that Hester did something terrible back then about which she has felt unrelenting guilt ever since. In fact, she has chosen not to see Malcolm for 35 years. When he appears at her office and asks her to participate in the documentary, she acquiesces and joins Malcolm's film crew and other entourage at the farm ("an orchestra of eight – insiders and necessary evils assembled by Malcolm to deliver him what he wants"). A storm closes in, and before you can say "Agatha Christie!" Malcolm is found dead, and all those present are under suspicion of murder.
Doolittle gives us a good assortment of characters, from the refreshingly astute lead police investigator, Detective Sergeant Rompré, who conducts his investigation with Zen-like calm, to Malcolm's obese and downtrodden common-law wife Brenda, who lumbers around the converted barn in which they live, complaining about her unwanted house guests. As with any good mystery, virtually everyone has something to hide, and, in her straightforward, no-nonsense way, Hester quickly figures out their secrets. A few of the past events on which their motives are based seem a bit too coincidental, but we let it go, eager to see where Doolittle is taking us.
The only thing that doesn't add up is Hester's intense attachment to the event of 35 years ago. Seeing Malcolm in her office "was like encountering the fellow survivor of a shipwreck. Someone who remembered what my life was like before the boat sank." In fact, so much is made of this mysterious incident that when we discover what it is, we cannot help but wonder: is that severe enough for Hester to remain overcome with guilt more than half a lifetime later?
Perhaps it is. We want it to be, at any rate, so that we can plunge back into the novel, which is so tightly written and perfectly paced, we feel we are being swept along by the story, like a fallen branch in a fast-flowing river of spring runoff. mRb