Let us be blunt. Is any single poem really "worth" $20,000?
The 2020 Montreal Poetry Prize, whose criterion for submission is an original English-language poem of under forty lines, received a staggering 4,645 international entries. An international jury of ten poets work to create individual shortlists, which are then submitted to the year's judge. The shortlisted poems and the winning piece – "Harlem Valley Psychiatric Center," by American poet Victoria Korth – have recently been published as The Montreal Poetry Prize Anthology 2020.
The Prize was founded in 2010 by Montreal poet and critic Asa Boxer, with the blessing (but not financial support, as is sometimes reported) of Leonard Cohen. Boxer had a clear vision for the Prize: an endeavour at once mischievous, whimsical, willful, and showy – and at the same time, entirely serious about a particular vision of poetry and a particular ambition for poetry in Montreal.
I asked Eli MacLaren, Associate Professor of English at McGill University, who is in charge of the prize and one of the book's editors, to explain a little more. Boxer ran the biennial Prize for four cycles between 2011 and 2017, and then asked McGill University to take it on, looking for a "firmer institutional footing." MacLaren is open about what he and a team of committed graduate students have inherited in the administration of the Prize.
It's "a big bait […] it's meant to turn heads," he says. The Prize was conceived to give a poet enough money to write for a year. There are currently no other monetary prizes awarded – just the lottery chance of winning the one amount. But there are other activities associated with the Prize beyond the chance to win financially, and, for MacLaren, that's more to the point.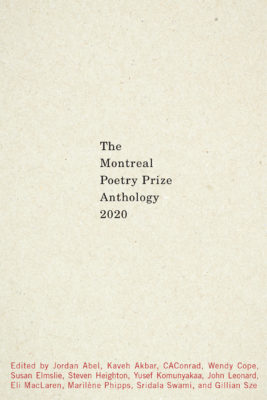 The Montreal Poetry Prize Anthology 2020
Edited by Eli MacLaren et al.
Signal Editions
$17.95
paper
110pp
9781550655698
The Prize is open to anyone. Entries are anonymous, with no bias given to previous publications, there are no restrictions on age or experience, no bias towards previous writing career. The poems can come from anywhere in the world, as long as they are written in English, original, and previously unpublished. There is an entry fee of $25, which goes towards funding the Prize money – "poet to poet" – and, newly in 2020, an option to access a fund of donated fees should that be a barrier. Every effort has been made to make the Prize as accessible as possible, on a global scale.
The international element has been emphasized from the start. MacLaren muses: "I wonder if the motive for this Prize in the beginning wasn't to heave and lift Can-Lit beyond Canada […] if that was Asa Boxer's motivation – that [he's] not going to be contained in this box that is Canadian poetry… try to bust things open, to bring different voices in from around the globe."
At the same time, the Montreal element is key: reflecting the metropolis element of Montreal, the sense of Montreal as a centrifugal force, drawing people – and culture – towards it.
There is a generative energy to the Prize – the idea that, as poets throw their hats (and entry fees) into the ring, new work is written, submitted, and (in the case of the shortlist) published. It's not an award for lifetime achievement, but a stimulus for poetry at a particular moment.
"It's exciting to think of creating a structure for poetry," MacLaren says, "to be true to McGill's reputation for being a centre of poetry in Canada. What does that mean in this day and age? It means finding means for people. The Anthology is a way to bring poets into contact with one another… we are hoping to place this prize close to creativity, close to the working poet."
This is, to a degree, reflected in the fifty-three poems published in the Anthology, ranging from Governor General winners to previously unpublished writers. The jury is emphatically international. In 2020, they were drawn from Australian, Canadian, English, Haitian, Indian, Iranian, and Indigenous backgrounds. The jury selection process takes a year, and is carefully considered, looking for international leaders in current poetry movements. The construction of the jury becomes an additional frisson of activity around the Prize, elevating profiles and creating a contemporary critical edge around the shortlist selections.
Yet, at the same time, the jury members do not confer – this is not a negotiated or debated consensus. They read separately and submit their shortlists to the sole judge (this year, decorated American poet Yusef Komunyakaa), who picks a single poem as winner. Back to that whimsy – Boxer stated that there was to be "no haggling, no grading, no compromise… this 'collection' is a book of favourites."
It's not an award for lifetime achievement, but a stimulus for poetry at a particular moment.
For all the work that has been put into the anonymity of entrants and the diversity of jury members, to levelling the playing field, it is notable that all the previous winners have either been American or Canadian. This may be partly a numbers game: of the 2020 entries, one third were from Canada, one third from North America, and the remainder of entries from Australia, India, the UK, Ireland, the Caribbean, Africa, and elsewhere. But even with that bias, does the structure of the competition favour a certain style?
MacLaren notes that, as it currently stands, "A certain chaos is written into the rules." The mechanics of the Prize – not least when each juror had to read more than 400 poems apiece – means that certain styles may be more likely to make an impact. The Anthology itself is diverse: locations in the poems span Iraq, Sicily, Laos, Sioux City, New Brunswick, Paris, Kenya, Australia, the Caribbean, New York City, Bray, the Grand Canyon; there is a range of formal structures (haibun, sestina, ghazals, prose), in language and in tone.
It is, however, undeniable that the winning poems since 2011 have followed a certain style. With a forty-line limit, and only one poem to work with, the pieces perform their own context, often with a clear sense of place and of narrative. There is something undeniably Western about the tradition.
The McGill team is aware of this, and unsure, for the moment, how to transcend the difficulty. How can the Prize become as truly accessible and diverse as it was intended to be? Or is it what it is – a competition set up with certain strictures that we agree to play along by the rules, acknowledging that no such game can ever be a measure of all merit or worth?
For MacLaren, the Anthology is the main result, and it is a true pleasure to read. As with any anthology, the joy is in finding new voices, new reflections on the times. There are many families here, notably tracings of matriarchal lines, tributes to daughters and grandmothers. There are gardens. There is environmental destruction, a few flickering echoes of pandemic. Brexit. There is a ten-year-old boy whipping up thunder at the side of a theatre stage in "Boy with Thunderfoils." There are "Love Notes from Island Lockdown." There is a fantastically wry "Ode to McCain's Deep 'n Delicious Cake."
With the Prize now ensconced in its new home, I suspect – I hope – that the team at McGill will continue to ask hard questions about ethics and philosophy. A public institution is more accountable than an individual, and this is an age of accountability, after all. Is a single poem ever worth $20,000? Would, say, four smaller Prizes be "worth" more? Would they attract as much attention?
The generative energy of the Prize is undeniable; and, operating on a crowdfunded model, we are all complicit in the structure: we come to play the game, understanding the rules, for the flicker of the promise of something, to be part of community and culture for that moment in time, in a mutually agreed project.
My final question to MacLaren asks about his hopes for the future of the Prize. His enthusiasm is visible as he replies: "I'm excited to be touching living poetry; to participate and enhance the life of poetry right now."mRb