It takes a long time to read The Obituary, the eighth book from acclaimed writer Gail Scott, considering it's a mere stripling of 162 pages. It's a question of density, partly, but also of shifting gears – you might need to enter this book slowly, as you would a cold lake. Gail Scott trades lyricism for a language chopped, excised, and expurgated: words are stricken from the text, fragments hop like fleas, letters drop like flies. The syntax favours the inelegant, breathless present-progressive and long unbroken lines like commands spewed from a computer:
Yesterday, riding bicycle down sidewalk, past deserted bank building, sticking middle finger straight up in fuck-you sign a former prime minister making famous. I liking best when he wearing fringed jacket + paddling a canoe.
It's tempting to call it prose poetry and leave it at that, but there is something else going on here, beyond experiment for experiment's sake. What purpose, then, does such overt stylization serve?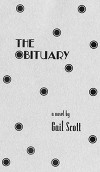 The Obituary
Gail Scott
Coach House Books
$19.95
paper
168pp
9781552452332
As Umberto Eco points out in the afterword of
The Name of the Rose
, "writing means constructing, through the text, one's own model reader." While Eco putatively spends a hundred pages preparing his reader for the rest of the book, Scott takes about five. After that, a kind of jouissance sets in as you adjust to
The Obituary
's particular rhythms, tones, and shifts of voice; you swim willingly through the pages, creating meaning as you go.
The Obituary (sort of and mostly) follows Rosine, a woman spiralling around the "central" question of her identity as a mixed-race aboriginal in a city and culture that demand adherence to yes or no. It's a richly embodied text, erotically charged and scatological in a Genet-esque way – someone is always "letting go noisy rush of mephitic air" and there are more cracks than a St. Henri sidewalk. Rosine herself is not simply an unreliable narrator; she's an amalgam of several questionable speakers, each with its own longings, obsessions, and shames. One is a footnoting historian, another is a woman both on the move and at rest, and a third, observing everything like the proverbial fly on the wall, is actually a fly on the wall. Here the style is confrontational, challenging ideas of who/where/when is telling
the story, and the struck-out words suggest not so much the work of an editor as the work of the internal censor, that super-egotistical beast forever making us say what we don't mean, and vice versa.
Alongside this nuanced and obsessive prodding of identity and narration, the novel's strongest feature is its portrayal of Montreal at the beginning of the third millennium. Scott plays with the signal-to-noise ratio to create a literary vision of contemporary urban life, a highly experiential street-level tour that is the real payout of the novel's stylistic wager. It's a glorious, gritty, clattering, and chugging paean to a city where everything has (at least) two meanings; who here hasn't riffed, punned, or played on a street sign whose name suggests an awkward transliteration, or coined a Franglais bon mot? The book captures Montreal in a series of View-Master slides that click, overlap, and spill over with places, smells, bits of conversation, joualisms, crumbs of steamé buns, and the associative synaesthesia of living in a city.
In some ways, The Obituary recalls Junot Diaz's The Brief Wondrous Life of Oscar Wao, another novel of hybrid identities, mixed and crooked tongues, whose very title hinges on a slipped consonant. Like Diaz, Scott is attuned to the losses of migration, and to the hauntings and possessions we risk in unearthing family histories. But she is also sensitive to the elusive joy of reclaiming some part of one's sad, broken, painful, messed-up legacy. It's a thoroughly twenty-first century novel – equal parts liberating and disturbing in its treatment of the modern subject. mRb