This is the first "Trevor Ferguson" novel that Trevor Ferguson has written in nearly twenty years. Once described by the Toronto Star as Canada's best novelist, Ferguson more recently dropped his name to publish a crime mystery trilogy under the nom de plume of "John Farrow." The last book in that series was River City; The River Burns, his return to literary writing, retains the feel of genre fiction, but it's a thriller that takes a quieter form.
Like many of his novels – such as The Timekeeper, winner of the QWF's Hugh MacLennan Prize for Fiction – this is a rural morality tale, though this time set in Quebec. It revolves around Wakefield's crime of the century: the burning of a historic covered bridge, a real-life unsolved arson that took place in 1984. Here, in this fictionalized account, it is masterminded by local loggers who see it as a justified evil since the inefficiency of the one-lane bridge is costing them business.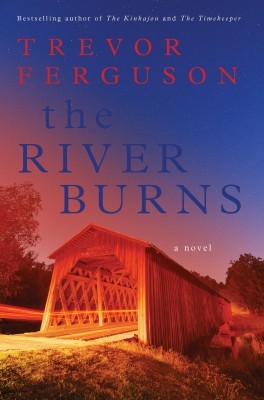 The River Burns
Trevor Ferguson
Simon & Schuster Canada
$29.99
cloth
480pp
978-1476751849
Ferguson tells his story using a biblical arc, through segments he titles Transgression, Reckoning, and Redemption. At the core of the narrative is the O'Farrell clan. Alexander Gareth O'Farrell is a wise but conflicted patriarch, overseeing two sons whose roles pit them against each other. Denny becomes a criminal while Ryan is a policeman. A former "river rat" who guided logs downriver from a raft, Alexander passes on his "infatuation with the river" to both his sons; this infatuation guides the clashing of many players, including a tribe of drug dealers who are also the resident environmental activists. Conflicts surface just as a "straightforward, shining beauty" with "breeze-tossed hair" floats into town, a Miss Raine Tara-Anne Cogshill.
As such language suggests, this tale is more potboiler than literary novel: an enticing read promising shorthand characterizations, a convenient plot, and spicy romance. Not surprisingly, The River Burns started as a film script, but a movie wouldn't have been able to capture its ornate narration. Here, for example, Ferguson describes a night where, "under a waxing gibbous moon, as a wry dalliance of stars reflects on the silvery, oily black river below them, people of this town will labour through a night that casts a lurking judgement on their lives." Even if they seem to overload the language, these quaint poetics can be charming and appropriate for the small town setting. Ferguson – much like author Louise Penny – rewards readers from Quebec with local colour, complete with bilingual dialogue. (French dialogue is mainly indicated in the narration without being written out.)
Ferguson's embrace of multiple genres does, however, muddy the plot. Swerving from flowery romance to community politics calls for some perplexing asides and shifts in tone. Some may also find a bridge too slight a hinge for such dramatics. New to Wakefield, Cogshill wonders, "What could sufficiently interest this spectrum of diverse people…. A bridge?" Some readers may ask themselves the same question.
Perfect for a daytrip to the Eastern Townships or a picnic by the St. Lawrence, The River Burns makes for a fast and tasty read. After all, we could do with more stories where the burning of bridges leads to the renewal of communities, rather than their unravelling. mRb