"The Sleep of Apples is a love song to my home city: Montreal," writes Ami Sands Brodoff in her acknowledgements. And what a potent number she delivers in this emotionally charged collection of linked short fiction! Here, Montreal shimmies and shines, enveloped in carefully crafted lines that beg to live out loud, rolling off the tongue like lyrics laced with longing. Mellifluous, poetic prose lilts and tilts back around, each character resurfacing in subsequent stories like the hook in a chorus, gaining momentum with every cycle.
The title, a nod to Federico García Lorca's poem "Gacela of the Dark Death," sets the tone, foreshadowing the book's primary themes: love, life, and death. In these achingly beautiful stories, death dances circles around life, yet only accentuates the pure preciousness of being alive.
The book's structure also emphasizes life's cyclical nature by opening and closing with stories about a character named Miri. In "What's Mine is Yours," eight-year-old Miri loses her beloved Bubbe to the flu, and is burdened with guilt over the possibility that she may have inadvertently infected her grandmother with close contact and hugs. (This story feels especially relevant in the age of COVID-19, when physical proximity is largely discouraged owing to the associated risks.) Miri's conscience is further bogged down by intergenerational trauma when she inherits an extra dose of shame from her father, a physician, over an earlier family loss kept secret.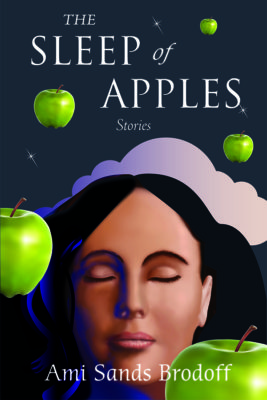 The Sleep of Apples
Stories
Ami Sands Brodoff
Inanna Publications
$22.72
paper
200pp
9781771338813
In the title story, adult Miri has followed in her father's footprints, choosing a healing profession. As a psychiatrist, she wishes to ease suffering, and receives characters from other stories into her practice, when, all too soon, she is confronted with her own mortality. Unexpectedly, a dire diagnosis – advanced ovarian cancer – serves as a catalyst for awakening. She experiences "a second birth" when treatments buy her time, her appreciation for the everyday heightened by her own ephemerality: "Coming out of my isolation and winter's palette of gray, black, and white, the vivid hues of the flowers, even the cars, the greens – so many greens – pulsed."
Throughout the book, characters from diverse cultural backgrounds each take their turn narrating, offering a variety of voices and views, rousing empathy in the reader. A common thread – tragedy – twists through their lives, interwoven with the author's keen sense of aesthetics. In "Will the World Pause for Me?," striking images flood the imagination while Morgan, an artistically gifted teen who struggles with schizophrenia, further enlivens the text with sonic swirls of synesthesia: "Rainbow is swishing sweeping swelling. Yellow is beep, beep. Blue, waves rolling in, crashing tin. Red, a scream, which is why they call it bloodcurdling. Mom's voice silvery, Dad's a rock: hard, geologic."
In "Aurora," one of the book's most exquisitely heart-wrenching stories, twenty-six-year-old, gender-fluid, non- binary Collier returns to a childhood treehouse and relives their mother's untimely death. "Did you jump or fall? Fall or jump, jump or fall?," Collier still wonders, ten years after the fact. Up "above the petty world," the veil between life and death is thinner than air, and Aurora (Collier's mother), who'd once dreamed of being a nightclub singer, turns up as a bird she'd sung about while alive.
Similarly, in "Shivah," Rachel leaves candy kisses on her surviving wife's pillow after succumbing to breast cancer, a hint that love and healing transcend the grave. In The Sleep of Apples, the departed seep through time and space, explicitly or in memories, like favourite songs aboard love-lit radio airwaves. And thanks to Sands Brodoff's endearing cast, readers come away humming with insights on the inextricability of life and death.mRb