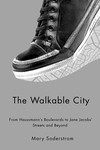 The Walkable City: From Haussmann's Boulevards To Jane Jacobs' Streets And Beyond
Mary Soderstrom
Vehicule Press
$22.95
paper
240pp
978-1-55065-2443-7
Mary Soderstrom sets out her bias in the first chapter. She describes house hunting in Montreal many years ago, as she looked for something situated where her husband could walk to work in the city's centre:
Luckily, Montreal has several pleasant neighborhoods that are within walking distance of the central core. The house we bought is thirty-five minutes on foot from his office […] In time I began to wonder why everybody didn't want to live in such a neighborhood
.
And in her enthusiasm for cities (and her concomitant dislike of suburbs) Soderstrom has set herself the task of looking at solutions for what will surely become a major and global problem: urbanization. In 2007, for the first time in human history, more than 50% of humanity lived in cities. This figure is expected to rise to more than 65% by 2050. Urban growth is strongest in the southern hemisphere, where a billion people live in slums. There is no way to turn the tide.
Soderstrom begins with a discourse on walking, "the quintessential human activity," but the meat of the book is in imagined conversations between Baron Georges-Eugène Haussmann, urban planner extraordinaire of the third Napoleon's era, and Jane Jacobs, fierce defender of human-scale cities and author of the dystopian Dark Age Ahead. Haussmann tore down Parisian neighbourhoods and slums to put in broad avenues much as gardener Capability Brown would have removed a grove of trees to provide a vista. Jacobs fought against the encroachment of freeways into Toronto's neighbourhoods. We don't hear as much of these conversations as we might like: Soderstrom uses an incredible amount of information to bolster her theories and at times, unfortunately, the ideas get lost in the wealth of detail provided. For example, a chapter on mall walking leads to a description of the land before the shopping centre was built, and comes back to the mall only after taking us through "lifestyle centres" and other oddities of 21st-century American life. On the other hand, all the details might fit in with the idea of walking: meandering through a landscape, looking carefully at one thing and then another.
The reader is invited on several walks – in Singapore, which Soderstrom holds up as a model for urban development, in a Toronto suburb, in a Vancouver neighbourhood, and in cities and towns in other parts of the world. Most interesting is the stroll we take with her through Paris. Soderstrom does the city justice with her descriptions of its faubourgs where people have lived for over a thousand years.
It is true that there is no turning back the clock. The automobile and population growth are here to stay, but their impact must be rendered as innocuous as possible. Soderstrom suggests some directives on what will be needed to live in high-density housing where elevators work sporadically as we use up our energy resources. She cites Jacobs' "performance codes," which deal with the urban problems of light and noise pollution, bad smells, and the lack of sunshine and woodlands – to enforce the fact that people have to respect each other in order to live peaceably in such an environment.
Whether one loathes or loves cities, The Walkable City will give the reader much food for thought. This is a great general introduction to the subject of urbanization, and Soderstrom's comprehensive notes, bibliography, and internet addresses provide many avenues for further reading. mRb