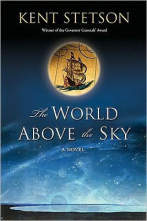 The World Above The Sky
Kent Stetson
McArthur & Company
$24.95
paper
320pp
9781552788516
Kent Stetson's debut novel
The World Above the Sky
features Knights Templar fleeing threats from papal Rome and making their way to the Americas with their living holy grail: a gorgeous 17-year-old girl. The refugees land on what will later be known as Canada and befriend a Mi'kmaq tribe whose Native prince, along with the European Templar goddess, will rule over New Arcadia.
Though a lauded writer, Stetson – a member of the Order of Canada and winner of the 2001 Governor General's Literary Award for his tragic play The Harps of God – seems to overuse language in this book to make up for holes in the plot. His verbosity is exhausting: "The dark days of the goddess cults, with their blood-hungry priestesses and their castrated sycophant males, their open mouths pressed to the earth, their musky filaments sapping the virility of the Son of God's good realm had ended once and for all. Yet these fools had cast up another goddess queen."
Likewise, the abuse of references to Catholicism, the Knights Templar, and even Mohammed, which Stetson mixes with Mi'kmaq legend, leaves the reader with a dizzy cocktail of supernatural events and, above all, a craving for an actual plot.
Stetson's creativity and attention to detail are admirable, but they also kill a story with potential. In the end, readers are left with the impression that Stetson used every cliché in the book. mRb