Triplex Nervosa Trilogy is a great read. Its three scripts – Triplex Nervosa, Rooftop Eden, and Famously – are packed with the kind of funny, fast, rollicking dialogue that makes me want to be a director, just so I can make actors read their lines eight ways. This is the twelfth play by multi-award-winning Montreal playwright, novelist, and journalist Marianne Ackerman. Triplex Nervosa was first staged by Centaur Theatre in April 2015.
The trilogy follows a cellist named Tass Nazor, who quits music and buys a dilapidated but elegant old building in Mile End with the intention to flip it. When we meet her, she is at risk of losing the building, with five maxed out credit cards and too many lingering ex-tenants – each of whom has a crisis of their own. Tass schemes with her sympathetic concierge, Rakie, to find shadier ways to get them to leave, and, from that dubious decision, things go comically and tragically sideways.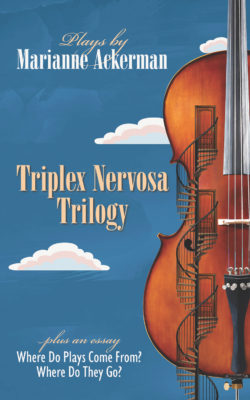 Triplex Nevrosa Trilogy
Marianne Ackerman
Guernica Editions
$20.00
paper
268pp
9781771835114
Ackerman dryly prefaces the trilogy with a definition of Triplex Nervosa as "a condition affecting property owners in trendy neighbourhoods during a financial crisis." Landlord-tenant relationships and financial stress provide an undercurrent of pressure that drives the characters toward conflict, but I wouldn't say that
Triplex
is particularly critical of gentrification. Rather, it captures many of the funny particulars of Mile End personalities and culture in the early to mid-2000s, while paying respects to the aging beauty and character of Montreal's three-storey apartment buildings. In
Triplex
, this architecture brings about unexpected connections, not only between distinct personalities, languages, and cultures but also between the living and the dead – those who move on, and those who can't or won't. Following the same central characters across several years, the writing emphasizes the ghostly palimpsest of human experience that can linger in a building, impervious to the brute forces of real-estate traffic.
What struck me most about this trilogy is its ability to be very funny and silly while still bringing us to a poignant and weighty stillness where we're confronted with the bare bones of being human. Triplex contemplates themes of loss, grief, suicide, and addiction, but offers much comic relief. Recurring characters include, among others, a pure laine female cop with the perpetual munchies, a young emo artist from Westmount looking to live the loft/art studio dream, and Reb Aaron Klein, a Hasidic rabbi who haggles with Tass over roof repairs while fretting that she doesn't have a husband to haggle on her behalf with someone like him. But Ackerman allows these characters to simmer on the stove long enough to become complex as they develop friendships over several years. A major pleasure of Triplex is how it interweaves languages – Croatian, Yiddish, French, English, and, of course, Franglais – and mingles Old World generations of characters with the new. Tass's Croatian mother, Dragica Nazor, and Reb Klein's wife, Tzofiya, are especially interesting.
The handsome sadness of the cello supports the scripts' more existential turns, as does the music of Patrick Watson, whose songs are referenced throughout. Music is framed as an underlying, slow-moving current a musician might turn away from but can always return to. In Triplex, being attuned to some kind of creative expression or appreciating the romance of an old building are equally ways of finding and being oneself. But they are also ways to communicate with the dead. The ghost of a tenant speaks to Tass on a particularly bad day when she teeters precariously at the edge of the roof. He tells her that her music isn't something she can lose, it's part of the darkness she sees when she closes her eyes. "The rest," he says, "is phone calls, nerves and practice." "But I feel so blue," she replies. "Blue is a beautiful note," he answers. "We're listening. We're all ears." mRb