"I'm building the inside of a spaceship in our laundry room," Sylvain Neuvel tells me as our conversation in a Pointe-Saint-Charles café is winding down. This fantastical statement serves as the perfect capstone to our discussion about the unexpected turns his life has taken since he wrote his debut novel Sleeping Giants (2016). Bursting with political intrigue, high-stakes action, and fully fleshed-out characters, it was the first volume in his smart and highly addictive series of science fiction thrillers, The Themis Files. Waking Gods, the second book in the series, was published by New York sci-fi powerhouse Del Rey this spring. 
Sitting across from me for over an hour, Neuvel was an engaging subject. His enthusiasm in talking about his fictional world, and those of other authors, was infectious, especially when discussing the extensive research he conducted before writing each book. "Everything in there is pretty rock solid," he tells me. "I put more research into Sleeping Giants than my PhD, probably by a power of ten."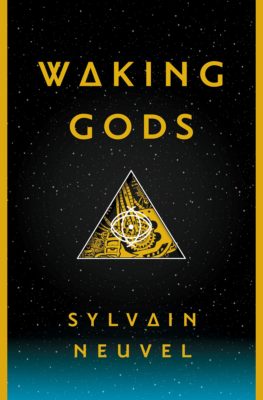 Waking Gods
Sylvain Neuvel
Del Rey
$37.00
cloth
336pp
9781101886724
Neuvel, who trained as a linguist at the University of Chicago, had to learn about minerals, American military hierarchy, and the international locales where the book takes place, among other subjects, to give the story its authentic feel. For
Waking Gods
he went even further afield, reading British Parliamentary debates and investigating the genetic code, which plays a major part in the book's crucial plot twist. "The only made-up thing is the giant robot," he says with a laugh. "Giant robots are
not
realistic. They're pretty much the least practical thing you can come up with."
The world depicted in The Themis Files is our own present day, except for the recent discovery of a massive robot abandoned on Earth by an ancient alien civilization that buried it in separate pieces all over the globe. Sleeping Giants gives a page-turning account of the top-secret search for the dismembered parts. Once the robot is assembled and named Themis, the challenge becomes keeping it secret. A major international incident is narrowly averted when Themis's existence is accidentally revealed to the world at large.
"It started with my son," Neuvel says, explaining the origin of his series. "I built him a toy robot and he started asking a ton of questions. 'What does it do? Can it fly? Does it have missiles? Lasers? Pilots?' So for a while I had this idea simmering as a backstory for a toy. One night we were watching Goldorak [Grendizer in English, a vintage Japanese giant robot TV series] and he was way into it. And I thought, 'What if we found one of those? What if we found big giant robots from outer space, from another civilization?'" The answers to these questions make for enthralling reading, made even more compelling by the unique format in which they're told. The novel is made up of "files," mostly transcripts of interviews conducted by the Themis program's unnamed shadowy founder. An insider in the American military community, this mystery man interviews the small team – scientists, pilots, and even a linguist – he assembles to work on the top-secret project. Through these interviews, as well as personal diary entries, mission logs, and other forms of documentation, readers are granted a front-row seat to the solving of one of the great mysteries of our time.
The rich cast of characters who come to life in the series include Dr. Rose Franklin, a top scientist tasked with studying all aspects of Themis, and Kara Resnick, an ace pilot who turns her aviation skills to learning how to drive the alien vehicle. Another crucial member of the team is Vincent Couture, a brilliant Montreal-based linguist (Neuvel insists he is not autobiographical) who studies the mysterious runes inside the robot's cockpit, but whose role soon becomes far more central to the project.
Readers learn about Themis as the team explores its capabilities and speak about it in frank, everyday language. Their discussions about the philosophical implications of using alien technology are peppered with black humour, written in an inherently readable, irreverent style. Think Joss Whedon's Buffy the Vampire Slayer meets the giant robots of Pacific Rim.
Taking place nine years after the events of Sleeping Giants, Waking Gods flips everything we learned in the first volume on its head. When an alien robot related to Themis arrives in downtown London, followed by a dozen others who take up residence in the most populous cities in the world, it's no spoiler to say that the results are a little bit destructive. When I ask Neuvel if he enjoyed destroying large swathes of certain global capital cities, he replies with a mischievous grin: "It was so fun."
"Every excuse I've had to be remotely mature is now gone from my life."
In Waking Gods, Themis's team find themselves in a white-knuckled race to save humanity from being entirely wiped out. The novel has major consequences for Neuvel's fictional world. Two central characters perish during a deadly alien gas attack on New York City, and, like Sleeping Giants, Waking Gods ends on a major cliffhanger that will have readers salivating for the next instalment.
Currently writing the third volume in the series, Neuvel still sounds awed by the extraordinary chain of events that led to his first book being bought at auction by one of the world's most prestigious science fiction publishers. "I've written all my life but mostly for newspapers. I had no idea about the book business, but I read about it on the internet," he tells me. "I queried fifty-six agents. Most never replied, which is apparently normal. So I figured what the hell, I'll self-publish it."
Hoping for a review that he could use as a blurb on the cover of the book, Neuvel sent an advance copy of Sleeping Giants to American publishing trade magazine Kirkus Reviews. He was surprised to receive a glowing review, and was immediately inundated with calls from Hollywood agents looking to buy the film rights. He eventually optioned the book to Sony Pictures and the screenplay is currently being written by Jurassic Park scriptwriter David Koepp. All this happened before he even had a literary agent, and well before the book was snapped up by Del Rey at auction.
"Most of this happened in one wild month in 2014," he says, still not quite believing his luck. Since then, Sleeping Giants and Waking Gods have been published to critical acclaim, nominated for awards, and translated into over twenty-two languages. When each foreign edition is published, Neuvel celebrates by adding a bottle of whiskey distilled in that country to his liquor cabinet.
The success of The Themis Files has also led to invitations to work on other science fiction properties, most notably "TK- 146275," a short story published in Star Wars Insider magazine, and set within the mythological "canon" of the multi-billion- dollar Star Wars universe. And beyond that, there's something new on the horizon, a project set in a very cool existing sci-fi property. In our interview Neuvel was adamant that he couldn't talk about it publicly yet, despite clearly being thrilled about the prospect of playing around in another science-fiction world.
As our interview wraps up, Neuvel returns to the subject of his toys, the original inspiration for the books that have completely changed his life. Showing me photos of some of his favourites on his phone, he also tells me about the aforementioned spaceship in the laundry room. "One entire wall will be display cabinets for my toys. Every excuse I've had to be remotely mature is now gone from my life," he says, looking up from his phone with an excited laugh. Neuvel's deep love for science fiction is now on grand display in his basement – and it is also apparent on every page of Sleeping Giants and Waking Gods. mRb