War Canticles is a chapbook of discarded poems, left out from George Elliott Clarke's larger projects, Canticles and Selected Canticles, and re-envisioned as a series of dramatic monologues on "sundry Crimes against Humanity," as Clarke himself quips in the text's introduction. He goes on to assert that he "would like the reader to appreciate the gravity of the oppressions that humanitarians and civil libertarians continue to protest." As such, the various speakers – ranging from Sally Bassett, an enslaved woman executed in 1730, to Langston Hughes pondering Ezra Pound's Fascist sympathies – are bogged down in articulations of extreme violence.
Ongoing descriptions of brutal, dehumanizing whippings and state-sanctioned strategies of oppression become difficult to read. At his best, though, Clarke enters an epic mode reminiscent of Homeric extremes. A war victim is articulated as meat, for example, as 
his corpse [is made] half-mud, 
half-worms.
Once pure shark in front, 
all pig behind, 
all bull in between, 
the bullet that pierced his throat
aped a belated Abyssinian spear!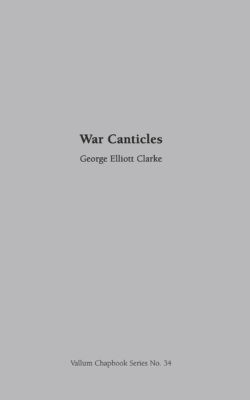 War Canticles
George Elliot Clarke
Vallum
$12.00
paper
36pp
At times, Clarke seems to make light of this litany of force, deliberately exemplifying the absurdity of war and tyranny with mocking rhymes like "rude, crude rapes" or sonorous repetitions like "monstrous / monotonously monstrous." Yet Clarke synthesizes an overarching thesis for this chapbook when he writes, towards the end of the collection:
Poets should stream ink
in politic song, political song, 
if the people will sing us
If a canticle is a hymn or song with a biblical subtext, then the poems in War Canticles animate voices that might not otherwise be heard and allow them to articulate not only their experiences, but also their beliefs. As the fourth Poet Laureate of Toronto and the seventh Parliamentary/Canadian Poet Laureate, Clarke's choice of subject matter for his latest chapbook feels apt: the institutionalized violence of war, even as narrativized over centuries, should be resisted internally through the infrastructures of celebrated positions of literary power.mRb