Wendy's back, bitches. You know Wendy, right? She's like an artist? White girl, long hair, always wears black. She used to write that Montreal scene report blog? I feel like I used to see her every time I went to a punk show in Saint-Henri or to an opening in Mile End. What a mess. I think she was in Berlin for a while and then went to the University of Hell. Anyway, I heard her MFA show was a.maz.ing. She's rad. I think she lives in Toronto now.
After two instant-classic graphic novels, Walter Scott's cartoon heroine returns in glorious form in Wendy, Master of Art. As ever, she is propelled by social anxiety, artistic ambition, and a drive to self- medicate with beer, drugs, and boys. Chronicling her journey through higher education, this new collection of stories captures Wendy emerging into something like adulthood. But first, the millennial icon has to struggle under the heavy weight of her artistic dreams, fix her broken brain, and repair her rocky friendships.
Did I mention the book is hilarious? Humour is Wendy's centre of gravity, and Scott's incisive satirical takes on nightlife and the art world undercut the pretensions of his characters and everyone around them. That acid sense of humour leaps off the page, but it is Scott's mastery as a cartoonist – his expressive drawing style, the precision of his pacing, and the perfect flow of the stories – that keeps you flipping the pages. It's a potent mix, making his comics highly addictive and re-readable.
The alchemy of that mix was no overnight success. Scott has been making comics since he was a teenager, when he had a weekly strip in the Kahnawà:ke newspaper. Writing from quarantine in his Toronto apartment, he tells me that "Wendy started as crude one-off images meant to post on Facebook, exclusively for laughs. Only later did Wendy become a zine, also mostly for laughs." For anyone mildly tuned in to the Canadian art world or the intricacies of weird-Anglo-Montreal, reading Wendy often feels like being party to an inside joke. Scott's ability to communicate the perfectly telling detail is unsurpassed.
But Wendy's misadventures also resonate with a broader audience. Asked how he approaches this, Scott provides a characteristically thoughtful answer, comparing his work to the popularity of procedural dramas: "Viewers don't always understand what the terms mean, but roll with the story anyway. I'd like to think people can roll with a story about the art world too, without knowing what every term means exactly. I purposely place the artspeak around the dialogue in a way that you don't have to understand it to get the story. It becomes a texture to give depth to the universe the characters live in."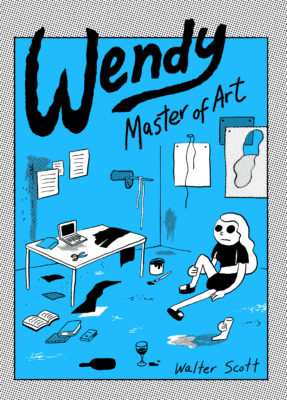 Wendy, Master of Art
Walter Scott
Drawn & Quarterly
$29.95
paper
276pp
9781770463998
That universe – the Wendyverse, as Scott calls it – is populated by a rogues' gallery of bohemian characters and sad sacks, each as compelling as Wendy herself and deserving of their own star turns. Among my favourites are Winona, an unpretentious Mohawk performance artist, and Screamo, a turnt-up twink party ghost. In this outing, the regular cast is joined by Wendy's cohort of MFA students, each struggling to make sense of themselves. One works at the "inter- section of fermentation, poetry, and painting," while another finds her medium is "really long string": "It's crazy how long it can get," she muses lovingly. Wendy finds out she's been accepted to the prestigious program at the University of Hell (Ontario) while strung out after dancing all night at a Berlin nightclub. She begins the program with high hopes. Arriving in the small town of Hell, her home for the next two years, she thinks, "THIS is the place where I'll finally come into my own and define what an art practice – and accomplishment – means to me." She considers spending the evening reflecting on her future, but lasts ninety seconds before heading to the bar.
In certain quarters, a Master of Fine Arts degree is the twenty-first-century equivalent of a religious pilgrimage. The prospective candidate must travel through the stations of the cross: high ambitions, antagonistic studio visits, impenetrable course readings, self-doubt, and the constant refrain of "What's your thesis about?" before emerging from the cave resurrected as An Artist.
Scott lampoons the moribund institution of the MFA, but never questions the value of artistic process. For him, "the art you make on the way to making the art is the art." Scott's own practice includes sculpture, video, performance, and drawing.
Wendy struggles to find her way in the program, and Scott narrates this process in part by cataloguing her many failed sculptures: a shoe filled with plaster, a table embedded with one of her seminar readings. Wendy's artistic struggles are compounded by personal problems. Depressed and isolated, she drinks more than ever. As Wendy spirals, her old friends become alienated by her self-obsession, and the new friends she has made in her cohort are all equally fried.
After nightclubbing in Berlin, she finds the cultural life in a small college town meagre. A long-running gag in Wendy is how business names define a place. In Hell, these include craft store Yawn & Yarn, Hetero Pub & Grill, and the campus bar, Tipsy Tooter. This is one of the many ways that the formative influence of Matt Groening's Life in Hell strip is evident in Scott's work. "It's drawn very simply, and I related to its dry sensibility and themes of alienation," he tells me. This alienation is threaded throughout Scott's comics, and Wendy, Master of Art is no exception. She begins to turn a corner in her second year, as she starts reaching out to those around her and trying to change her toxic relationships with alcohol and anxiety. But by the end of her MFA, Wendy even finds herself repelled by the art world, so burned out that she avoids openings and artist talks.
Wendy progresses through her stations of the MFA. She mentors a struggling undergrad, assimilates feedback from harsh critiques, reconnects with a close friend, and successfully defends her thesis show. As she is dubbed "Master of Art" by her supervisor and applauded by her peers, the thought bubble over Wendy's head reads, "HOW ANTICLIMACTIC." Even so, it's a small triumph after everything she's been through.
Scott lampoons the moribund institution of the MFA, but never questions the value of artistic process. For him, "the art you make on the way to making the art is the art." Scott's own practice includes sculpture, video, performance, and drawing. He has exhibited across Canada and internationally. His Wendy comics have been published in Art in America and The New Yorker. Incidentally, he completed an MFA at a small-town university in 2018. When asked how he defines the relationship between the Wendy comics and his own life, he admits that Wendy is "based on" his life, but it is also something else, something more. "Calling Wendy autobiography precludes it from being something more interesting, which is less autobiography and more a playing out of neurotic fantasies of everything that could go right, wrong, or sideways in a life somewhat like my own."
Scott's sharply satirical comics always have a soft underbelly. Even at their most irreverent, the comics have a sympathy for Wendy and her friends who are struggling to keep their dreams alive in a world (and an art world) defined by inequality and scarce resources. The book ends in a hopeful place, with Wendy finding an apartment in Toronto against all odds. Has she changed, though, or has the messy party girl just been momentarily suppressed? Scott is skeptical of the growth his heroine shows over the second half of the book: "How much she's actually grown up remains to be seen," he tells me. For us fans, this a hopeful sign that more Wendy comics are on their way. mRb