No one knows how to portray Montreal as well as Heather O'Neill.
She observes the smallest details that make her hometown unique. In each of her books, she creates stories that happen next to us, often set in our backyards or our neighbourhoods. And in each of her books, Montreal is a character in itself. Her latest offering, When We Lost Our Heads, follows suit in a different way. This time, inspired by an old drawing of a ball taking place on a skating rink, O'Neill explores Victorian Montreal. 
"[The Victorian era] was such an interesting time period in Montreal, where the wealth gap became so huge, from all the industries that were being built there. There was this whole world up on top of the hill, and then this squalid world underneath. I like that dichotomy," she explains in a phone interview.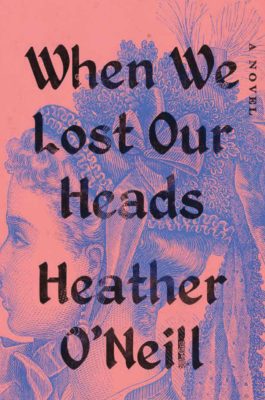 O'Neill's newest novel takes place in two worlds: The Golden Mile, a beautiful rich neighbourhood that echoes Montreal's Golden Square Mile, and the Squalid Mile, a name the author came up with to describe the grittier, industrial part of Montreal at the time. It is in the former that the main characters, Marie and Sadie, meet for the first time. Their relationship becomes central to the story – one that intertwines the fate of women from both neighbourhoods. Though the two women exist at polar opposites, for O'Neill, the polarity between the two main characters is what explains the strong passion that ensues throughout the novel.
"The thing that they had in common was that they were each other's intellectual equals," she says, "and I like that sort of attraction for them. They're fascinated by their own differences. The two of them are so unique, and unable to find friends because of their bizarre curiosities. They just become obsessed with that connection that they can't find elsewhere."
But their attraction becomes dangerous. O'Neill recognizes that they have much more in common than it appears. Both Marie and Sadie are narcissistic, which is made evident by their treatment of other women in the book; they revel in their power and only love one another. Even after a tragic event that marks their childhoods, they still find themselves in their complicated relationship. Interested by the dynamic of friendship, O'Neill also explores the competitive side of their relationship, and as their relationship evolves, she describes the eroticism that accompanies it. But beyond eroticism or friendship, these two women are front and centre in When We Lost Our Heads.
"I was really interested in just centring women in the book," says O'Neill. In Victorian novels, she explains, "it was so common to have a relationship between a woman and a man grounded in a romance. Also at the time, women were just seeing that their prospects were based on who they were going to kind of grow up and marry, and getting married was the focal point of their ambitions in life. I wanted a group of women where actually none of them are interested whatsoever in being married, because they're too interested in what they can accomplish. They love their potential and they're ambitious. They're all talented in their own strange ways. I just wanted to take men, and romance with men, out of the books."
Women are central in When We Lost Our Heads, even down to workplace tensions during the industrial revolution. The character of Marie Antoine, daughter of a sugar magnate, ends up taking control of her father's sugar factory after his death. O'Neill wanted to use her book as a reflection of our contemporary rapport with gender roles.
"I was questioning the idea of 'Lean In' feminism," she says. "Is that the goal of feminism—for us just to become men, find a place in the patriarchy, and dominate other people? Or is the point of feminism to dismantle the patriarchy? When Marie [Antoine] really gets challenged by a lot of characters in the book, they confront her by saying 'what you're doing is actually so counterproductive for women' and 'are you going to throw women under the bus like that when there's finally a woman in power?' She gets kind of held up to a higher standard, or gets the worst punishment, because she does betray the rest of the women in the city by only being interested in her own individual rise and not caring about anyone else's."
O'Neill is interested in dynamics of class and feminism. Not only do these dynamics fascinate her and build the narrative around her characters, but they also engage with contemporary discourse around sexuality and gender. More than that, the links between the character and their identities also reflect O'Neill's experience. The character of George, a genderqueer person who falls in love with Sadie, came fully formed to O'Neill. This wasn't a didactic choice for O'Neill, but an intiutive one; she's been surrounded by genderqueer people her whole life, most notably her own mother. George organically made her own place in the story, making it possible for the author to delve into the questions surrounding femininity and masculinity. As George lives in an era that didn't recognize the plurality of genders and non-binary identities, it made writing the character an experience. The choices O'Neill made for George are not innocent. Being the only morally honest and truthful character in the book, she has an upbringing that explains her personality.
"I had [George] raised in a brothel, where she was raised communally by all these women. One of the things I always liked was when I described just being passed from breast to breast. She just has such an empathy for women in the situation they're in. Women were so clueless… I mean, we're still so clueless about our bodies and the information people give us."
When We Lost Our Heads always comes back to the dichotomies dividing Montreal into two. The Golden Mile and the Squalid Mile. Men and women. Rich and poor. It isn't hard to recognize stories from the past in this book. The Golden Mile makes us think of the houses nestled on the mountain, while the Squalid Mile bears a resemblance to those working-class neighbourhoods where we now find dilapidated factories, phantoms of their past industrial glory. Even through those differences, Heather O'Neill finds what  complete opposites have in common through Marie and Sadie, maybe a bigger metaphor of how we are fascinated by what isn't like us. She makes us reconcile with the divides that separate us, in a city she brings to life again and again and again for the pleasure of our imagination.mRb
Photo by Julie Artacho