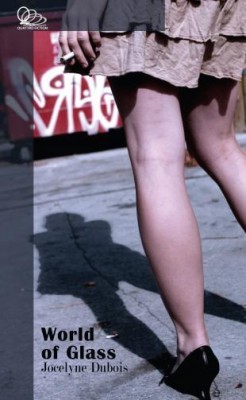 World of Glass
Jocelyne Dubois
Quattro Books
$14.95
paper
120pp
978-1927443316
Jocelyne Dubois' first novella is about the struggles that bring us back to square one. It's about the heartbreaks we endure, overcoming mental illness, and becoming a better version of who we are. The story of
World of Glass
is infused with hope for a good life and love that is gradually built over time.
Set primarily in the Mile-End neighbourhood during the early 2000s, the book introduces readers to Chloé as she's about to begin a job in advertising sales for a high-end Montreal fashion magazine: Gloss. She has recently ended a long-term relationship and, returning home after living away for some time, Chloé is glad to be reunited with her French Canadian roots.
On meeting Chloé, we find her in a new, sparsely furnished apartment. There's no stove or fridge. The modest collection of kitchenware, along with drafts of poetry and stories lying on the table, are indicative of a humble and burgeoning writing life. Though Dubois uses the motif where an author changes cities to become a writer, in this novella Chloé has returned home, rather than having left it, and this reversal of motifs pays tribute to the city. The portrait of a not-so-very-long-ago Montreal is lovely, giving readers the feeling of having been far away from home and then returning to explore it with fondness. The visual representation of the city is great because of notable differences (for example, a shorter Orange metro line) and for things that have remained the same.
As the novella progresses, Chloé's reality becomes increasingly stark. There's a kind of kitchen sink realism at play as we see her carve out routines and a work life with crystalline detail and seemingly great control. Simultaneously, the detailed descriptions that populate her environment, her plans for each day, and her wishes for the future reveal an abundance specific to Chloé. Her descriptions are poetic and meditative in nature. Despite the growing darkness that envelopes Chloé's psyche, the rhythm that lies in her accounts serve as her salvation and as a vehicle to carry the story along.
Chloé increases her profile at Gloss and has a growing romantic interest in a colleague. With thirst for intimacy, she envisions a life with him, but it doesn't happen. Shattered and suffering a breakdown, Chloé is institutionalized. The romantic rejection is pivotal to Chloé's declining mental stability.
We witness Chloé's growing isolation from family and friends during this period. With large doses of medication, little human exchange, and poor treatment by the health care system, the reality of her situation is harrowing. Dubois vividly depicts the noise, desolation, and boredom that imbue Chloé's experience. After leaving the institution, Chloé bides her time patiently throughout the healing process. She eventually strikes a romantic relationship with a poet named Mark and takes more time for self-care. While, in the final chapter, the illustration of Chloé's recovery feels hurried, the novella's end is nonetheless satisfying.
Where there are opportunities within the story arc for Dubois to take issue with imposing structures, whether it be sexist attitudes within the fashion industry or brutal treatment within the mental health system, she chooses a poetic route. With empathy, she has rendered a story where the suffering experienced by the central character speaks for itself and sets a moving example about healing and having empathy for oneself.
As Chloé overcomes illness and strikes new balance in her life, we see a trajectory of her evolving as a writer and artist. She moves from a fragile mental situation, a world of glass, into one that is porous and flexible, messy and beautiful. The story ends with metamorphosis and Chloé embarking on more new beginnings.
World of Glass was shortlisted for the 2013 QWF Paragraphe Hugh MacLennan Prize for Fiction.
Deanna Radford is a writer and poet living in Montreal. She reviews books for Herizons magazine and has served on the editorial committee belonging to online journal .dpi. She is Membership Services and Communications Coordinator at the Quebec Writers' Federation.