Elise Gravel, a prolific, award-winning artist, has a gift for the next generation of illustrators. Monsters, Italian-speaking octopuses, and worm slippers all grace the pages of If Found… Please Return to Elise Gravel. Gravel's creations jump off the page in this rendition of the black notebook she doodles in every night. The many different versions of her inventions show blossoming artists how exploring an idea can be fun and playful. Take the dozen or so different-coloured kiwi birds poking their beaks around a grid-lined page, or her so- called "floofs," which are "like bunnies, but they wear boots," who appear as a "happy floof," a burping "floof that's eaten too much" and a "floof on its way out" (literally walking off into the book's spine).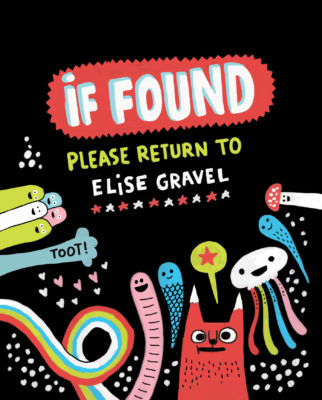 If Found… Please Return to Elise Gravel
Elise Gravel
Drawn & Quarterly
$19.95
cloth
100pp
9781770462786
Gravel offers an important lesson about the diligence needed for creativity, twinned with the advice to avoid constantly judging your own art. Her illustrations are annotated with comments and background information, and many of her creatures have names or speech bubbles. Brief sections of concrete artistic guidance, paired with the fanciful inventions and depictions that reign supreme, make the book the right tool to encourage readers to get started on their own notebooks.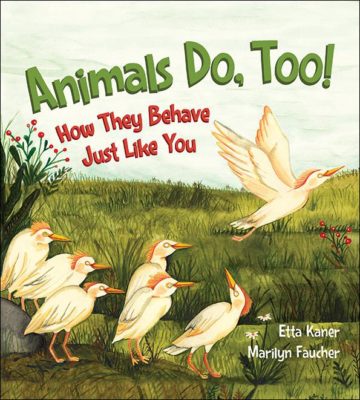 Animals Do, Too!
How They Behave Just Like You
Etta Kaner
Illustrated by Marilyn Faucher
Kids Can Press
$17.95
cloth
32pp
9781771385695
F
lamingo parents can discern their offspring's unique call in a crowd of thousands of chicks. That's the kind of awe-inspiring information readers learn in
Animals Do, Too!: How They Behave Just Like You
. Using a question and answer format, the book illustrates some of the activities humans have in common with the animal kingdom. Former teacher Etta Kaner successfully works in edifying and succinct details about leaf-cutter ants, gazelles, and others. Marilyn Faucher's vibrant watercolours show humans and animals doing their thing – cattle egrets snacking, a pregnant woman lolling on the beach, piggybacking marmosets, a babysitter subjected to tea time. Together the author and artist highlight the importance of play for both humans and animals.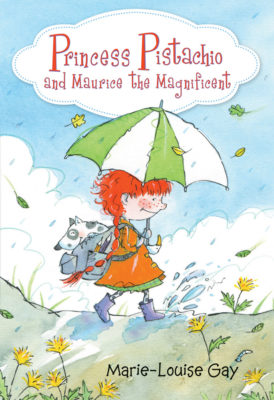 Princess Pistachio and Maurice the Magnificent
Marie-Louise Gay
Pajama Press
$12.95
cloth
52pp
9781772780215
P
rincess
Pistachio and Maurice the Magnificent
is Marie-Louise Gay's third tale about a scheming little red-haired nutter named Pistachio Shoelace. An ode to children's devotion to their pets and their ensuing adventures, the book follows Pistachio's pet, Dog, and his transformation from an extraordinarily lazy house dog to an equally lazy star of the stage. With striking details (Dog snores like a frog with a cold), Gay captures the best and worst of pets – including how disgusting they can be. Dog, for example, "sniffs Mr. Grumplebrain's apple and licks it. Then he swallows an eraser in one gulp." The tale also highlights pet owners' deep, if sometimes deluded, loyalty to their pets. Pistachio has to learn that Maurice the Magnificent – Dog's stage name – isn't the only topic of interest when his newfound fame causes a rift in her friendship with Madeleine. Gay's charming pen, ink, and watercolour drawings are scattered throughout the text, and include especially adorable drawings of all kinds of dogs.
"Don't you hate having to rely on other people?" asks ninth-grader Adina, as she muddles her way through preparation for Fashion Show tryouts in Raquel Rivera's Show Mode. Part of the Orca Limelights series that highlights the performing arts, the book is inspired by the real-life annual fashion show at Montreal arts high school FACE. Adina has been waiting to become a senior to participate in the event, which involves choosing music, designing dance routines, and making costumes. Well-meaning, if marred by perfectionist tendencies that her friends call "going turbo," Adina takes on the role of leader as she and her friends prepare to audition their act. Her group includes her crush, Seth, who seems like an ideal teenage boy (on top of being exceedingly diplomatic, he sews their outfits), Sandra, who is gifted with a powerful singing voice and personality, and dreamy flute-playing Willow, who doesn't seem cut out for the rigour of Fashion Show.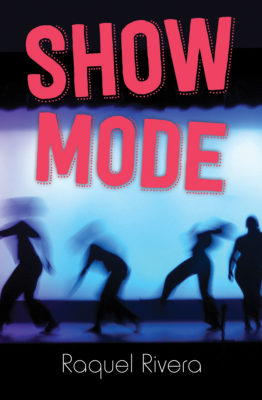 Show Mode
Raquel Rivera
Orca Book Publishers
$9.95
paper
144pp
9781459812048
As the group works on their dance routine, there are plenty of bumps and clashes, including those caused by a rival group of three popular older girls dealing with eating issues. There are lessons for Adina that most adults, myself included, could benefit from – such as letting others figure out how they feel in a specific situation instead of telling them. The book also touches on the challenge of having to work with others to achieve your vision, and the perils of forcing something to fit instead of trying another way. "Don't you love how sometimes when you step back, you can see so much better?" asks Adina, having learned the answer for herself.
Rivera succeeds in creating real tensions between the youngsters – readers will wonder throughout whether they'll be able to pull it off – and their final act comes together with a surprising twist. Kudos to Rivera, whose dance routine details, in addition to the shimmery gold costumes, make the acts come alive: "Sandra, Seth and I take turns doing a signature disco move, then freeze in position … Seth slides, twists and moonwalks … I throw my head back and my arms out."
Fifteen-year-old Declan, the main character of Karen Nesbitt's first book Subject to Change, has a lot on his plate – he's negotiating a difficult family situation while trying to graduate from high school (he would be the first O'Reilly to do so). Although he comes on strong, with plenty of swearing, twenty-one detentions to his name, and a nasty smoking habit, it's also evident that he's a good kid; he works at the local ice rink and he's nice to his mom. This makes his persistent negative self-talk all the more striking and depressing.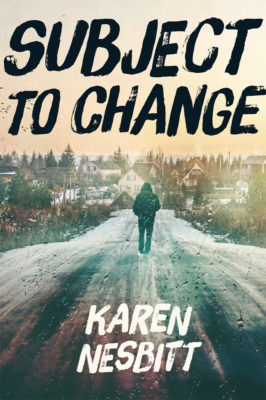 Subject to Change
Karen Nesbitt
Orca Book Publishers
$14.95
paper
288pp
9781459811461
A series of events force Declan to discover new details surrounding his parents' separation and his dad's disappearance from his life five years earlier. "Heroes push on. Face things. I'm not sure pretending nothing happened, hiding it all, was heroic," thinks Declan in a heated conversation with his mom about his parents' bungled divorce. "We just pushed it away. But it was still there, working its magic."
Nesbitt makes adept use of her experience working with teens. Declan's convincing observations about the world around him are sharp, but he still comes off like a real teenage boy (cue the harmless and even charming comments about checking out girls and weed-smoking escapades). There are no easy solutions for Declan and his family. How do you reconcile with the seriously flawed people in your life? To even broach this possibility, Declan must examine some of his own attitudes, including his prejudice against gay people. With the right guidance and the support of his budding love interest, Declan and his family may just get a second chance. mRb