An elephant in the room? How 'bout an elephant in the museum?Through the Elephant's Door, by Hélène de Blois, takes a little boy and his elephant, Émile, on a trip to the museum. Playful illustrations by France Cormier highlight pieces one would see in an art gallery or natural history museum, teaching kids a little culture along the way. The only problem with this adventure is a prickly old guard who does not trust that Émile won't crash and break things. "This guard was nuts! A trunk like Émile's full of snot? An elephant's trunk is more like a mighty arm, capable of uprooting a tree. Sometimes it's like a delicate hand that can carry a paintbrush."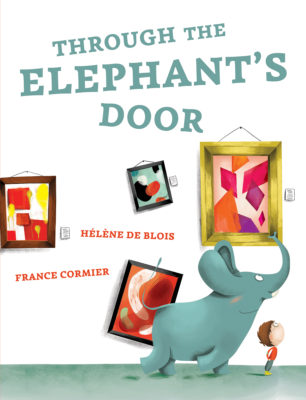 Through the Elephant's Door
Hélène de Blois
Illustrated by France Cormier
Orca Book Publishers
$19.95
cloth
48pp
9781459821934
Every time the guard insults Émile, the boy wishes to rush to his defence and feels bad when he doesn't. His guilt highlights how the guard's bullying affects not only the bullied, but the passive observer as well, gently encouraging children to stick up for their friends. Luckily, Émile can use his elephant size and powers to his advantage when he helps to ward off a potential art heist. It takes this act of courage for the guard to finally appreciate Émile and not judge him negatively based on his size.
Through the Elephant's Door
is a story of acceptance and friendship, between a boy, his elephant, and their love for the museum.
***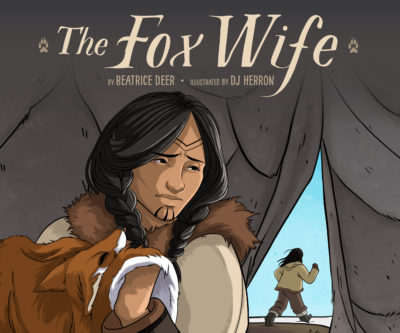 The Fox Wife
Beatrice Deer
Illustrated by DJ Herron

$16.95
cloth
40pp
9781772272123
T
he Fox Wife, by songwriter and musician Beatrice Deer, is based on her song "Fox" and reimagines a traditional Inuit story. Throughout the book, which features graphic illustrations by DJ Herron, we learn about Inuk culture: how to set up a tent, hunt seals, catch fish, and carry a baby in an amauti. We aren't the only ones observing this small family's daily rituals. Fox, who fell from the sky one cloudless night, is also watching. "Seasons came and went, and the fox continued to follow the family from a distance as they moved camp each season. […] As she was a smart one, she learned the ways of the humans over time." Fox sees the young son Irniq grow up, and when he is ready to hunt alone and set up his own tent, she follows him. One day, when Irniq is off hunting, Fox changes into her human form and declares herself his wife. We wait patiently to see if a marriage can be sustained between the two species.
The Fox Wife
is published by an Inuit-owned publishing company that is dedicated to bringing Arctic stories and wisdom to the world. Almost all of their books, including this one, are also published in Inuktitut or Inuinnaqtun.
***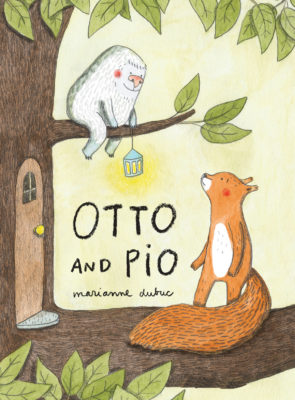 Otto and Pio
Marianne Dubuc
Princeton Architectural Press
$25.95
cloth
68pp
9781616897604
O
tto the squirrel is just minding his own business, going about his daily activities, when a spiky green ball appears on the branch outside his tree house. At first Otto ignores it, but he is forced to pay attention when the ball cracks open, and a furry little creature appears and calls out "Mommy." Marianne Dubuc is the author and illustrator of the touching story
Otto and Pio
, which shows the love that grows between two creatures who otherwise have nothing in common, but who fit together nonetheless. But it's not always easy: "In the morning, Otto woke up to another surprise. The little creature had grown again. He wasn't so little anymore!" As Pio keeps multiplying in size, eventually getting so big that he knocks over everything in their little tree house, Otto becomes more and more desperate to find Pio's mother. In this charming tale of learning to compromise and get the best from one another, Otto finally decides to stop fighting fate: if Pio is too big to fit into his house, maybe the problem is that the house is too small, and not that Pio is too big.
***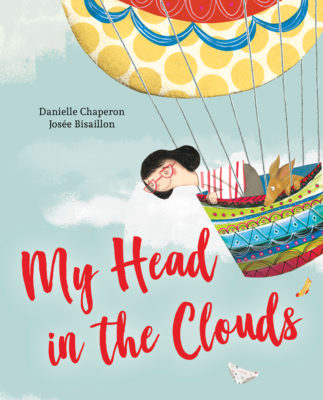 My Head in the Clouds
Danielle Chaperon
Translated by Sophie B. Watson
Illustrated by Josée Bisaillon
Orca Book Publishers
$19.95
cloth
32pp
9781459821781
M

y Head in the Clouds,
written by Danielle Chaperon, takes us on a trip to famous landmarks around the world. The illustrations by Josée Bisaillon are created in a vibrant mix of pastel, watercolours, and collage that help to steer us through the adventure. Starting in Montreal's own Olympic Stadium with stops at the Taj Mahal and Machu Picchu, our heroine loses something at each destination. She loses her wet swimsuit, a tooth, and even a Stradivarius violin; elsewhere, she loses her footing, her courage, and, at one point, she almost loses her mother! Originally written in French and translated by Sophie B. Watson, the book is surprisingly moving: "Then we reminisced about my dear old grandad, who is lost for good, which makes us both sad." A lovely tale of adventure, mystery, and, of course, forgetfulness, it's destined to give you the travel bug. If knowing that the girl lost her favourite jacket on Mount Everest is not enough information to satisfy your historical curiosity, there is a list of fun facts about each place she visits at the end of the book.
***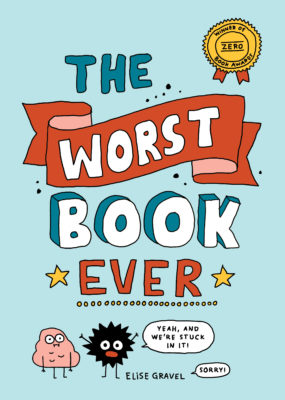 The Worst Book Ever
Elise Gravel
Drawn & Quarterly
$19.95
cloth
48pp
9781770463639
E
lise Gravel is the artist and writer behind this hilarious book that pokes fun at classic princess fairy tales. While one page falls into stereotypes and fairy tale tropes, the facing page keeps it real with three little creatures who criticize and editorialize their way through the narrative.
The Worst Book Ever
comes equipped with sexist comments, homogeneous characters, and spelling mistakes! That's what makes it the worst book ever; but what makes it the best book ever are the snarky comments of the three creatures. "This book is full of typos. Did it even have an editor?" jokes the little pink glob. "Yeah, well, if we get bored, we can count them for fun!" agrees the spiky black creature. "Also, it's not very clean in here. Did the illustrator make this book on her lunch break?" quips an orange spider. This is an important book, because it teaches readers to not accept things at face value. Just because it's written down and in a book doesn't mean it can't be questioned, improved upon, or rewritten to suit its readers' needs.
mRb