Ten years after Jodie Callaghan won The Mi'gmaq Writers' Award for "The Train," she published her short story as a charming picture book illustrated by Georgia Lesley. Everything about this book speaks of a long summer day on the East Coast, with gently undulating hills of green, plowed farmers' fields, and the cold blue Atlantic stretching along the horizon.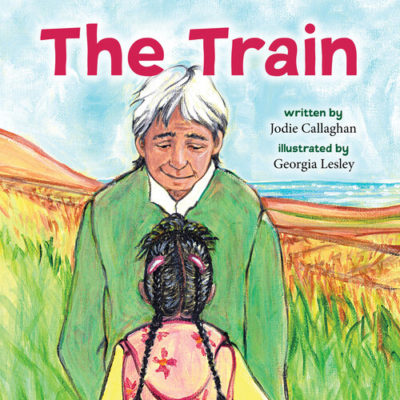 The Train
Jodie Callaghan
Illustrated by Georgia Lesley
Second Story Press
$17.95
cloth
32pp
9781772601299
In the distance, little Ashley sees a familiar figure making his way towards her. It's her beloved Uncle. He tells his young niece that he is waiting for the train, but both Ashley and Uncle know that the train tracks are grown over with grass and flowers, and that the train hasn't passed for years. In fact, Uncle is here to share his story of residential school survival with Ashley. He leads Ashley and young readers gently through his childhood, starting with life when the train ran only once a month to deliver rations to the Mi'gmaq families living on the reserve. Back then, the train symbolized excitement and adventure for Uncle and his brother, Ashley's grandfather. But then the train starts to come for a different purpose: it had become a tool in the Canadian government's push to assimilate and control the Indigenous population.
Uncle explains how the train came to take the children away and what those children lived through in the residential schools. Ashley is angry and confused by these stories, and Uncle accompanies her through her pain, sharing his own pain and his hopes for the future. Jodie Callaghan leads the young reader through the trauma to a place where we understand that, by honouring the stories of survivors and nurturing the generations that follow them, we may be able to rediscover what was taken from Indigenous peoples in Canada.
***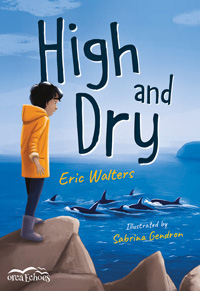 High and Dry
Eric Walters
Illustrated by Sabrina Gendron
Orca Books Publishers
$7.95
paper
96pp
9781459823105
T
eacher and writer Eric Walters started writing as a way to get his students interested in reading, and he hasn't looked back since. With over one hundred picture books and novels to his credit, we now have
High and Dry
, a chapter book for readers aged six to eight. High and Dry tells the story of Dylan and his grandfather, who discover a young orca whale stranded on the rocky shore of their remote island home on the West Coast of Canada. This story of resilience, respect for the natural world, and the importance of having elders in our lives is a good choice for early readers who want to delve into a compelling tale and experience the pleasure of a chapter book for the first time.
***
The Boreal Forest is a combination of L.E. Carmichael's comprehensive knowledge of the forest and Josée Bisaillon's enchanting and award-winning signature collage style. A forty-eight-page ode to the priceless biome that covers 29% of Canada, The Boreal Forest extends its gaze beyond our borders into other regions that also contain this richly diverse and environmentally imperative ecosystem. Carmichael holds a PhD in genetics, and her understanding of the science behind the forest would make this book an excellent addition to classrooms and libraries across the country. By including references to other regions with boreal forests like Russia, Finland, Mongolia, China, and Japan, Carmichael shows us that when it comes to the environment, we are all connected and responsible for protecting the natural world.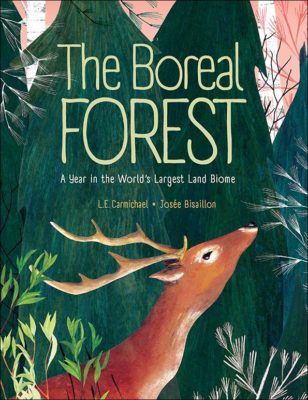 The Boreal Forest
L.E. Carmichael
Illustrated by Josée Bisaillon
Kids Can Press
$19.99
cloth
48pp
9781525300448
Using the passing of the seasons to organize the book, Carmichael introduces us to the flora and fauna of the forest, which she describes as "Forming a scarf around the neck of the world." Lyrical descriptions of the taiga, another name for the boreal forest, and its inhabitants draw the reader in. Bisaillon's illustrations are evocative and almost three-dimensional, deepening and engaging interest in the impeccably researched text.
The book opens with winter, and the scene glistens in silvery shades and sparkling whites. A wide-eyed boreal owl in full flight swoops off the pages, where we learn that owls warm their frozen prey by sitting on it before eating. Each season that follows brings its own glowing palette and charming depictions of forest creatures of all sizes, from the minuscule shrew to the lumbering brown bear.
Each season also inspires Carmichael to share trivia, from how bears control diarrhea by eating clay to an explanation of the water cycle. Thanks to her extensive research on the forest, including consultations with the Indigenous people who have been this biome's stewards and guardians, Carmichael has created a timely and necessary celebration of the boreal forest in Canada and around the world.
***
Elizabeth MacLeod is the author of more than sixty books for young people, and her latest offering, Canadian Women Now and Then: More than 100 Stories of Fearless Trailblazers was created in collaboration with illustrator Maïa Faddoul. It's clear that MacLeod did extensive research, with variety as one of her guiding principles when writing this book. The table of contents offers alphabetical sections by profession or accomplishment, from activist to anything you can imagine. As well as listing female doctors, engineers, and politicians, MacLeod includes more unusual categories like explorers and inventors. Each page shows a professional category, then features a contemporary woman and one from the past, with a portrait and paragraph about her life and work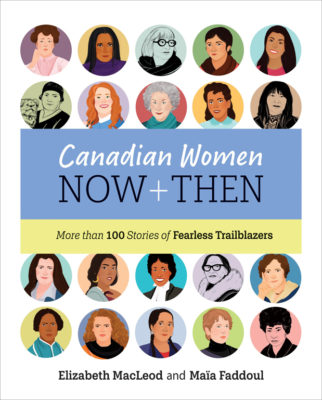 Canadian Women Now and Then
More than 100 Stories of Fearless Trailblazers
Elizabeth MacLeod
Illustrated by Maïa Faddoul
Kids Can Press
$19.99
cloth
80pp
9781525300615
In the actor section, Lilly Singh (aka Superwoman), the YouTube sensation and talk show host from Scarborough, is beside Mary Pickford (aka America's Sweetheart), also from Toronto. Although she was born almost a century before Singh, Pickford is lauded not only for her skill in front of the camera but also for her business acumen and ability to successfully play hardball in an industry that even today largely remains a boys' club.
The culture keepers section of Canadian Women Now and Then focuses on Indigenous women who fought against institutional racism to protect and preserve their cultures. Here we learn about Siyamiyateliyot (Elizabeth Phillips), born on Seabird Island in British Columbia, and Shanawdithit, from Newfoundland. These women, separated by a continent and a century, are brought together to introduce us to women who until now have been absent from our libraries, classrooms, and broader historical narrative.
And for those women who, while trailblazers, didn't make the cut for a detailed biography and full-colour illustration in the main body of the book, there are five pages of shorter bios with black-and-white portraits. Also included are a timeline of important dates in Canadian women's history and a resource list for further study. Because MacLeod and Kids Can Press are committed to encouraging future generations of amazing Canadian women, there is also a page where the writer directly asks readers how they will be inspired after reading about all the women profiled in the book.
***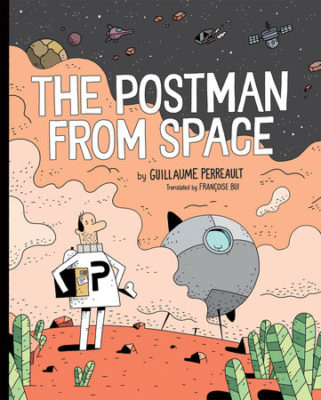 The Postman from Space
Guillaume Perreault
Translated by Françoise Bui
Penguin Random House
$12.99
paper
144pp
9780823445196
B
ob the postman is having a bad day. He's been given a new intergalactic postal route, and it's one adventure after another. With humour and irresistible illustrations, Guillaume Perreault takes us along for the ride in
The Postman from Space
. We see everything from a planet of giant tomatoes to a jungle planet inhabited by tiny creatures intent on destroying the postal spacecraft. Bob feels defeated by his terrible shift, but then, on the trip back to the Planetary Post Office, he remembers all the interesting things he saw and realizes that he enjoyed his exciting day after all.
mRb