What to do when you can't sleep? Instead of tossing and turning, counting sheep, or asking for a glass of warm milk, why not take a night walk? Breathe in the fresh night air, walk with no destination in mind, and learn about your neighbours and friends. Sara O'Leary, author of the award-winning Henri books, invites us to slow down and peek through the neighbours' window in this touching book, Night Walk. Like explorers, a little girl and her dad take a stroll together after dark. Wearing a coat on top of her pajamas and holding her dad's hand, she rediscovers the old neighbourhood in a new and different way: "When the world is dark, the lighted windows of people's houses mean that you see everything you don't see by day."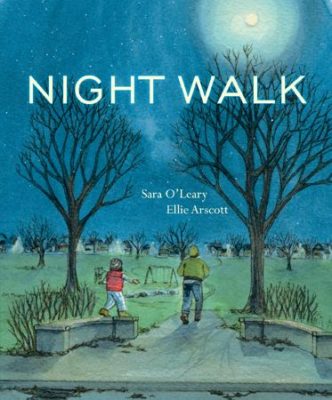 Night Walk
Sara O'Leary
Illustrated by Ellie Arscott
Groundwood Books
$18.95
cloth
32pp
9781554987962
The world is illuminated by Ellie Arscott's watercolour illustrations, which are full of tiny details that will amuse readers, like a dog howling alongside his master playing the violin, and a toy bunny sitting in a rainboot. In a busy world where we are constantly running from one place to another, it is important to slow down and spend quality time with those we love, so that we can learn about ourselves and appreciate all that we have. The little girl and her dad continue walking until, in the window of a familiar house, they see none other than Mom waving at them. They are home. 
***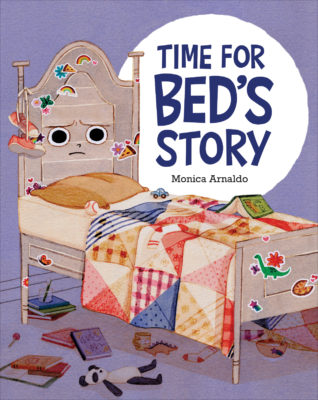 Time for Bed's Story
Monica Arnaldo
Kids Can Press
$19.99
cloth
32pp
9781525302398
T

ime for Bed's Story
is a charming story about – that's right, you guessed it – a bed. Bed speaks directly to the children, telling them how it really is. Bed knows that they don't like bedtime, and they always want five more minutes and a drink of water. But Bed doesn't have it easy, either. Children kick; children drool; children leave mouldy sandwiches under Bed that stink! Written and illustrated by Monica Arnaldo, this is a very clever take on a classic bedtime story. Time for Bed's Story lures kids, empathetic to their anthropomorphic bed, into peaceful slumber and subtly teaches them to take better care of their belongings – all the while making them laugh and feel good.
***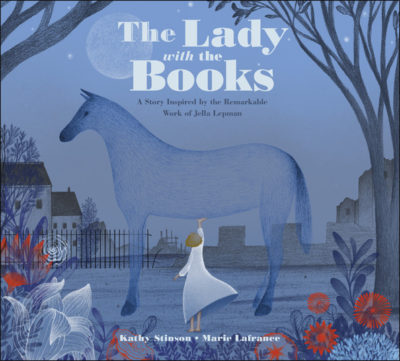 The Lady with the Books
A Story Inspired by the Remarkable Work of Jella Lepman
Kathy Stinson
Illustrated by Marie Lafrance
Kids Can Press
$19.79
cloth
32pp
9781525301544
T

he Lady with the Books: A Story Inspired by the Remarkable Work of Jella Lepman
brings us to a war-torn Germany, where catching a pigeon means a family can eat for two days. Wandering through the streets hoping to find food, Anneliese and her little brother follow a line of people. Instead of something to nourish their bodies, they find something to nourish their brains – books! A whole room full of books from around the world. This true story is based on the initiative by Jella Lepman, who, after Germany was defeated in the Second World War, wrote to countries around the world asking for children's books. Kathy Stinson, author of the award-winning
The Man with the Violin
, builds a story you can sink your teeth into while learning some history at the same time, and Marie Lafrance's detailed and delightful illustrations bring the story to life. Despite its bleak background, this story is uplifting and inspiring, showing us that the power of books can change the world.
***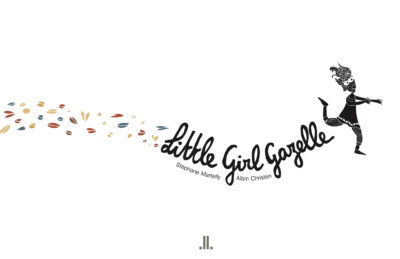 Little Girl Gazelle
Stéphane Martelly
Translated by Katia Grubisic
Illustrated by Albin Christen
Linda Leith Publishing
$16.95
paper
28pp
9781773900711
H
ow do you tell your child that she has to fight to survive in this world? How do you show her that she has to work twice as hard to succeed? Poet Stéphane Martelly does just that in
Little Girl Gazelle
, a beautiful fable about discrimination. The little girl's father says she must learn to run because she will never have time to walk. Her mother tells her that she is a gazelle in a world of lions.
Little Girl Gazelle
runs through the book; she is wood among steel, hooves among wheels. Albin Christen's striking black-and-white illustrations move us through the story past African masks and jungles of machinery. The only colours in the book are in the hoofprints of the running child, making the style of Martelly and Christen's second book together remarkably distinct. Originally written in French and translated by Katia Grubisic,
Little Girl Gazelle
is the perfect story to explain discrimination to people of all ages.
***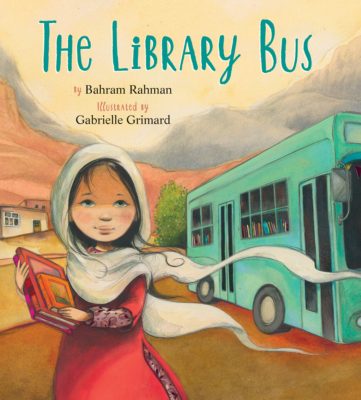 The Library Bus
Bahram Rahman
Illustrated by Gabrielle Grimard
Pajama Press
$21.75
cloth
32pp
9781772781014
T

he Library Bus
reminds us what a luxury it is to learn to read. Set in Kabul, Bahram Rahman's first picture book takes us on a journey – a library bus journey – to Afghanistan, bringing books and teaching English to children in the small villages and refugee camps where there are no schools for girls. The library bus, run by Pari's mama, is the only one in all of Kabul, and the book follows Pari's first day as the library helper. When Pari's mama was young, it was forbidden for girls to learn to read and write, but she was lucky because her grandfather taught her in secret, hidden in the basement. Award-winning illustrator Gabrielle Grimard brings this story to life with water-colour paintings of the refugee camps, villages, and the little children who live there. Rahman, who was born into the Afghan War, shares a personal word at the end of the story about his visits to the refugee camps and orphanages of Kabul. The children he met there are the real heroes of Afghanistan, and in a way, this book is dedicated to them.
mRb