With summer upon us and the possibility of exploring the world outside our front doors, Quebec's accomplished cohort of children's writers and illustrators have delivered a batch of books that allow us to travel far and wide whether we get off the couch or not.
The Ice Shack, written by Katia Canciani and with illustrations by Christian Quesnel, introduces readers to the traditions of ice fishing and tall tales. Children living in Quebec's larger cities may never have even seen ice shacks squatting out on this province's frozen lakes and rivers, but the tradition of ice fishing goes back thousands of years in Indigenous cultures across the country, and these huts have long been a part of Canada's winter experience.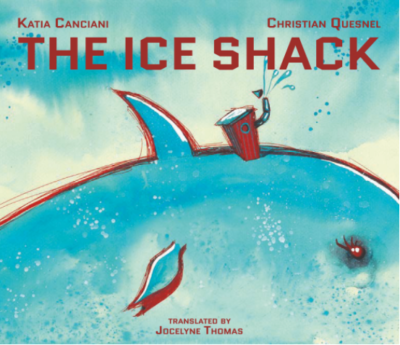 The Ice Shack
Katia Canciani
Translated by Jocelyne Thomas
Illustrated by Christian Quesnel
Breakwater Books
$12.95
24pp
9781550818505
The Ice Shack
gives urban and rural dwellers alike a chance to join the intrepid Alphonse on his quest to be the best fisherman ever. While he waits for the fish to bite, Alphonse's ice shack and the ice floe it's parked on break away and set out on an adventure that takes them around the world and back again. Along the way, Alphonse and his ice shack help to fix a broken-down ocean liner, save a clutch of endangered bird eggs, and rescue a stranded family on a deserted island, before being escorted home by a giant blue whale. Quesnel's ebullient watercolour illustrations evoke the vastness of Canada's watery landscape as well as the charm and humour of the grandfatherly Alphonse. By the end of the book, every reader will agree that Alphonse deserves an award, not for best fisherman but for best teller of tall fish tales.
***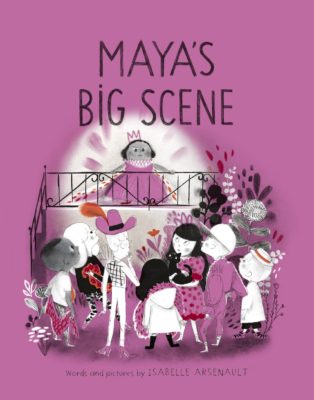 Maya's Big Scene
Isabelle Arsenault
Tundra Books
$17.99
cloth
48pp
9780735267602
A
fter living through a long winter and over a year of restricted movement, many parents are dreaming of getting out of their neighbourhoods and enriching their children's lives through travel. Written and illustrated by Isabelle Arsenault,
Maya's Big Scene
reminds us that learning important life lessons can happen in our own backyards. Maya, a little human with a larger-than-life theatrical soul, has organized her friends to put on a play about freedom, respect, and equality. The only problem is, her friends aren't completely on board when it comes to the costumes she has assigned them.
When Maya's cast criticizes her direction, the budding impresario forgets what her play is about and becomes a dictator rather than a social activist. Fortunately, her friends are able to respectfully show Maya that her behaviour goes against the very values her play wants to get across. Arsenault's charming illustrations, in a palette that glows in pinks, white, grey, and black, bring the feisty Maya and her friends to life, and give readers a birds' eye view of the rich social interactions that happen between children and parents in Montreal's picturesque Mile End neighbourhood.
***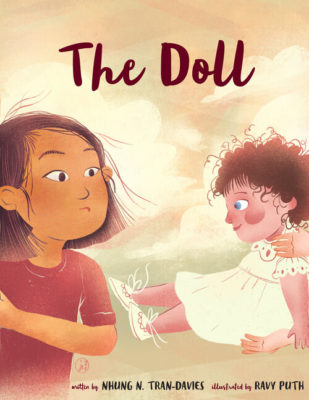 The Doll
Nhung N. Tran-Davies
Illustrated by Ravy Puth
Second Story Press
$19.95
cloth
24pp
9781772601657
N
hung N. Tran-Davies arrived in Canada with her family as Vietnamese refugees in 1978 when she was five years old, sponsored by families in Enoch, Alberta. Shaking and afraid, she was greeted at the airport in Edmonton by another little girl named Adrienne who offered her a doll – "With wild curls of cinnamon, lips sweet and rosy" – as a welcome-to-Canada gift. That gesture of kindness and the repercussions of it are the subject of
The Doll
, a large-format picture book written by Tran- Davies and illustrated by Ravy Puth. The book opens with Adrienne waiting for the young Nhung to arrive with her six brothers and sisters. Puth's drawings catch the terror and tumultuousness of their escape across the ocean as well as personal moments of tenderness and care between family members and strangers.
Focusing on the experience of refugees when they first arrive in Canada, Tran-Davies uses her own story of welcome to show readers that small acts can have a life-changing effect. Adrienne's gift of a doll made the young Vietnamese refugee feel that, "This one act of kindness said that she was welcome. It told her she was home." When readers see the adult and now medical doctor Nhung N. Tran-Davies forty years later at the airport giving a doll to a Syrian refugee child, we understand how powerful these acts of kindness can be. The author's note at the end of the book, and the picture of the original doll that was given to Tran-Davies, make this true story of generosity and courage even more real.
***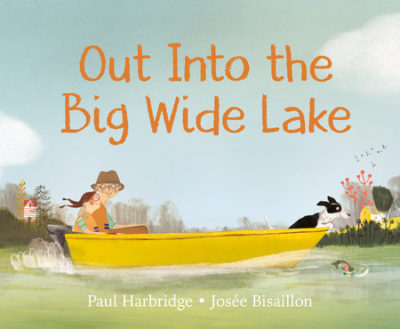 Out Into the Big Wide Lake
Paul Harbridge
Illustrated by Josée Bisaillon
Tundra Books
$18.99
cloth
48pp
9780735265592
O
ut Into the Big Wide Lake
, written by Paul Harbridge and illustrated by Josée Bisaillon, is dedicated to the storybook's main character and Harbridge's sister Linda Catherine, whom everyone calls Kate. There are many things to love about this book, including the delightful illustrations by Governor General's Award–winner Bisaillon. Capable of depicting teeming inner-city life as effectively as she draws the natural beauty of lake country in Northern Ontario, Bisaillon manages to take the reader into Kate's heart and mind as she discovers a strength and resilience she didn't know she had.
Another reason to love Out Into the Big Wide Lake is the amazing, true backstory of the book's main character. Before the title page of the book and under the dedication, Harbridge has included a photo and short biography of his sister Kate, whom he describes as an excellent athlete and lover of the outdoors. It's only here that we learn that Kate has Down syndrome, and it's to the writer's and the illustrator's credit that once the book starts, we quickly forget any judgments or assumptions we might have about kids with this diagnosis. We're too busy being caught up in Kate's summer vacation, helping out at her grandparents' general store and having a series of misadventures learning how to pilot the motorboat around the lake's rocky shore with her grandmother.
Harbridge and Bisaillon succeed in showing their readers that Down syndrome is only a part of who a person is, and that having any diagnosis doesn't limit our ability to be active or to inspire members of our families and our communities. Grandparents will especially appreciate how Kate's grandmother and grandfather champion her quest for independence and help Kate see just how accomplished she really is.
***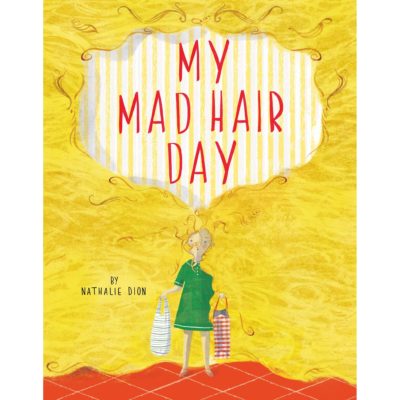 My Mad Hair Day
Nathalie Dion
Groundwood Books
$18.99
cloth
44pp
9781773065113
A
nyone with curly hair will tell you that regardless of the season, it's not easy to keep your locks under control. Malie, the protagonist in Nathalie Dion's
My Mad Hair Day
, has had enough of her recalcitrant hair. She wakes up one morning to find her hairdo even more messy and rebellious than usual, and she's not impressed when she discovers that her mother intends to send her out into the world with a list of errands to run. Dion clearly had a lot of fun drawing Malie and her hair, a tangled mass of voluminous yellow that expands to fill every space that Malie walks into, whether it's a bus shelter, a bakery, or a city block. Throughout the book, our hirsute protagonist is frustrated and annoyed by her mop's ability to cause chaos and confusion. But by the end of the story, even she has to admit that her hair has some positive uses, not least of which is her introduction to a friend who understands how hard it can be to be a little girl with big, curly hair.
mRb