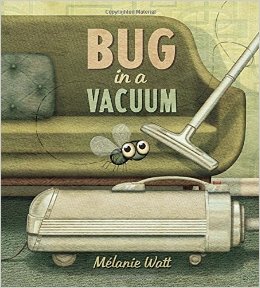 Bug in a Vacuum
Mélanie Watt
Tundra Books
$24.99
cloth
96pp
9781770496453
If
 you've had a kid in the last five years, chances are you're already a fan of Mélanie Watt. This multiple award-winning author and illustrator is the creative genius behind Scaredy Squirrel, as seen on YTV in Canada and on the Cartoon Network in the United States. The Scaredy Squirrel books and her series featuring Chester the megalomaniacal cat are best- sellers because Watt consistently creates wonderful picture books for kids that entertain adults at the same time.
Watt is the kind of writer and illustrator who deftly crafts stories that simultaneously unfold on multiple levels. Bug in a Vacuum follows the trials and tribulations of a housefly, who, while reposing on the top of a globe, is unceremoniously sucked up into a vacuum cleaner. Watt plants information throughout the book, clues that establish the second narrative playing out. Careful readers will notice that on the page just before the housefly's fateful encounter with the vacuum cleaner, the family dog is watching the machine swallow a beloved stuffed toy. Bug in a Vacuum intertwines the struggles of a trapped fly confronting his mortality from inside the bowels of a vacuum cleaner with the journey of mourning associated with the loss of a life companion.
The setting of Bug in a Vacuum is suburban North American retro, from the shag toilet seat covers to the hula dancer table lamps and the Formica kitchen table. In the first pages of the book, while the fly is buzzing contentedly throughout the house, Watt puts household products centre stage, complete with 1950s-style packaging: a spray can of dandelion repellent, a box of laundry detergent, a frozen dinner, a children's book, and a box of tissues. Those kitschy throw backs are rebranded and given new meaning after the fly and doggie toy are hoovered.
Dandelion repellent becomes a spray can of denial that promises to wipe out the ugly truth. The laundry soap is a box of bargaining powder that will wash away your troubles. The TV dinner is a quick and messy serving of anger, the tome of classic children's stories is an unfair tale of despair, and the tissues are transformed into a box full of acceptance made of 100% real feelings. I'm pretty sure no other picture book author has attempted to bring Kübler-Ross's five stages of grief to the under ten crowd, but Watt pulls it off with ease. And if you're wondering how your child will deal with such a tragic tale of loss, Watt manages to write an ending that celebrates resilience and the power of faith.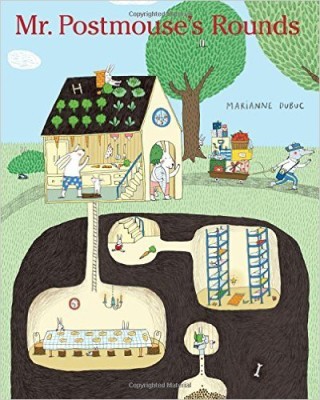 Mr. Postmouse's Rounds
Marianne Dubuc
Translated by Yvette Ghione
Kids Can Press
$18.95
cloth
24pp
9781771385725
M
arianne Dubuc is another one of Quebec's young and exceptionally talented author-illustrators. Unlike many of her contemporaries, however, Dubuc is decidedly old school when it comes to illustrations, using pen, ink, and pencil to get the results she wants.
In Mr. Postmouse's Rounds, Dubuc has created a tiny, perfect, mouse-sized universe. Children will love discovering the hidden treasures on every page: the seven-storey bunk beds in the rabbit family's warren, the snake reposing over three pages under his personal heat lamps, the magpie admiring himself in all his stolen finery, the carrier pigeon consulting his maps, the very pink mobile home on the turtle's back, and the penguins' ice-cube filled claw-foot tub. These are only of few of the delightful surprises on the indefatigable Postmouse's rounds. There are endless opportunities to introduce the young reader to animal species, numbers, and colours. The story is simple and sweet – the Postmouse's rounds end at the birthday party of his own son – but it's the pen and ink drawings that transport us into the fantastical animal worlds of Dubuc's creation.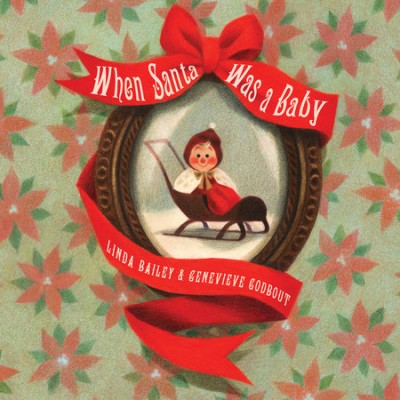 When Santa Was a Baby
Linda Bailey
Illustrated by Geneviève Godbout
Tundra Books
$19.99
cloth
32pp
9781770495562
T
here's something about a prequel to a fictional character's life that has universal appeal. When that fictional character is Santa Claus, and the title of the book is
When Santa Was a Baby
, the temptation to get the backstory of such a beloved holiday hero is pretty much impossible to resist. Writer Linda Bailey has published more than two dozen books for children and her skill is obvious in the well-crafted narrative. There is nothing extraneous here.
Bailey reveals the genus of each of Santa's peculiarities, from his booming "Ho! Ho! Ho!" to his penchant for cookies and the colour red and his affinity for reindeer. While tracing the roots of Santa's Santa-ness, Bailey also tells the story of a boy who doesn't fit in with his peers in many ways. Santa is a young man who does things his own way and who is able to realize his dreams. He is resilient and resourceful and, with the love and support of his often-bemused parents, he is ultimately able to find his life's work.
Illustrator Geneviève Godbout's drawings are soft and warm. The earthy tones make Santa's bright clothes and perpetually red cheeks and nose even more jolly than usual. Santa fans of all ages will enjoy this book and with the very convincing evidence Bailey provides regarding St. Nick's early years, you might just find yourself wondering if Santa really does exist after all.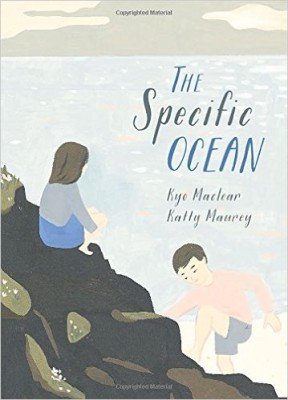 The Specific Ocean
Kyo Maclear
Illustrated by Katty Maurey
Kids Can Press
$18.95
cloth
32pp
9781894786355
T
oronto-based children's author Kyo Maclear knows a good illustrator when she finds one. Beginning with her multiple prize-winning book
Spork
, she has often found them in Quebec.
Specific Ocean is illustrated by Montrealer Katty Maurey. The large pages are filled with vast marine landscapes painted in muted browns, blues, and greens. Human figures are small in comparison to the enormous ocean. It's easy to sympathize with the little girl protagonist who wishes that her parents hadn't dragged her out of her familiar inner-city home and into this strange and intimidating territory. Maclear says Specific Ocean was written for readers who love nature and for those who prefer to spend their time indoors. She was inspired to write the book by her own memories of being a city kid – she spent her childhood in Toronto, London, and Tokyo – and her first experience in the great outdoors.
The Good Little Book
Kyo Maclear
Illustrated by Marion Arbona
Tundra Books
$18.99
cloth
40pp
9781770494510
M
arion Arbona, also from Montreal, is the illustrator for Maclear's second release of this year,
The Good Little Book
. Arbona's whimsical aesthetic elevates
The Good Little Book
from a simple story about how a humble book can change the lives of countless children to an example of the book as objet d'art. From the first look at the lush crimson patina and embossed lettering on the cover we are intrigued. The red floral mid-century end pages remind us of old books we loved as children. The black ink drawings of rocket ships and dinosaurs scrawled over the end pages, and crossed out names under "This Book Belongs To" entice us to explore further. When we do, we are rewarded with glossy psychedelic images of flora and fauna exploding from the mind of a little boy when he discovers all the amazing things a book can do. The message of the story is that books are meant to be enjoyed over and over again and Arbona's drawings are sure to keep you coming back for more.
mRb