Heather Hartt-Sussman's Noni is back, in Noni Speaks Up, teaching us another life lesson about feeling afraid and doing it anyway. Perhaps you've met Noni before, in Noni is Nervous or Noni says No. In this installment, Noni's conscience goes head to head with her desire to be part of the group.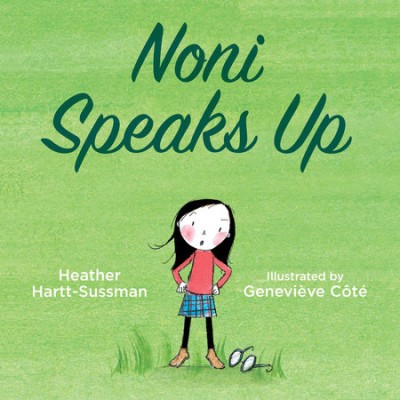 Noni Speaks Up
Heather Hartt-Sussman
Illustrated by Geneviève Côté
Tundra Books
$19.99
cloth
24pp
9781770498396
Every day Noni watches her classmate Hector, he of the giant glasses and gangly legs, get bullied by the other kids. She remembers how easy it was when she only cared about what her parents thought. She thinks of how bad it would feel to be kicked out of the group, to eat lunch alone, and to be made fun of. Twice she wants to defend Hector but she is too afraid. When she finally does speak her mind she discovers that her old friends' taunts don't hurt a bit because she's too busy talking to her new pal Hector. Geneviève Côté's drawings are as charming as always, expressing tons of emotion in a few brush strokes and ink lines.
Youngsters are masterful at creating fabulous new worlds from couch cushions, blocks, blankets, and chairs. Unfortunately, most of us get the creation-of-new-worlds-mastery nagged out of us by well-intentioned parents who are just trying to clear a path through the clutter so everyone can get to the bathroom.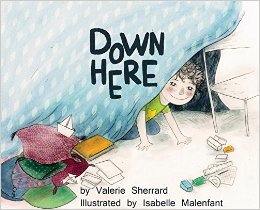 Down Here
Valerie Sherrard
Illustrated by Isabelle Malenfant
Fitzhenry & Whiteside
$18.95
cloth
32pp
9781554553273
Down Here
tells the story of little Jamie, who loves to build things, from dazzling fantastical rollercoasters to personal solar systems and secret mazes. The problem is that his mom doesn't appreciate the chaos that her little rug rat concocts. Instead of commending him for his creations she gets madder and madder. Finally Jamie decides to see what all the fuss is about and climbs up on a chair to see things from his mom's point of view.
Down Here, by Valerie Sherrard, is a sweet story that might manage to defuse a few of those heated time- to-clean-up encounters. A book with an important reminder that sometimes the most difficult problems can be solved by looking at things from a different perspective.
Oscar Lives Next Door is a story inspired by Oscar Peterson's Montreal childhood and told by elementary school teacher, author, and playwright Bonnie Farmer. This picture book was years in the making, inspired by Farmer's desire to write a book about growing up in her beloved Little Burgundy. That rich setting found its ideal protagonist when Farmer came up with the idea of telling a story from jazz master Oscar Peterson's childhood. In her narrative, Farmer succeeds in telling a good tale filled with information about the social and cultural life in the Black community of Little Burgundy, including compelling details about Oscar Peterson's past. The author has astutely chosen to chronicle a particularly dramatic episode in Peterson's life – the period when he contracted TB and was ultimately forced to give up his beloved first instrument, the trumpet.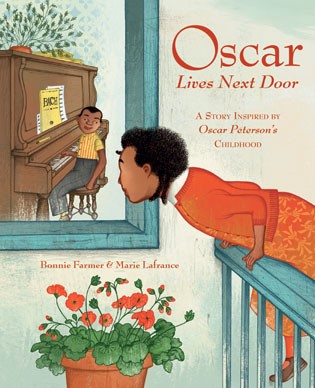 Oscar Lives Next Door
A Story Inspired by Oscar Peterson's Childhood
Bonnie Farmer
Illustrated by Marie Lafrance
Owl Kids Books
$17.95
cloth
32pp
9781771471046
Bonnie Farmer is also blessed with a wonderful illustrator.
Oscar Lives Next Door
is a visual as well as a literary success thanks to the drawings by Marie Lafrance. Little Burgundy's skies explode on the pages – yellow, light blue, indigo – and then the eye notices inner-city landscapes criss-crossed by electrical wires and defined by the outlines of church spires and smoke-stacks. Lafrance recreates the bustling, cramped, and leafy avenues and balconies of the vibrant neighbourhood that was bulldozed under in the 1970s to make way for the Ville-Marie Expressway. Unfortunately we can't bring the real-life wonders of Little Burgundy back, but we do have writers like Bonnie Farmer and illustrators like Marie Lafrance to give us a feeling for the history of the Black community that continues to inform and enrich the city of Montreal today.
Remember that cliché about the book and its cover? Well That Squeak, by Carolyn Beck, proves that you can't judge a book by its format either. This large picture book with glossy and gorgeous images by François Thisdale looks like it's for kids. With only about a paragraph of text on each page, much of it dialogue, on first glance the book looks a lot like something you might read to a six- or seven-year-old, that it might be suitable for a child who can't quite read but who can concentrate long enough to appreciate a well-told tale. But book judges beware! This book is meant for a YA audience and not elementary school kids.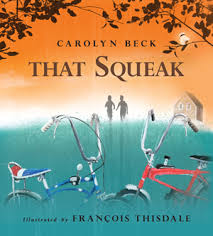 That Squeak
Carolyn Beck
Illustrated by François Thisdale
Fitzhenry & Whiteside
$18.95
cloth
40pp
9781554552931
That Squeak
introduces us to Joe and Jay, who are best bicycle buddies until Jay suddenly dies and Joe is left to mourn his lost friend and their shared adventures. When Joe decides to take Jay's abandoned and now rusty bike and polish it up, Carlos, the new kid in class, starts acting all friendly. Joe's unexpressed pain at Jay's death leads to misunderstandings and accusations. In the end, the story of Carlos, Joe, and Jay is told to remind us that we must let go of the pain if we want to move on to joy. A good choice for a young adult who is struggling with one of life's hard lessons.
Arsenal Pulp Press is rapidly building a comprehensive YA catalogue, including this new release, Faerie, a novel by Eisha Marjara. The novel is divided into nineteen chapters, each of which includes either one long piece of writing or a series of shorter pieces of varying lengths. Some sections read like diary entries while others are more finely crafted. The writing itself, the figurative language, the consistent narrative voice, and the descriptive passages are well done. The author is an award-winning film writer and director and there is ample evidence here of her ability and skill.
Faerie
Eisha Marjara
Arsenal Pulp Press
$14.95
paper
147pp
9781551526188
The faerie in question is Lila. An almost eighteen-year-old daughter of Punjabi immigrant parents, Lila is on a quest to escape from her life through starvation. She is disappointed by her father, repulsed by her mother, and grieving for the loss of her beloved cousin Monika. There are lengthy descriptions of Lila's pain, before and during the months she spends hospitalized in Four East wing, part of a psychiatric hospital. We learn about rotting food, how it feels to have a feeding tube inserted up your nose, or the logistics of having dried up excrement removed from your emaciated and sore-covered body. The writing expresses pain that is visceral and raw.
But despite the many accomplishments of the writer and her work, Faerie is not a book I would recommend for a YA audience. The book presents a ghastly picture – a very personal story – but it pushes us away instead of drawing us in. We know that girls and women are starving themselves to death, but Faerie doesn't help us understand why, and at the end of the novel, where we search for resolution, there is only a tidy epilogue – two short paragraphs that inform the reader that Lila is now slender and happy, working as a photographer and using her art to keep her inner faerie alive. mRb