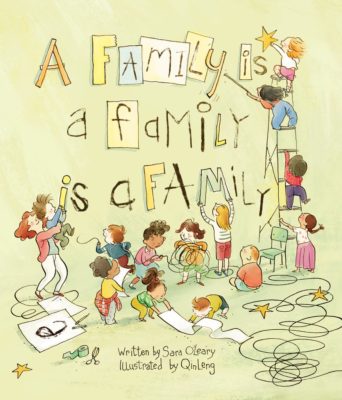 A Family Is a Family Is a Family
Sara O'Leary
Illustrated by Qin Leng
Groundwood Books
$18.95
cloth
32pp
9781554987948
N
o kid should have to feel ashamed of his or her family. When the class in Sara O'Leary's
A Family Is a Family Is a Family
is asked what makes their family special, our narrator hesitates to share about her family because it's different. Families can be dysfunctional, but when you look at what makes them unique, it's easy to find the good. In two-page spreads and a few sentences, each student in the class explains what makes their family special. Some descriptions are concrete, others dig deeper at the complicated feelings we have for the people we come from: "My mom says that before I was born I grew in her heart." It begins traditionally enough with a student whose parents love each other very much (too much?). There's a family with a ton of kids, another with two tone-deaf moms. Qin Leng's illustrations create a visually appealing watercolour atmosphere, with sweet faces and details worth scanning the pages for. At the end, when we find out what is different about the narrator's family, the reader will be satisfied to hear her mom's smart retort to a nosy outsider. This book makes it a little more okay to be different. (VB)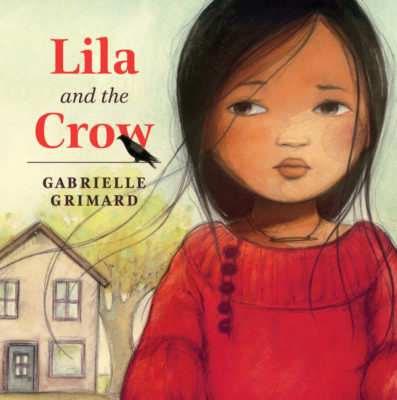 Lila and the Crow
Gabrielle Grimard
Translated by Paula Ayer
Annick Press
$21.95
cloth
32pp
9781554518586
O
n the first page of
Lila and the Crow
, readers meet both Lila, a pretty, dark-haired child with rosy cheeks, and a crow. Lila is enduring the common childhood experience of having moved to a new place. She starts school, anxious to make new friends. It's only when a bully points out her dark hair and eyes that I realized she is Indigenous (it's never made explicit). This fable is set among the secret lives of children, where adults can't intervene. Day after day, Lila is taunted and grows more miserable, trying to find new ways to hide herself. From page one, the crow and Lila share something. She rejects the bird time and time again, but on the eve of an autumn festival in a magical encounter with a murder of crows, something changes. It takes a magnificent costume of her own making for Lila to stand proud of who she is. Written and illustrated by Gabrielle Grimard, Paula Ayer provides the poetic English version. (VB)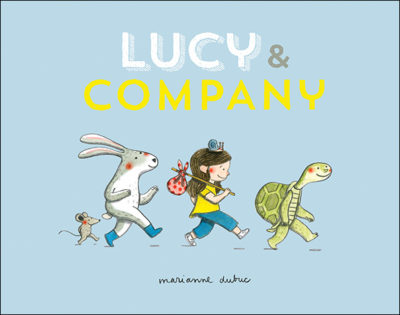 Lucy & Company
Marianne Dubuc
Kids Can Press
$17.95
cloth
56pp
9781771386623
L

ucy & Company
, by Quebec children's author Marianne Dubuc, follows Lucy and her four animal friends on three adventures. The first begins with Lucy looking for a nice spot to have her snack. One after another her four friends join her. The tale follows the ups (up a tree is a nice spot) and the downs (food goes down into bellies, but not if it's dropped down on the ground) of snack time. In the second tale Lucy takes her friends on a treasure hunt that ends with a sweet surprise. The last is my favourite, with the most at stake, involving three parentless eggs. Recalling the charm of P. D. Eastman's classic
Are You My Mother?
, the image of Adrian the snail trying to brood the eggs is a high point. Visually, Dubuc creates a bright, park-like world of adventure for its rosy-cheeked inhabitants. The stories can be read individually or as a whole, tracing a friendship that evolves from breaking bread to celebrating a birthday to caring for little ones. (VB)
It's not surprising I've been washing my hands extra well since reading Inside Your Insides: A Guide to the Microbes that Call You Home, which introduces kids to the diverse and abundant mostly single- cell life all over their bodies. As microbe-ridden as a child's hands are in the middle of the day, it's also important for kids to learn that not all germs are bad. And what are germs anyway?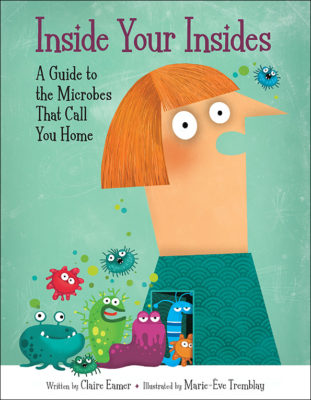 Inside Your Insides
A Guide to the Microbes that Call You Home
Claire Eamer
Illustrated by Marie-Ève Tremblay
Kids Can Press
$18.95
cloth
36pp
9781771383325
Author Claire Eamer is a talented science writer (and winner of the 2013 Lane Anderson Award for science writing in Canada in the young reader category) and she commands the reader's attention, whether she's explaining how to differentiate between "the most common microbial hitch- hikers," the story of the Black Death, the difference between antibiotics and vaccines, or research that found bacteria in someone's belly button that until then had only been found in the ocean. Quebec artist and illustrator Marie-Ève Tremblay brings the microbes to life as bubbly, bug-like creature with expressive eyes. Microbes live in the viscera and other murky places and Eamer doesn't shy away from the gross factor; the word poop is a regular occurrence. Other than edifying middle readers and spreading scientific knowledge, this book has an agenda that's easy to get behind. "Play outside…. Eat lots of fruits and vegetables…. Don't use antibiotics that you don't need." This is how you nurture the trillions of microbes living on you. Now back to hand washing – with non-antibacterial soap, of course. (VB)
It is remarkable that the now-common system for plastics recycling – from the process for collecting and grinding down used materials to the numbered triangle logo that differentiates the seven kinds of plastic – was initiated and refined, not by scientists, but by a "white-haired" volunteer from a small town in Wisconsin. In What Milly Did, Elise Moser shares the little-known story of Milly Zantow, who revolutionized recycling in the 1980s, and encourages young readers to consider their own ecological footprints.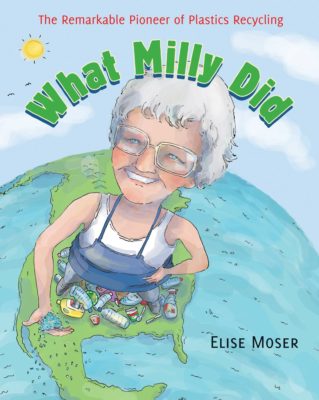 What Milly Did
The Remarkable Pioneer of Plastics Recycling
Elise Moser
Illustrated by Scot Ritchie
Groundwood Books
$11.95
paper
48pp
9781554988938
Milly's charm and intelligence shine through the book, whether she is sitting on top of a garbage heap counting trucks or bundled in a long winter coat in her freezing warehouse. True to life, the narrated facts of her story are not always exciting reading (she cashes in her life insurance policy, she meets with local business owners) but it is a credit to the author and publisher that Milly's slow and steady progress is plotted out on the page like this. Changing the world doesn't happen in a glamorous instant. While the moral of Milly's story is that anyone can make a difference, the more important lesson here is that doing so takes dedication, hard work, and time.
Educational takeaways about the science of plastic and the mechanics of recycling are set into informative sidebars, illustrated with impressionistic greyscale line drawings by Scot Ritchie. A glossary of terms and a list of suggested books, videos, and websites for further study round out the pages of what will undoubtedly be a welcome teaching resource and an important addition to any library for children. (SS) mRb