As we head into the crisp fall season, change is all around. As we watch the natural world transform, many young students are adjusting to their new classrooms, and adults are rediscovering the daily rhythm of morning drop-off and dinnertime rush. It's a busy season, one that requires us to take time to reconnect – and what better way than with a book? From entomology to astronomy, colour palettes to cultural practices, the following selection expands the imagination and shows us the powerful way that books can infuse a little magic into our day-to-day lives.
***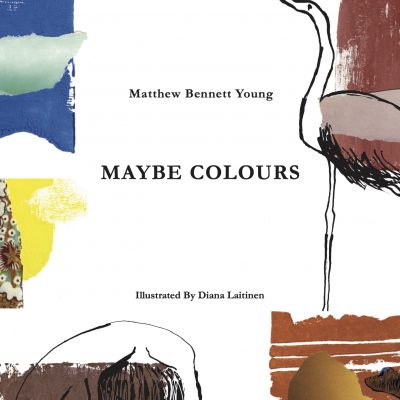 Maybe Colours
Matthew Bennett Young
Illustrated by Diana Laitinen
Compton Press
$11.71
paper
28pp
9780955920301
M
atthew Bennett Young's
Maybe Colours
, illustrated by Diana Laitinen, is aimed at providing "a greater opportunity for a dialogue with children about their experience of colour." With simple and elegant poems that each offers a fantastical theory of colour, the book is both an entertaining read for children, as well as a creative exercise. "Maybe red comes from tomatoes that / nobody picks, or leftover lipstick. / Maybe red comes from anger / underneath the earth." Filled with senses and emotion, it encourages kids, as well as their adults, to tune in to their imaginations. The texts are characterized by a naive style, with plenty of assonance and alliteration that make for a delightful reading-aloud experience. Each poem is complemented perfectly by the collage-driven art style. Meditative and colourful – without being colour-saturated – this lovely book invites readers of all ages to look at the world with a sense of wonder and to imagine colour stories of their own.
***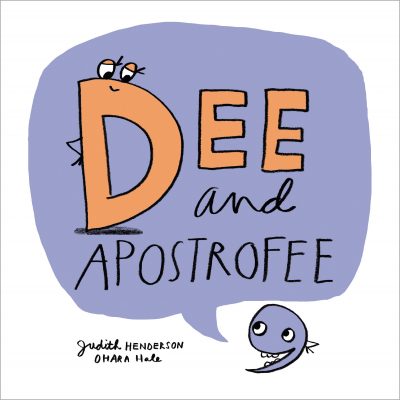 Dee and Apostrofee
Judith Henderson
Illustrated by Ohara Hale
Kids Can Press
$19.99
cloth
32pp
9781525303265
D
ee and Apostrofee
tells the story of an indignant letter D (as in "Dee-lighted!") as she chases after a hungry apostrophe that has been gobbling letters right and left. While Dee and the other letters accuse Apostrofee of thievery and greed, Apostrofee asserts that he's "just bringing words together." With text by Judith Henderson and illustrations by Ohara Hale, the book is entertain- ing enough for a wide range of early readers, while also offering a simple and funny explana- tion for how apostrophes work in English. From contractions of words ("Won't! Can't!") to possession (This is "___'s book") to stylistic emphasis ("D'you mean d'plorable?") several functions of the apostrophe are explained through comic dialogue between the characters.
The illustrations are simple and character-driven, highlighting many letters along the way, and offering an educational experience for very beginning readers, especially those learning to associate sounds with letters. The book also offers a lesson in friendship, as the other letters realize that the mischievous Apostrofee does have a way of bringing everyone together.
***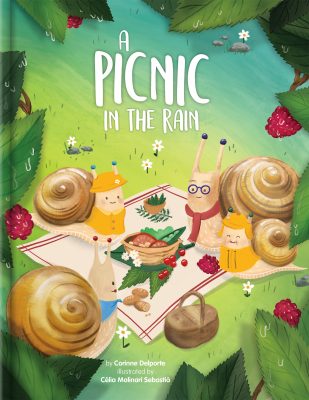 A Picnic in the Rain
Corrine Delporte
Illustrated by Célia Molinari Sebastià
CrackBoom! Books
$15.95
cloth
32pp
9782898023187
A
Picnic in the Rain
, written by Corinne Delporte and illustrated by Célia Molinari Sebastià, shows a family of snails who learn how to make the best of bad weather, in a delightful twist on the classic rainy day scenario. The pesky sun has finally gone away, and the snails have their much-awaited chance to go out in the rain for a picnic. Just as they reach their chosen spot, the weather stops cooperating and their day seems to be ruined. But through a bit of luck and an inventive spirit, the snail youngsters are able to save the day.
Rich, colourful illustrations invite readers into a miniature world within a garden, showing plants and objects that feel familiar, while infused with a touch of whimsy. Complete with fun facts about snails, the book will surely spark curiosity in young readers.
***
For fun facts about the natural world, Élise Gravel's latest The Bug Club offers plenty of interesting information to delight younger and older readers alike. Colourful illustrations show many fascinating features of insects, rendered in Gravel's iconic style. The author explains the life cycle of insects, the job of an entomologist and the concept of scientific classification, while dedicating much of the book's space to information that kids won't soon forget. For example, the stink bug smells "like sweaty feet and cilantro," and the lesserblack tarantula keeps tiny frogs as a kind of "pet" to protect its eggs.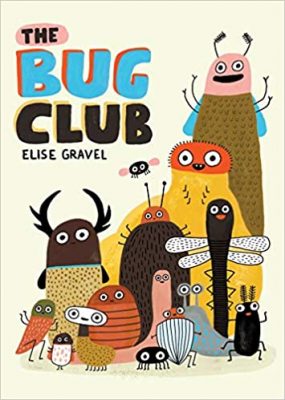 But perhaps even more important than the educational glimpse into the insect world, the book shows how exciting learning can be. By reflecting on her childhood fascination with bugs, Gravel sets an example of the possibilities that await those who follow their curiosity: "Here's something I used to do when I was a kid: I'd plant four sticks in the grass to form a square, and then try to count all the tiny bugs I could find in there." The openness of childhood imagination is not just taken seriously but celebrated: "A kid once asked me what the inside of a snail looked like, and I thought it was an excellent question." By asking and answering exactly these kinds of questions, Gravel gives us, once again, a book infused with the powers of a curious mind.
***
Burying the Moon is a deeply inspiring and gorgeously illustrated verse novel that deals with a public health issue affecting a significant portion of the world's population: lack of access to sanitary toilets. Rather than focus on disturbing facts or devastating statistics associated with poor public hygiene, this book relies on story-telling and rich poetics to elicit an emotional connection with the reader.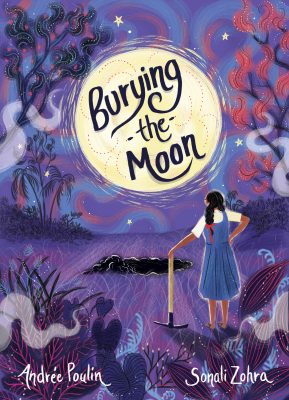 Burying the Moon
Andrée Poulin
Illustrated by Sonali Zohra
Groundwood Books
$19.99
cloth
120pp
9781773066042
Through the story of Latika, we learn about the situation that faces her community, and the widespread ramifications that this lack of facilities has on her village in rural India. In Latika's eyes, we meet her older sister Ranjini, who – like all other girls – must leave school at the start of menstruation because of the lack of access to a latrine; her Ammamma, who was stung by a scorpion in the dreaded field at night and so suffers from a debilitating fever; and Aunty Nita, whose young son Jamal died as a result of disease.
But when a governmental official comes to the village, Latika's bravery wins out over her shame, and she courageously puts forth solutions to the problem. This book's most impressive feat is in the way it transforms a taboo subject into the driving force of a girl's coming-of-age journey, as she becomes an agent of social change. With stunning art by Sonali Zohra and the strong lyricism of Andrée Poulin, it is a book that will both captivate and raise consciousness in readers of all ages.
***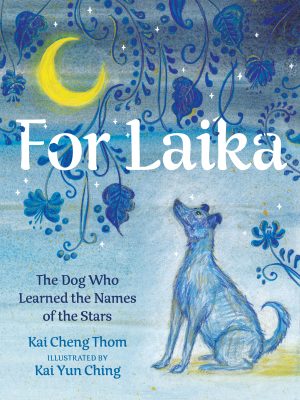 For Laika
The Dog Who Learned the Names of the Stars
Kai Cheng Thom
Illustrated by Kai Yun Ching
Arsenal Pulp Press
$19.95
cloth
40pp
9781551528625
I
n
For Laika, the Dog Who Learned the Names of the Stars
, author Kai Cheng Thom and illustrator Kai Yun Ching give a fictionalized account of the real dog who became the first living creature to orbit the earth. Roaming the streets of Moscow in the 1950s, Laika was taken in by Vladimir Yazdovsky, a Russian scientist responsible for training dogs for the space program. This book explores their relationship, as well as giving Laika a backstory as a stray who is trying to find her parents and discover the true nature of the stars. Laika is presented as brave and wise, choosing a mission in space over the safety of her closely knit pack of friends. In the mythology of this canine world, the stars are understood to be "the spirits of dogs who have gone to heaven," former strays who become "part of the great family of dogs in the sky," and so Laika's sad story is rewritten in fiction as a fantastical journey of hope and courage.
mRb