As we gradually strip off our heavy winter gear, there's a feeling of lightness that puts an extra spring in our step as we watch the world around us slowly come back to life.  Whether our reading is left for a rainy day or we're ready to venture outside with a good book, this season's roundup offers a variety of young reader options that reawaken the explorer in all of us.
***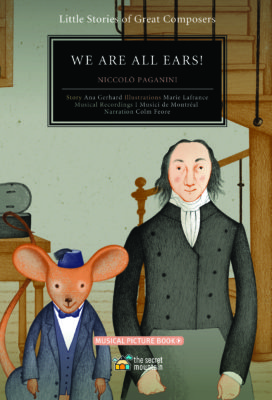 We Are All Ears!
Nicolo Paganini
Ana Gerhard
Illustrated by Marie Lafrance

The Secret Mountain
$22.95
cloth
32pp
9782925108665

Step into the world of some of the greatest classical composers and musicians of all time in the second instalment of the Little Stories of Great Composers series. Inspired by true events in the lives of Franz Schubert, Joseph Haydn, and Niccolò Paganini, the musical picture books offer enriching lessons in arts, culture, and history.  With every book, author Ana Gerhard and illustrator Marie Lafrance take us on a ride alongside the elegantly dressed Minim, an adventurous and curious mouse whose love for cheese and music lead us to a variety of interesting places: in the open air of a bustling European café, inside the gates of a splendid royal palace, and at the very heart of a world-famous luthier's workshop. 

As part of the musical tour, readers follow Minim behind the scenes, as he gets an exclusive peek at the action. In Curiosity Killed the Cat!, we find Schubert in the very midst of his creative process, assiduously writing out the notes for one of his songs, "The Trout."  We witness how Haydn uses music to communicate an important message to the prince in A Brilliant Plan!, allowing his musicians to finally return home after a long summer. And finally, in the story We Are All Ears!, readers learn about Paganini's extraordinary talent for playing the violin. What's more, at the end of every book is a brief account of the history behind each tale.  

Gerhard and Lafrance's stories are complemented by an audio track (a CD and digital download code are provided), with narration by Colm Feore and musical accompaniment brought to us by the I Musici de Montréal orchestra, making the musical picture books from the Little Stories of Great Composers series a delightful experience.

***

If you're looking for a book that will captivate and entertain every time you pick it up, Animals that Might Exist by Professor O'Logist is an excellent choice.  Flipping to any page, you're likely to discover some of the most strange and mystifying creatures you've ever seen, like the impressively coiffed bouffandactyl, whose diet consists of only cheese and fermented fish juice, or the marshmallow-shaped grump mite, with its bite that can sour the mood of any unsuspecting adult. (If Mom or Dad always seems to be nagging, maybe it's time to check for grump mites!)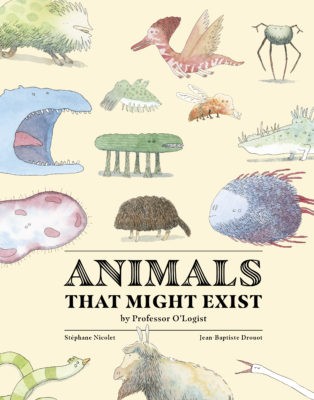 Animals that Might Exist by Professor O'Logist
Stéphane Nicolet
Illustrated by Jean-Baptiste Drouot

Milky Way Picture Books
$23.99
cloth
80pp
9781990252051

Nominally the result of the research conducted by an undistinguished professor named Arturo O'Logist, this rare and exclusive animal encyclopaedia is complete with a detailed image of each animal, in addition to a profile describing its distinguishing features and peculiarities. For geography lovers interested in the animal's habitat, what's most fun is discovering that these places are actually real—yes, Kaakkurivaara and the Popocatépetl volcano really do exist! 

Readers with a more critical eye may cringe at the sexual undertones attributed to the mushacorn's horn by the local Indonesian people and at the fact that the bizard's contradicting nature is labelled as "bipolar." While these are minor instances throughout the book where the humour does not always translate well, the fictional encyclopaedia certainly has its charms. As a parent or teacher, look no further for a creative writing prompt; as a reader, simply enjoy the absurdity and let your imagination run wild with the flaminghound (a species, mind you, with a most "exceptional stamina").

***

As the memories of a long Montreal winter slowly melt away, the milder temperatures and earthy smells signal the arrival of lighter and brighter days ahead. In one of her latest, I'm Not Sydney!, seasoned children's book writer and illustrator Mary-Louise Gay entices readers with a narrative that pulls us into the imaginary world created by Sydney and his friends, reminding us that the best is yet to come: days that stretch endlessly into the night, inspiring a feeling that anything and everything is possible.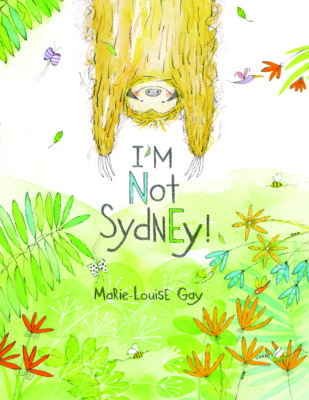 Up in a tree, hanging casually from its limbs, chewing on leaves, and daydreaming, a smiling sloth is soon joined by an energetic spider monkey that swings between the branches. One by one, Sydney, Sami, Edward, Anamaria, and Brigitte disappear as they transform into a playful bunch of savanna wildlife. Soon enough, there's an exuberant hullabaloo between the tall grass and leaves, when the magic of the moment is suddenly interrupted by the distant suppertime call of parents. Once again, the gang of childhood pals regain their human form and disperse, as they each scamper off towards home. It's the end of yet another summer day that we wish could go on forever. 

***

I am Hava: A Song's Story of Love, Hope & Joy is an exquisite tribute to "the world's most famous Jewish song." In the book artfully written by Freda Lewkowicz, readers are brought on a journey by the beautiful blue Hava, a melody searching for her words. The rich colour scheme and intricate details of Siona Benjamin's illustrations are also a visual treat that share the story of the song's deep historical roots.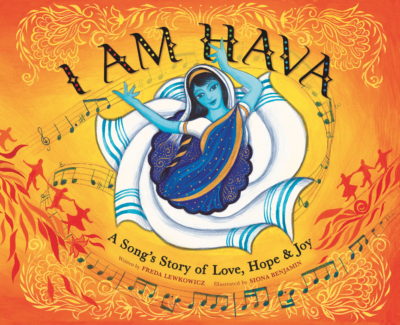 I Am Hava
A Song's Story of Love, Hope & Joy
Freda Lewkowicz
Illustrated by Siona Benjamin

Intergalactic Afikoman
$19.99
40pp
9781951365066

Having always been connected to feelings of hope and joy, from a small Jewish town in Ukraine, Hava shares how she has travelled the seas, kept alive by all those who hummed her tune. Then, one day she finds her voice. Although, according to the author, it's not certain who came up with the easy-to-follow lyrics, the wordless melody (or niggun in Hebrew) becomes "Hava Nagila"—a powerful message that even in the face of adversity, there is reason to sing, dance, and celebrate life.

Over time, "Hava Nagila" has been sung and performed by many Jewish and non-Jewish artists alike, spreading love, hope, and joy across the globe. Once we understand that the song transcends hardship and physical borders, we have a better understanding of why Hava's skin is a brilliant shade of blue. She is blue because it's the colour of Judaism, but she's also blue like the ocean and the sky, which are things that everyone everywhere can cherish and enjoy.mRb