Some provinces have an embarrassment of mountains, some an embarrassment of beaches, and others an embarrassment of oil. Our province has an embarrassment of award-winning women who write and illustrate children's books. We're talking rock stars of the picture book world – Marie-Louise Gay, Robyn Schwartz, and Mélanie Watt, to name a few – women who have created memorable characters whose faces and antics have inspired television shows, theatrical productions, and thousands of young readers. 
It's hard to know why Quebec is so blessed in this way. Maybe we can attribute it to the two languages at play here. Perhaps each province has their quota of excellent author/illustrators and since both English and French writers live and work in Quebec, we got a double dose. Whatever the reason, it's great to know our province is home to so many successful artists writing for children ages 0–9.
The three women featured here have all won the Governor General's Literary Award for Children's Illustration. Marie-Louise Gay is the best known and established of the three. She has won an impressive number of international awards and her Stella and Sam books have been translated into twelve languages. Smart and sassy Stella, with the curly red hair, and her industrious tow-headed little brother Sam can be enjoyed on the page, on the stage, and on the screen.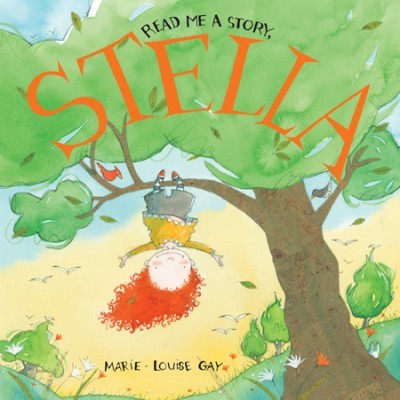 Read Me a Story, Stella
Marie-Louise Gay
Groundwood Books
$16.95
cloth
32pp
978-1554982165
Read Me a Story, Stella
is the latest Stella adventure, but calling it an adventure is a bit of a misnomer. This picture book with its large watercolour and ink panels is really a collection of moments in Stella and Sam's day. A day spent roaming around in an idyllic pastoral environment surrounded by benign beasts and bugs. There are no adults around to say things like, "Be careful by the water," or, "Don't let the dog put the kite string in his mouth."
If you're after a narrative arc, this book is not for you. It is really a series of scenes loosely arranged around all the things Stella has learned about the world from reading books. At the end of the book, Stella reads Sam a story about a boy just like him, which proves to Sam just how satisfying reading a book can be.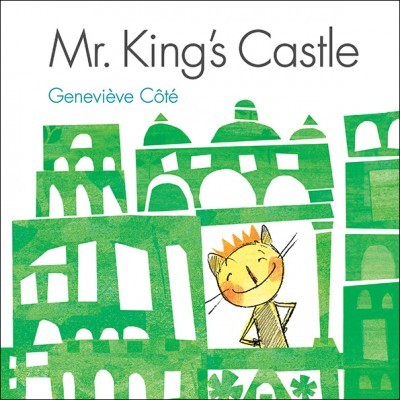 Mr. King's Castle
Geneviève Côté
Kids Can Press
$18.95
cloth
32pp
78-1554539727
Geneviève Côté's drawings have also won her Canada's highest honour for illustration and her own books,
Me and You
and 
Without You
, have received glowing reviews across the continent and in the pages of the
mRb
.
Mr. King's Castle
continues to showcase Côté's charming illustrations, this time featuring a whimsical, if misguided, lion named Mr. King. The dominant colour is green to represent the lush forest landscape around Mr. King's modest home.
But Mr. King likes big things so he cuts up the environment around him into building block shapes and uses them to realize his dream of a big castle. Not surprisingly, Mr. King's building plans cause consternation and anxiety among his forest friends. They eventually get through to Mr. King and convince him to put the forest back the way it used to be. The message is gentle and clear, with disagreements resolved and forgiven with a simple, "I'm sorry." Côté's world is pleasant and appealing and this book is appropriate for the youngest readers who will appreciate the clever way the illustrator uses a multimedia approach to depict both the destruction of a natural environment and its miraculous restoration.
Elise Gravel won the Governor General's Literary Award for Children's Illustration in 2013. In her newest series, Disgusting Critters (an English translation of the French Les petits dégoûtants), she successfully nails the holy grail of children's books by writing books that work for readers of all ages. The Worm and The Fly are the first in the Disgusting Critters series, soon to be followed at six-month intervals by The Slug, The Toad, The Leech, The Rat, and The Spider. Born out of the author/illustrator's personal fascination with bugs and other critters, these are books that teach us something, make us laugh, and sometimes make us say "Ewwww."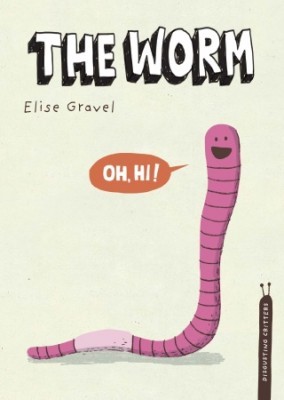 The Worm
Elise Gravel
Tundra Books
$12.99
cloth
32pp
978-1770496330
Gravel's books are a bold and hilarious mash up of solid scientific evidence and wacky flights of untamed fancy. Think
The Magic School Bus
meets
Pee-wee's Playhouse
. When introduced to the worm, we meet a ten-inch long fuchsia-coloured invertebrate wearing a black beret who greets readers with a charming, "Enchanté." From there we move on to anatomically correct cartoon drawings of the different varieties of worm – so that's what a tapeworm looks like! – to historical facts about worms (scientists think that they've been around since the dinosaurs), to a detailed explanation, with illustrations, of how worms get themselves from place to place (it's all about the muscle tube). By the end we can't argue with Gravel's assertion that worms, while slightly disgusting, are in fact friends of the human species.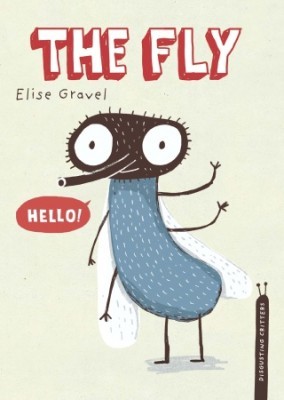 The Fly
Elise Gravel
Tundra Books
Gravel suggests, however, that we be more careful when it comes to befriending the fly. Despite the common house fly's gifts – the ability to walk on ceilings thanks to bubbles of liquid at the ends of their feet, as well as eyes that allow them to see in all directions at once – we learn that the fly can't be trusted and that they cause hundreds of diseases. The author deftly manages to show us the humour in the fly's revolting habits and makes us laugh and feel queasy at the same time. Full of bright colours applied in a natural style, Gravel uses digital printing 
techniques to mimic her original acrylic and pen drawings. This author/illustrator's intelligence and energy leap off the page and make the reader impatient for the arrival of 
the next disgusting critter.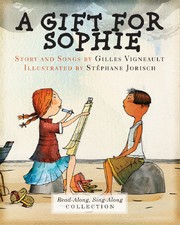 A Gift for Sophie
Story and Songs
Gilles Vigneault and others
The Secret Mountain
$22.95
cloth
44pp
978-2-923163-98-7
I
f 
Quebec had a 
competition for 
patron saint of 
poetry, Gilles 
Vigneault would defi
nitely be in the top three. Poet, songwriter, and publisher, this long-haired, idealistic icon is credited with helping to create the chansonnier tradition in Quebec. A Gift for Sophie is an opportunity for him to exercise both his storytelling and his songwriting abilities. The story is sad and beautiful – a young girl's friendship with an old man and a boy; a gift that is given, lost, prayed for, and found again. The illustrations by Stéphane Jorisch are simply beautiful, evoking childhood memories of the most delightful kind.
Unfortunately, the CD that accompanies the book is disappointing. The songs are co-written by Vigneault and collaborators, but those collaborations are largely unsatisfying. Luckily, the book can be enjoyed and appreciated alone without the musical distractions.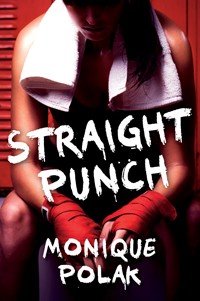 Straight Punch
Monique Polak
Orca Book Publishing
$12.95
paper
256pp
978-1459803916
S

traight Punch
is Monique Polak's second literary release in less than a year. The prolific and passionate author, journalist, and teacher has earned a reputation for writing YA books that are smart and satisfying. Her protagonists are girls on the verge of womanhood; girls who are struggling, but who keep on dreaming anyway; girls who survive. Tessa McPhail is the protagonist in
Straight Punch
. Because of her proclivity for "tagging" (a form of graffiti), she's been sent to a school for kids who have nowhere else to go, a school she initially hates but eventually fights for. While Tessa is spunky and endearing, as all Polak's protagonists are, the plot lacks the writer's usual dramatic flair and page-turning momentum. Monique Polak has written excellent novels for young adults, books like
What World We Have Left
and
So Much it Hurts
, but
Straight Punch
is not one of them. 
mRb